Do you want to give unique, handmade toys for Christmas this year? Look no further than this all-inclusive list from Etsy.com. We have found the BEST Etsy toys that are traditional to techy and perfect for children ages 3-12. These toys look like they could come straight out of Santa's workshop!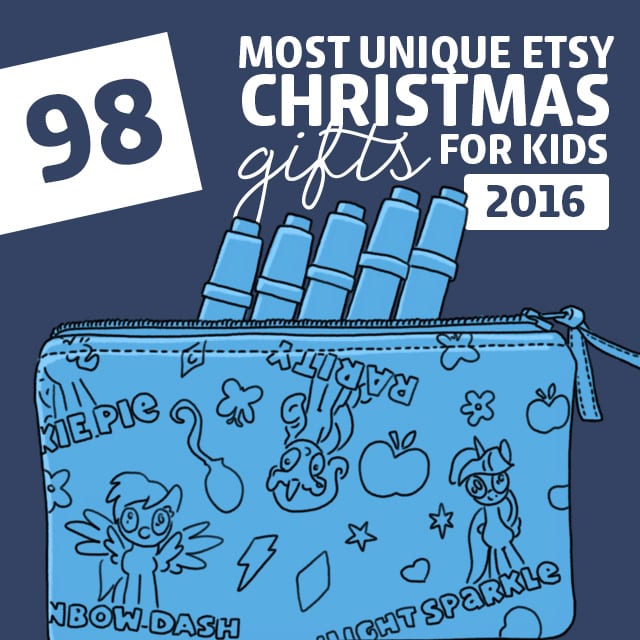 ---
Floral Classic Ivory Kids Teepee, Kids Play Tent (Outdoor)
This is a beautifully detailed tent that is built for outdoor play. A classic take on the traditional fort, this tent made from 100% cotton canvas with an ivory lace door and comes with four round sanded wooden poles. There are two sizes (medium and large) and it can be safely assembled both indoors or in the backyard which is perfect for playtime in the winter or summer months.
$159.00
---
Paper Activities & Ideas, Paper Crafts for Kids
This is an all-inclusive "idea" box that has paper themed activities appropriate for ages 3-10. These activities include making paper texture rubbings, patterns for folding and 60 other quiet activities that your child can do with paper. The vendor also has other boxes with different themes that are perfect for rainy days, waiting rooms or anytime boredom strikes.
$17.99
---
I Love You to the Moon and Back Charm Necklace
A perfect sterling silver charm necklace for a little girl in your life. The charm is a moon shape with the inscription "I love you to the moon and back" and a tiny little fairy attached to it. The necklace is available in 3 different length sizes and has gift wrapping available.
$15.00
---
Toddler Kids Children's Beach Chair and Umbrella
This super cute miniature beach chair and umbrella comes in a variety of colors and is perfect for home décor or a day at the beach or park. The company offers a personalized initial embroidery or some other possible decals that can be pressed onto its durable nylon fabric.
$30.00
---
Knitting Pattern – Failynn Fox
This PDF pattern is a cheap alternative for the crafty do-it-yourselfer who can knit and loves to customize or make their own gifts. The pattern is for a fox themed cowl (hood and scarf) which is perfect for dress up days during the winter months.
DIY – $5.50 for pattern
---
Children's Robe, Boy's & Girl's Robe, Kid's Bathrobe
A great gift to help your little one keep cozy during the holiday season, this is a gorgeous luxury style robe that they can wear around the house. It comes in four different colors (navy blue, white, silver and pink) and has a customizable initial monogram available.
$35.00+
---
Kids teepee gray stars – Playhouse (Indoor)
A smaller, inside version of the other play tent on this list – this super cute teepee is designed for indoor play rooms or bedrooms. Handmade from 100% cotton and machine washable, it is easy to assemble and the vendor offers it in a variety of colors and styles. Poles are not included to save on shipping costs but specifications are sent with the product to buy your own.
$90.00 +
---
Personalized Sewing set for children
This sewing kit is a terrific way to keep those little hands busy and learning to sew is a great alternative to screen time. This kit can come personalized with a name embroidered on the carrying bag and is meant for ages 7+. Inside the bag there are all the accessories like scissors, buttons, thread, needles, fabric swatches, pins, pin cushion, measuring tape and much more that are needed to learn how to sew.
$25.18
---
Glow in the dark stars room idea – DIY Star Ceiling
Another way to add a personal DIY touch to a Christmas gift, these adhesive glow-in-the-dark plastic stars can be arranged in any shape or constellation. These handmade stickers are designed to glow brighter in the center and come in a variety of sizes and intensities just like real stars.
$48.00
---
What kid (or adult) doesn't love legos? This lego inspired t-shirt is a cool way to show off your little boy or girl's favorite hobby. The company has many different kinds of lego graphic (like just the lego head or the whole body) and the shirt comes in a range of fun colors.
$16.00
---
For the mini fashionista in training – this vanity set is a great start to any beauty collection. The three-piece set has an antique feel (tarnish resistant silver plated) and includes a white bristled brush, a mirror, and fine toothed comb. The metal can have a name or initials engraved into it for a personalized touch.
$38.95
---
For the donut-lover or shower-hater these doughnut soaps will motivate any child get into the tub. These hand-made soaps made out of 100% vegetable glycerin, come in three different "flavored" doughnuts (chocolate, strawberry and blueberry) complete with icing and sprinkles.
$13.50
---
Children love dinosaurs and money, what better way to teach them how to save money (and other mementos) with a fun starter wallet. This handmade wallet has a bright dinosaur cotton fabric with an interior lining, secure zipper closing and an outside pocket. It has a slight padding and is the perfect size for coins, paper bills or gift cards!
$13.00
---
Child Mermaid Tail Blanket Pattern
For a child of the sea, this PDF pattern will help you create a mermaid (or merman!) tail blanket/wrap. A DIY gift, this pattern is available for crocheters and knitters when purchased for digital download and you can customize the blanket with different color yarn.
DIY $5.00
---
These gorgeous handmade fairy wings are an impressive way for your little girl to play dress up. They are made from a color changing film, glitter and satin ribbon straps with flowers where the wings attach. These wings have an alternative fixing option for more stability if needed.
$95.00
---
Childrens Bamboo and Wood bow and arrow set
A beautiful handmade bow and arrow set with leather quiver is a great gift for a mini outdoor lover. Kids will love this 40" bow that can bend/flex and shoot an arrow up to 60 yards! The arrows are made from cedar wood with real white turkey feathers and rubber points – all materials are sourced from the U.S.A.
$31.95
---
For the future entomologist (bug scientist) this mini terrarium kit is an awesome stocking stuffer. The kit comes with moss, dried florals and a real dried weevil bug that can all be arranged in the acrylic jar (included). The vendor has other larger kits available with different insects or your little one can add their own natural elements into the terrarium.
$14.00
---
Great for the little wanderer in your life – the handmade flowers are made from silk and paper. The Etsy shop will tailor the wired crown (headband) to a specific color scheme or favorite outfit. The handmade item is adjustable for head size and can be worn for a Christmas or Winter themed photoshoot.
$25.00
---
Recycled Crayons – Transformer Inspired Crayon
A super cheap and fun stocking stuffer this handmade item comes in sets of 4 crayons designed to look like Transformers. There are a variety of colors that you can choose from to customize your order and each Transformer crayon was made from recycled crayons!
4 for $1.65
---
Owl Bracelet or Anklet in Antique Brass
A perfect gift for the child who loves jewelry! This piece is made from colored waxed cotton cord and the owl charm is antique brass. The cording comes in several different colors and the vendor can make it a bracelet or anklet size. This Etsy shop also has other charms available.
$8.00
---
Children wood Xylophone * Handmade*
This is an awesome real handmade wooden xylophone, suitable for winter indoor playtime. Made from high quality acacia wood, this xylophone has seven sound bars that play the Pentatonic Scale (d''-e''-g''-a''-h''-d'''-e'''). There is a wooden sound beater included so your mini maestro can play warm sounding tunes for all your holiday guests.
$153.00
---
Pillow floor LOUNGER Pillow Bed
This DIY PDF pattern helps you make wonderful lounger for your little one. You can make this lounger yourself for under 20 dollars as all it needs is 4 pillows and fabric. It's foldable for different lounging positions and easy storage, you can customize the fabric for indoor or outdoor use.
DIY $3.99
---
Another beginner musical instrument that is easy to learn and play. This harmonica can also be personalized with a name or initials carved into the wood and then polished over with olive oil and beeswax. It comes finely tuned and measures 5″ long and 1 1/4″ wide which fits perfectly into children's small hands.
$9.75
---
As soon as the springtime comes, this kit will help your child grow their very own garden. The kit comes complete with 6 soil pellets, 6 coco fiber pots, 6 wooden plant markers, 6 seed tins, 6 stickers and instruction booklet. The seed tins contain a variety of seeds including, Sunflowers, Nasturtium, Marigold, Beans, Pumpkin, and Cucumber.
$18.50
---
Excellent stocking stuffers, these giant sized gummy bears are actually soaps that both children (and adults!) will love. Scented with gummy bear oil – these soaps come in multiple flavors and colors and smell just like candy. Don't be fooled and take a bite, each soap measures 2 inches wide x 3 1/2 inches tall and each is individually wrapped.
$5.75
---
These holiday inspired mitten clips can be customizable with different ribbons for boys or girls. The clips are lead free with an extra strong grip so that your child will never lose their gloves again. Prevent cold hands with these handmade and stylish mitten or glove clips.
$6.30
---
A unique take on the drum/xylophone this instrument is an innovative toy that won't already be in a musician's collection. It functions as a drum and xylophone made from wood so it produces cheerful sounds when "stirred" with the drumstick (included).
$24.00
---
Ideal for the mini sou-chef who always wants to help out in the kitchen, these customizable aprons are a thoughtful gift that will keep their clothes clean. Made from polyester with a stain resistant, restaurant style finish, these aprons come in a variety of colors and three different sizes. Machine washable, these aprons can be personalized with a monogram or initial from an assortment of fun fonts.
$16.00
---
Small Ring – Unisex or Boys Ring
This Argentium sterling silver ring is made for small fingers with an organic bark inspired texture. The special silver allows the imprint to last longer than regular sterling silver and it comes in multiple sizes. This durable ring can be for any boy or girl who loves jewelry.
$26.00
---
Handmade Children's Ride-On Toy Stick Horse
What child hasn't wanted a horse or pony for Christmas? Well now you can give them the next best thing with this "hobby" horse or stuffed horse on a ridable wooden dowel. The horse is handmade and comes in a variety of colors and patterns – the vendor will even include a special Santa tag so that your little one knows it came straight from the North Pole.
$39.50+
---
Children's T-shirt – Gliding Frog Shirt
A distinctive way for your kiddo to show how much they love nature and/or amphibians. This hand screen printed shirt has the graphic of a gliding frog and is printed on American Apparel t-shirts in a variety of sizes and colors.
$17.50
---
Personalised Kids Bean Bag with Pink Heart
This lounger bean bag chair cover is a relaxing gift to help your child wind down or for quiet playtime. These covers, made from navy blue and tan fabric, are reversible and customizable with a name and/or shape printed on them. There is an inner bag with a zipper where the beans will be inserted (not included) and the outer shell cover is machine washable.
$69.73
---
For those kids who love stuffed animals, this stuffed teddy is sure to make a statement and keep them safe at night. The 21"H X 14"W white cashmere/cotton blend teddy is super soft and has non-warming LED lights that automatically rotate colors. It comes with 3AA batteries to provide hours of warm, LED light for travels or nap times.
$35.00
---
Whimsical Elf Personalized Stockings
A pre-Christmas gift – stockings for all those gifts from Santa! These stockings are handmade to look like elves socks straight from Santa's workshop. They come in multiple colors, design choices and can even be specially embroidered with a name or nickname.
$26.95
---
Knitting Pattern – Cable Knit Headband Pattern
A DIY knitting pattern PDF – this gorgeous pattern is for a headband that can cover the ears and keep the hair out of their face. It has a trendy cable design and is easy to make (even for the beginner knitter). It is available for immediate download and can be personalized with different yarn colors.
$5.00 pattern DIY
---
Scott the Hand Knit Teddy Bear
A more traditional take on the teddy bear, this timeless hand knitted bear will be a favorite cuddle toy for years. "Scott" the bear has moveable arms and legs for more imaginative playtime and is made from high quality yarn and wool stuffing.
$82.00
---
White & Silver Snowflake Bubblegum Bracelet
This winter themed "bubble gum" bracelet is full of bobbles and wintertime charms that make this bracelet particularly festive. Each piece is made with acrylic beads and durable jewelry elastic and all bracelets are handcrafted to be 100% unique.
$5.95
---
Pocket Necklace, Fabric Necklace, Stocking Stuffers
A cute stocking stuffer, this little pocket necklace is an adorable way children can store and carry their favorite miniature collectibles. It is a small pocket made out of cotton with a tiny Velcro closure at the top, the necklace is made from embroidery thread and there are a variety of patterns and colors to choose from.
$18.00
---
For the child with a lot of energy, this stress ball is made to look like a doll that can be manipulated into almost any shape. It works as a stress ball but also a fun doll that can express any range of emotions. It is made from latex, stuffed with flower and even has hair made out of yarn.
$12.00
---
A great gift for the child who is an active, outdoor-lover – these stilts are handmade and adjustable for growth or multiple children. Made out of wood with an option for hand engraving a name, these stilts can be used for kids' heights from 3'4-5'0 feet.
$98.00
---
Wellington Boot Bag Children's
These water-resistant bags are made for storing those winter boots that are soaked with rain, sleet, mud or snow. The top is fastened with a draw-string cord and the bottom is double stitched for durability. There is a handle for easy carrying and the bag comes in a variety of fun, whimsical patterns.
$16.34
---
This eco-friendly cardboard bowling set is a suitable gift for children of all ages. The cardboard pins and felted ball are covered with crocheted linen. Teach your child how to play this fun and active game safely indoors during those long winter months.
$55.18
---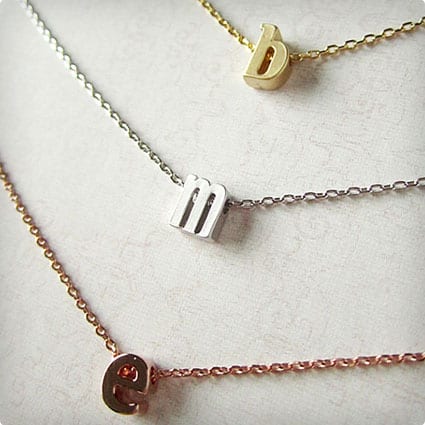 A timeless classic, this handmade initial charm necklace comes in Gold, Rose Gold or Silver. This vendor has bulk ordering options for multiple children or cousins. The diamond cut chain comes in two lengths for young children (age five) to older children (aged 12) – the charm is a lower case letter that can be customizable for a first name, last name or nickname.
$18.00
---
Sterling Silver Mermaid Necklace
This necklace is a terrific match for the child who loves The Little Mermaid or beach life. The mermaid charm made from sterling silver and imitation blue opal has a special sparkle. The sterling silver cube chain chain comes in four different lengths (14", 16", 18", 20") and is wrapped in a pretty gift box.
$25.00
---
Moon child aluminum ring swirl style 1/4 inch
An adjustable aluminum ring is handmade and hand-stamped with "Moon Child" on the outside with a tiny moon stamp on the inside. It creatively wraps around the finger to make it comfortable to wear and the aluminum finish ensures it won't tarnish or leave any marks on the skin.
$11.00
---
Adjustable Childrens Art Easel
Handcrafted in the U.S.A. this maple wood easel is a great addition to a children's playroom or bedroom. An excellent gift for those artistic moments, the easel is double sided with either magnetic, chalkboard or marker board surfacing with plastic or wooden tubes along the bottom for storing art supplies.
$112.00+
---
Sterling Silver Cupcake Earrings
What kid doesn't love cupcakes and bling? Your little princess will love these cupcake earrings that are made from sterling silver and enhanced with pink, green, blue and white crystals. The butterfly backing makes them easy to put on and take off and they come in two colors, blue and pink.
$12.00
---
Natural Weaving Loom for Children
For the crafter-in-training, this authentic wooden loom will help them make yarn or woolen mini blankets or crafts. The loom comes with metal pegs to fasten the cordage, a weaving shuttle, comb and tutorial booklet for reference. This fantastic mini loom can teach your child how to weave increasing their creativity and crafting skills.
$14.98
---
Reindeer Antler Headband, Christmas Costume
A pre-Christmas gift, with this themed headband your little one can pretend they are Rudolf and get into the holiday spirit. This handmade adjustable headband features gold/tan 6" felt antlers, golden/tan ears to match and a mini feather boa across the top, great for a holiday costume party.
$17.95
---
A scarf and a costume combined – this kid's kimono styled scarf will keep them warm and having fun. The scarf pattern is designed to look like wings, comes in multiple colors and is digitally printed so it will never fade. The scarf is handmade out of 100% cotton, machine washable, fits children 3-10 and can be made into a skirt, bandana or wrap skirt.
$38.00
---
This eco-friendly ceramic whistle has health benefits, musical abilities and a traditional historical toy look. The horse is made out of blue clay which is known to have medicinal properties and the vendor uses a milk glaze which is a great alternative to chemical glazes. The horse plays B flat to F sharp and due to the handmade manufacturing no two whistles will look alike.
$7.62
---
A more typical winter scarf – this handmade knitted scarf is cute and colorful. Made out of acrylic rainbow yarn, this scarf is sure to keep them warm and withstand all the outdoor wintertime play. The vendor has two sizes for this scarf and gift packages available if you want to purchase multiple matching items.
$21.79
---
A childhood classic – every kid has wanted their very own wagon and this handmade wooden one will not disappoint. This wagon is made from maple wood with rubber treaded tires and has a simple, sleek design that measures 16" x 16" x 7". The handle pull is 17" long and thick and the wheels/axels are designed for heavy loads up to 125lbs.
$95.00
---
Red cross childs doctor bag, doctor kit
Foster your child's nurturing side with this pretend doctor's bag, big enough to carry all their first aid supplies. The canvas bag is handmade and has the traditional Red Cross on the outside with a vinyl lining on the inside. There is an option for a button or zipper closure and the handles are made from red cotton webbing.
$24.00
---
Remote Controlled LED Iron Man nighlight
For the Iron Man or Marvel Comic fan, this wall nightlight is sure to be a favorite among their collectibles. With two different handmade options, this Iron Man is black and backlit with 16 different LED colors. The colors can be set on rotation, to fade or flash, and controlled with a wireless remote.
$81.16
---
Kids's scarf, Scandinavian print scarf
Handmade in the U.K. – this Scandinavian inspired scarf takes on the traditional Christmas and Winter theme. The green/cream, unisex infinity scarf is varicose knitted and comes in three different sizes. The scarf can be wrapped twice around the neck for ultimate coziness and the vendor sells a matching sweater.
$24.61
---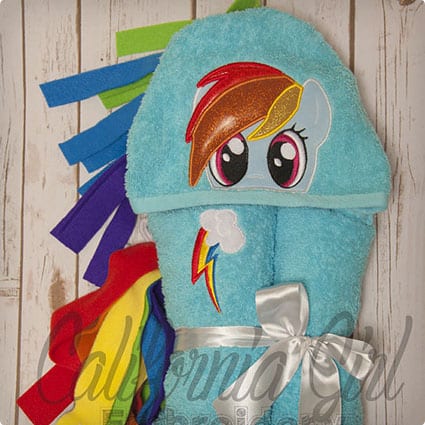 Brighten up your kiddos bath time with this super cute My Little Pony inspired hooded towel. Handmade from a full size terry cloth towel, the Rainbow Dash design will bring a colorful splash to the bath, beach or pool. This Etsy store offers the towel in two sizes and specializes in hooded towels offering multiple fun, childhood characters.
$41.02
---
If your child loves Harry Potter, they will adore this wizard cloak! This 80cm cloak fits ages 3-8 and is made out of a navy blue panne velvet. It has a Velcro neck closure and has 5 gold sequin stars sew on for extra magic.
$31.10
---
Child size fur hand muff warmer
A modern take on a classic fashion hand muff, this faux fur child's hand warmer comes in a white, ivory, black or silver. It is lined with satin and padded on the inside for extra warmth and comfort. The vendor also offers bulk discounts for orders larger than four.
$20.00
---
90's child splash proof bumbag fanny pack
In recent years, the 90's style fanny pack has made a comeback and this bag is child size. Using metallic, retro style fabrics this handmade splash proof festival bag has a zipper closure and a safety reflector on the front. Great for any outdoor playtime, this bag has two pocket sizes and a key ring tab.
$61.53
---
Personalized Rubber Stamp Kids
Kids love stamps especially the ones that have their unique name on it. Give a personalized name stamp so your little one can label everything that is "theirs". This rubber stamp is fastened on a wooden handle that comes in a variety of glitter paint colors and different fonts.
$12.00
---
Unfinished DIY Plop In The Top
This classic childhood ball and cup game is one that everyone in the family has played with growing up. The cup and ball are made out of wood and it can come painted or natural. Unlike the plastic or acrylic replicas – the wood version makes a soft, pleasant sound.
$2.99 + DIY
---
9cm Big Lego Man, Wooden Custom Lego Figure
A super cute stocking stuffer, this wooden lego is enlarged to 9cm – great for play or decoration. Made out of beech wood, this lego man moves just like the smaller plastic ones and is coated in mineral wood for oil and dust protection. Be sure to order well in advance as this item ships from the U.K.
$19.00
---
This geo toy is fun and educational! Handmade from spruce wood, all you need is rubber bands to create geometric shapes and fun designs. This board can create artistic designs or teach your child about shapes, numbers and colors.
$16.09
---
Depending on where they live, kiddos may not be able to wear this sandal during the winter. But just in case they go on vacation or live in warm climate these cute rope sandals are great for beach time or festival fashion. The sandals are made entirely out of rope (even the sole) and are lightweight, adjustable and machine washable.
$30.00
---
Unisex Kids Children Red and White Striped Pajamas
Fun, Festive PJ's that are warm and show off how much your boy or girl loves the holiday season. Handmade from cotton and spandex, these striped PJ's look like candy canes and are CPSC and CPSIA complaint. The vendor even offers a personalized embroidery option.
$35.00
---
Triceratops, dinosaur boys, girls, kids necklace
For the dinosaur fanatic (as most kids are) this necklace will show off their favorite dinosaur all year long. The vendor has multiple dinosaur charms to choose from. The necklace is made from black cord and can be adjusted to lengths between 17.5"-19".
$7.25
---
A gift for both parents and kids – this table will help keep those pesky little legos stored away when not being used. The top surface of this wooden table has the lego building plates, excellent for displaying those lego land creations. The bottom has three drawer storage compartments and two clear organizers to keep those legos contained.
$154.00
---
Christmas sweater – Kids Rudolph Hoodie
A perfect sweater for layering, this lightweight cotton navy or pink hoodie comes with a handmade tan Rudolph applique and a red button nose! The Rudolph can be sewn onto t-shirts or adult sized items by request and the vendor has a personalization option.
$21.88
---
This space shirt has a whole silver, metallic solar system printed on it. For kids who are fascinated with space and the universe this shirt has stars and planets that glow-in-the-dark. The print can also come on baby and adult sizes, short sleeve or long sleeve and in organic fabrics.
$30.00
---
Ask Me About My T Rex Kids Shirt
If you are looking for another creative shirt idea – this T-Rex shirt will be sure to make you laugh. The front of the cotton shirt says "Ask Me About My T-Rex" in print but once the shirt is flipped inside-out the inside has a T-Rex graphic printed on it that the child can actually wear over their own face. It comes in a variety of of colors and kids sizes.
$17.00
---
Jumbo Size Floor Puzzle, MAP of the USA
An educational and entertaining gift, this puzzle will help your child learn about all 50 of the United States. The puzzle, made from PVC, is waterproof, durable and won't tear or rip. The pieces are large sized, great for children of any age to play with.
$30.00
---
A little bit more complex – this puzzle will challenge your child's 3D thinking abilities. Constructed from quality acrylics, this 3D animal puzzles come in a variety of colors and different types of animals. The pieces are numbered and an instruction booklet is included for easier completion and once finished it can serve as part of their bedroom décor.
$45.00
---
Gorgeous 21″ Rosewood Ukulele 4 String
This maple/rosewood handmade Ukulele is an enjoyable and amusing way to learn how to play a string instrument. With adjustable nuts made for tuning all four nylon strings – this cute Ukulele comes in blue/green with white trim.
$65.00
---
Emoji pins, magnets and zipper pulls
An awesome tech-savvy stocking stuffer, perfect for those kids who love to text. These pins/magnets/zipper pulls are all based off the popular emoji smiley faces. There are 14 different emoji faces and symbols to choose from and unlike other pin vendors you can pick which ones you want shipped to you.
1.00+
---
Gnomes Kids gift Tilda Elf Scandinavian Christmas
Bring a new style and culture to Christmas dolls with these "Tilda" Scandinavian elf stuffed rag doll. They are said to bring happiness and stability into the new year and they are super adorable as toys or decorations. These gnomes are handmade and dry clean only.
$42.88
---
Wooden slingshot with 12 felt ball ammunition
Children love sling shots but they can be hazardous. Not with this set – which only has felt ball ammunition, perfect for indoor and outdoor play. The slingshot is made out of wood and the strap is leather with a latex rubber band cord – it even comes in a handy carrying pouch.
$20.64
---
A creative take on the traditional board game – this take on Yahtzee has been taken to a whole other level. The solid wood game pieces have been enlarged to a yard friendly size and look exactly like their miniature counterparts. The dice can be changed to any color, they are easy to read and come inside a bucket which can be used as the cup and for storage.
$33.00+
---
This plane was made in the Ukraine and is 100% wood – there are no plastic or plywood parts like other model airplanes. This organic toy can be a great toy for a child of any ages as there are no small removable parts. This plane is sure to last a lifetime and can be added to (or starting) a wooden toy or aircraft collection.
$22.00
---
A super fun toy – this traditional boomerang is sure to become one of your child's favorites. The perfect size for kids, a boomerang is sure to get them outside playing and their bodies active. The bright graphic makes it easy to find and see as it returns to them.
$19.95
---
Take your child's archery skills up a notch with this fancy crossbow DIY kit. Not only can your little archer use the bow for target shooting but the DIY kit helps them actually make it themselves. The parts of the crossbow are made of wood, there are zip tie attachments with a rubber band cord and there are 8 rocket type darts included as ammunition.
$22.00 and DIY
---
A all-in-one gift for the space lover and artist, this coloring tote will help them carry all their art supplies. It includes Crayola crayons, markers and colored pencils and wraps them up in a denim and flannel carrying case. The machine washable case with a Velcro closure also contains a blank paper pad and pen for doodling on the go.
$23.28
---
Playhouse – tablecloth "Striped Spring"
Maybe you don't have room for a full size teepee or patience to put one up – this alternative playhouse is easier to assemble as it only requires a standard size table. This organic cotton tablecloth house is suitable for indoor or outdoor play and is machine washable.
$89.00
---
Yelow Personalized Kid's Jump Rope Boy or Girl
A time-honored classic toy, this jump rope will be sure to get your kids away from the screen and active again. The rope comes in multiple colors and can be for either boys or girls. The wooden handles can come with a personalized name, initial or date engraving at no extra cost.
$16.79
---
A multi-functional gorgeous natural redwood table with plastic tubs inserted on the top can be used for so many childhood activities. It is advertised as a water table but the tub can be filled with water, sand or dirt depending on your child's preferences or the season. It can help them learn about water, building in the sand or planting their very own garden.
$250.00
---
This unique holiday gift, includes the little lego lover to decorate the tree in their special way. These Christmas tree ornaments are ball shaped but have a made from lego bricks so they are completely authentic. It comes with a hanging ribbon and the vendor has plenty of colors for you to choose from.
$8.66
---
A mini replica of a medieval trebuchet, this wooden catapult is designed to launch marshmallows over 10 feet! It comes with little wheels to roll it close to enemies or open mouths and has a rope crank to raise the arm.
$55.00
---
A super-fun and interactive LED hula-hoop now made in kids size! It has 12 LED lights positioned all around the hoop, a rechargeable battery and a wall charged included. The Etsy store offers a 2 year warranty and retubing for $20.00 just in case the hoop was to get damaged with all that nighttime, outdoor playing!
$45.00
---
For kids with a big imagination or who love creating mini outdoor playscapes, this kit will build the cutest Gnome home. This kit includes all the natural items that are needed to make the home and decorate it. It comes with a bag of gems and a glue gun with glue sticks so you really won't need anything but creativity to create this house.
$26.00
---
A classic game that every child should learn growing up. This chess set is traditional (can also be used for checkers or backgammon) with letters and numbers. It comes with a full set of chess pieces (backgammon pieces are not included) and the pieces/board are made from wood.
$48.00
---
For the little ones who may prefer X's and O's to checkers or chess – this game is great for kids of all ages. The game comes with ten wooden discs and a linen bag with the cross board embroidered onto one side. It's a fun game that is easy to take traveling, hiking or camping.
$13.76
---
Fishing Pole Play Set with 1 pole
This handmade wooden fishing pole complete with fish to catch is an awesome way for the future fisherman to practice. The fishing pole actually works to be cast out and reeled back in. The set comes with 8 fish and they are caught by connecting the magnets in the fish to the magnetic "hook".
$35.00
---
This historical game may not be one that every child will recognize but is a beautiful game that is played with colored stones. The wooden board has trays and the tan/blue stones are moved with skill to win the game. The vendor offers a personalized engraving to this family friendly game.
$24.95
---
What kids don't love swinging in a hammock? Well now they can have one of their own in the backyard or for the next family camping trip. This hammock can be hung indoors or outdoors and comes in a green/blue or green/white colors (suitable for both boys and girls). The cotton fabric provides a breathable sanctuary that children will love to swing in.
$95.00
---
This is a game/puzzle that creates beautiful mandala designs from individual colored hexagons. The set comes with 37 cardboard pieces covered with laminate for durability. Mandalas have been proven to reduce stress and anxiety, promoting a calm meditative activity for quiet playtime.
$15.04
---
For the future seamstress, this sewing kit creates an owl and acorn that are weaved together with embroidery thread. Kids will learn how to thread a needle and how to sew in the pre-punched holes. Unlike other sewing kits this one has a pattern that children can follow and will turn out to be a fun toy once completed.
$15.00
---
A new twist on an old toy – this LED Frisbee is a toy of the future. Bringing hours of outdoor nighttime play, the LED lights change color as the Frisbee rotates once it is turned on. It is battery powered, light weight and meant for all ages or skill levels.
$20.00
---
Keep the holiday cheer going all year round with these Santa crayons. These recycled crayons are shaped like Santa and come in a set of 6 different colors. A great stocking stuffer, these little crayons are handmade in the UK.
$6.00
(Read this next: 91 Etsy Gifts for Men)