Looking for something thoughtful and heartfelt this year? Then take a look at these cool personalized gifts for Dad. This amazing list truly does have something for ALL dads out there; the hungry, the crafty, the office worker, the well-groomed, the music lover, and of course, the BEST.
23andMe DNA Ancestry and Health Test Kit
This 23andMe DNA Testing kit will make a unique gift that he would never have expected, he's for sure going to love finding out all sorts of things, like where his quirky traits come from (yep, even that unibrow and bald spot), as well as his DNA Family, possible genetic health traits, and more.
$199.00
---
Where is your dad's ultimate favorite place? Have it 'mapped' out with this delightful Custom Map and Pen Desk Set; whether it's a place he would love to move to or it's his favorite vacation spot, this personalized gift for Dad will definitely give him something to smile about and work towards at the office.
$65.00
---
Surprise him with this wonderful Personalized Map Clock – you can have it made with any location, so it could be where he came from, where he and your mom met, the go-to family vacation spot, or maybe even where a long distance friend lives – it's sure to make him feel a touch closer.
$89.00
---
Though he may not be selling hundreds of thousands of albums, that doesn't mean he can't have his own gold record to proudly hang up on the wall. Any music fan will adore this quirky, yet thoughtful, Personalized Gold LP Record. It's printed with his name and 5 fav songs on the playlist – groovy.
$175.00
---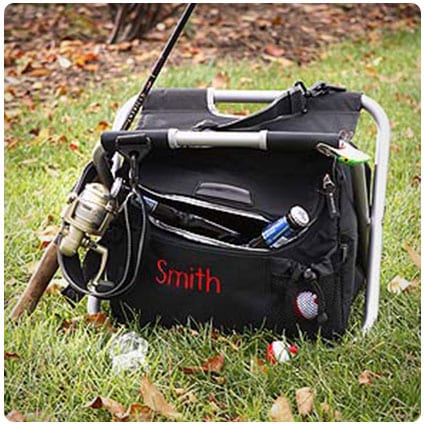 Personalized Fishing and Camping Cooler Chair
Does your pops enjoy a spot of fishing? Then we're sure he could do with this Personalized Fishing and Camping Cooler Chair. Gone are the days of a warm packed lunch, or gone-off bait, now everything can stay fresh in this chair's inbuilt cooler, not forgetting a pack of refreshing beers too, of course.
$49.00
---
Make sure he's fully prepared for the BBQ season with this superb grilling set, which comes in a handsome monogrammed bamboo case to keep the spatula, fork, and tongs safe and clean.
$39.99
---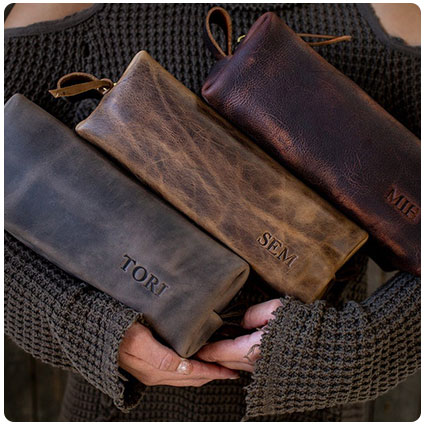 Men take care of their appearance too, so they need a quality toiletry bag to keep all their products in, like this distressed leather one which comes with his monogram engraved onto the front.
$69.98
---
In The Wizard of Oz, Dorothy famously said "There's no place like home". Take a leaf out of her book with this customizable doormat, because home truly is where the heart is.
Prices vary
---
Personalized Giant Tumble Tower
If playing games with his family is one of Dad's favorite pastimes, this personalized giant tumble tower will be the ultimate garden activity for those warmer evenings.
$165.00
---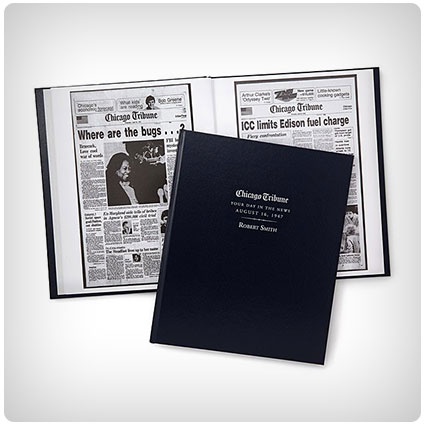 Chicago Tribune Custom Birthday Book
We all have our place in history, but with this Chicago Tribune Custom Book he can see what other monumental events have happened every year since the day he was born.
$100.00
---
Personalized Library Card Pillow
One of the most exciting things a couple can do is start a family, and with this retro library card pillow, Dad can be reminded of his greatest achievement – his children.
$65.00- $95.00
---
If he spends so much time in his garage that he may as well be working there, this sign will put his name firmly above the door (or on the wall).
Prices vary
---
He'll always be organized with this customizable leather and glass storage box, which comes with 4 compartments for watches, rings, and cufflinks so he'll never lose an important watch or accessory again.
Prices vary
---
Personalized Tree of Love Photo Ledge
Carving names into a tree is a classic way of declaring love for someone but with these personalized solid bark shelves, photographs can be displayed without harming a single tree.
$60.00- $75.00
---
Personalized Family Recipe Board
Every family has a secret recipe that has been passed through the generations, so why not etch that recipe permanently into a wooden chopping board to create a wonderful family heirloom?
$100.00
---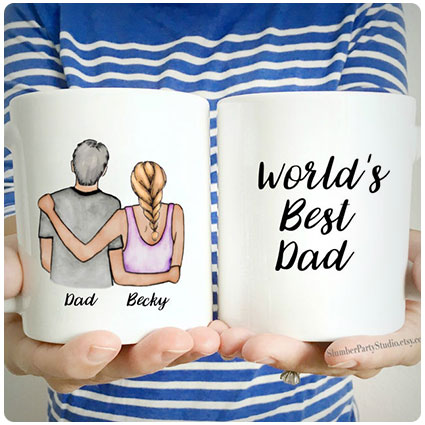 A girl's first love will always be her daddy, so celebrate that love with this personalized mug which shows him just how much he'll always mean to his little princess.
$19.99
---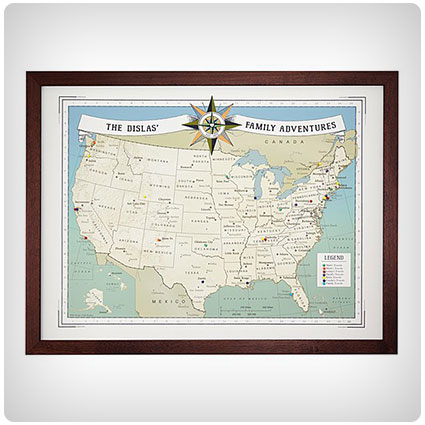 Personalized Family Travel Pushpin USA Map
Create a permanent reminder of all the places you've visited as a family (and all the places you've yet to see) with this beautifully framed personalized pushpin map.
$175.00
---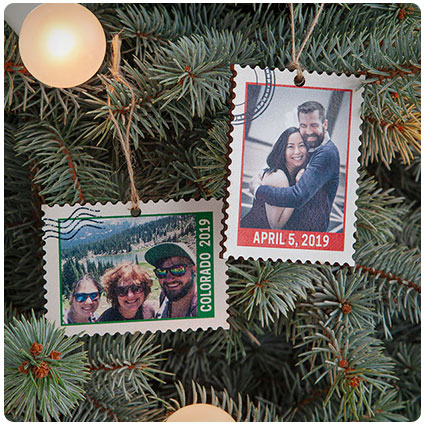 Personalized Photo Stamp Ornament
Whether they're for the Christmas tree or just displaying throughout the home, these personalized plywood photo stamp ornaments are a wonderfully unique way to showcase precious family memories.
$29.00
---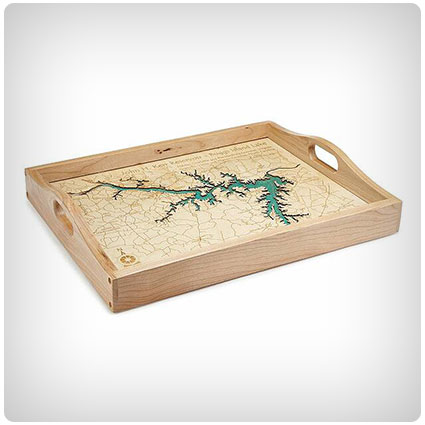 Coastal and Lake Art Serving Trays
If Dad enjoys spending time down by the water's edge, this coastal and lake hardwood serving tray will remind him of whichever beautiful location he loves to be in.
$169.00
---
Made from stoneware (which keeps liquids beautifully cold), this personalized beer growler will allow Dad to bring his favorite craft beer with him wherever he happens to be going.
$89.00
---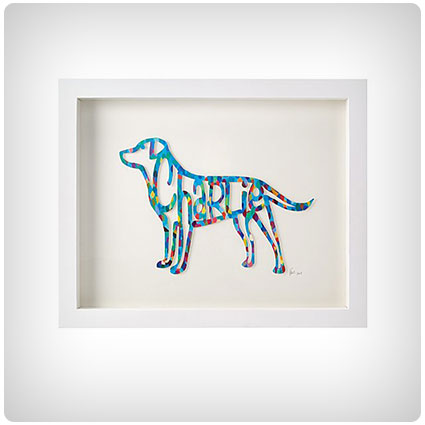 This papercut makes an attractive personalized gift for dads who love their dogs, as not only does it feature his best friend's breed, but also his or her name, too.
$150.00
---
Whether it's used to snuggle up under or as a unique piece of art, this cotton blanket highlights the family crest as a reminder of one thing you all have in common.
$145.00
---
This marble clock doesn't display hours and minutes, instead it shows how long is left until low or high tide, making it an invaluable item for someone who lives near the water.
$85.00
---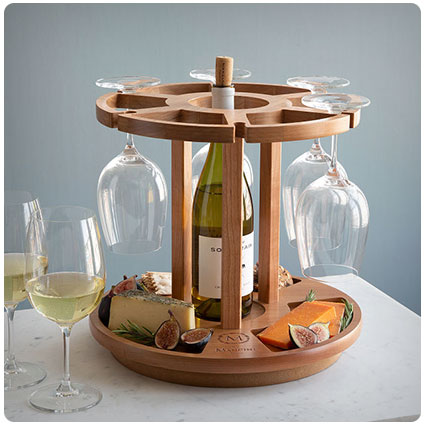 Personalized Wine & Cheese Carousel
Perfect for a night in front of the TV, this personalized wine and cheese carousel holds a bottle, glasses, and a selection of snacks and keeps them all within easy reach.
$125.00
---
Becoming a dad will be a defining moment in any man's life, and this tee will help him show off his new title in style and comfort, along with his 'other' name.
$24.99
---
If he's watching his weight while the years pile on, this personalized candle will make a great birthday gift for Dad, as it smells like a freshly baked cake without the calories.
$30.00
---
Personalized Bourbon Barrel Flight with Glasses
Made from a reclaimed bourbon barrel, this personalized handcrafted flight comes with 4 Glencairn glasses – just include a bottle of his favorite whiskey and he'll be over the moon.
$75.00
---
Whoever said men can't multitask has never seen this piece of kit; with a spatula, knife, and bottle opener in one, this personalized BBQ tool means he can do it all.
$7.95
---
Families don't always share the same interests and that's ok, it's what makes each member different. This personalized piece of art highlights the different hobbies everyone has in a beautifully unique way.
$85.00- $175.00
---
Personalized Wine Bottle Pepper Mill
Made to resemble a wine bottle, this cherry wood and ceramic pepper mill will ensure every meal is seasoned beautifully, while the personalized 'label' adds a wonderful touch.
$60.00
---
Personalized Socks- Set of 5 Pairs
He won't be complaining about 'boring' gifts when he slips his feet into these cotton socks, which come in a pack of five, personalized with whatever you want them to say.
$50.00
---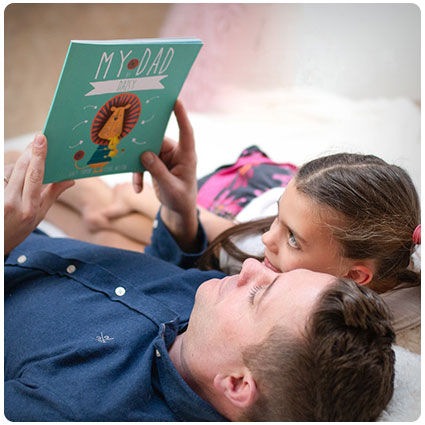 With personal details such as names, activities, and even his year of birth, this book will be wonderful to read with the little ones, and a touching reminder when they're all grown up.
$22.75
---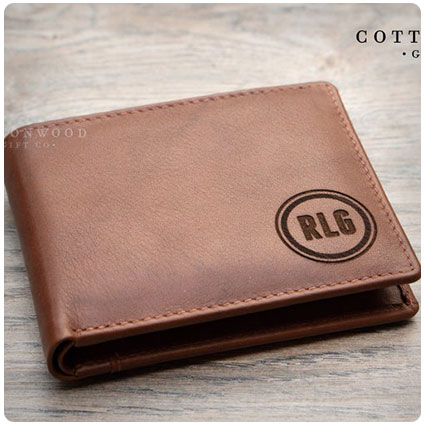 An essential piece of a gentleman's kit, this soft leather wallet can be engraved with up to 40 words on the inside, giving plenty of space for a poignant message or verse.
$36.95
---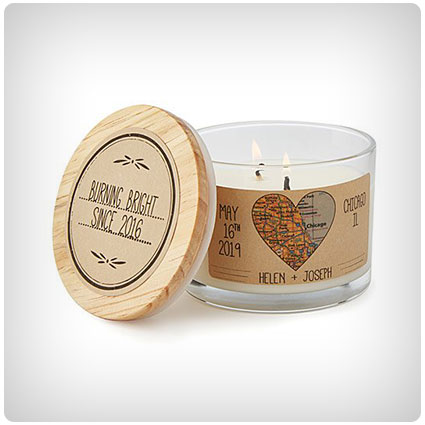 Show him that your anniversary is as important as ever with this soy candle, which comes in a glass holder that has been personalized with the map of your special place.
$45.00
---
Every breed of dog has its own special traits and this artwork highlights those qualities by cleverly arranging them in an acrostic poem; the ideal gift for the dog loving dad.
$40.00- $100.00
---
This stunning knife is 100% handmade and would make an impressive piece for any collector as it comes plated in silver and 24K gold, before being adorned with beautiful, intricate patterns.
$390.00
---
Holding a generous 32oz of delicious ice cream, this handled ceramic bowl has Dad's name all over it, unless he'd prefer Pops or Pa, of course.
$24.98
---
Personalized Dad Picture Frame
Simple but so effective, this wooden frame is handmade to hold either a 5×7" or 8×10" photograph, and can be engraved with up to 60 characters for your own heartfelt message.
$22.99
---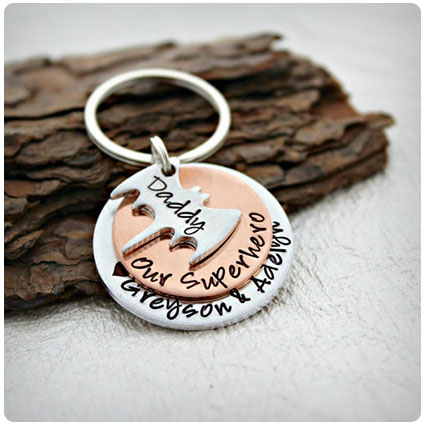 You already see Dad as your superhero, so why not show him with this 3-tiered keychain which features a Batman symbol, along with two metal discs for added personalization?
$26.00
---
This wooden Smart watch and phone stand is the perfect addition to any bedside table; the cleverly etched grooves hide any charging cables while the personalized details really make it stand out.
Prices vary
---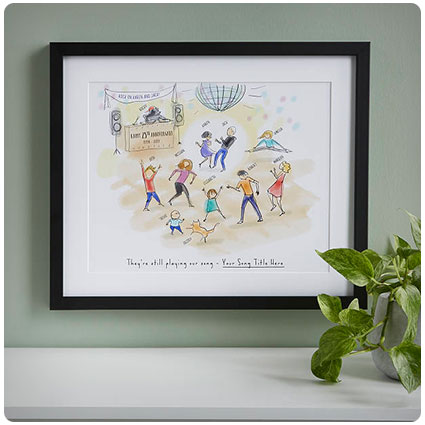 Personalized Family Dance Party Art
Let the good times roll with this unique piece of personalized artwork which can feature up to 13 family members, including pets, throwing some shapes on the dance floor.
$75.00- $125.00
---
Personalized Message in a Bottle
Utterly enchanting, this tiny message in a bottle features a father's silhouette with his children in a field of wildflowers, and comes with a message of your choosing.
$10.00
---
Personalized Moonshine Jug & Kit
He might not be old enough to remember the Prohibition era, but that doesn't mean he can't enjoy the once-illicit thrill of brewing his own delicious moonshine with this exciting DIY kit.
$50.00
---
Made from brushed or mirror stainless steel, this money clip can be engraved with a name, saying, or even your own handwriting for a totally unique gift that he'll use every day.
$16.99
---
New York Times Custom Basketball Book
Take him on a trip down sporting memory lane with a custom basketball book, which charts his favorite team's highs (and lows) through reprinted coverage from the New York Times.
$72.00- $112.00
---
Not only does this glass come etched with his title, but it also includes the birth dates of all the little ones (and not so little ones) who changed his life forever.
$17.00
---
Watches make cherished gifts, especially for dads, but this time why not choose this beautiful and highly unusual wooden version which can be engraved with up to 6 lines of text?
$144.98
---
Illuminated Constellation Cufflinks
Even if he's not an astrology fan, these cufflinks will make a magical gift as they feature his zodiac constellation which glows in the dark (just like the night sky).
$85.00
---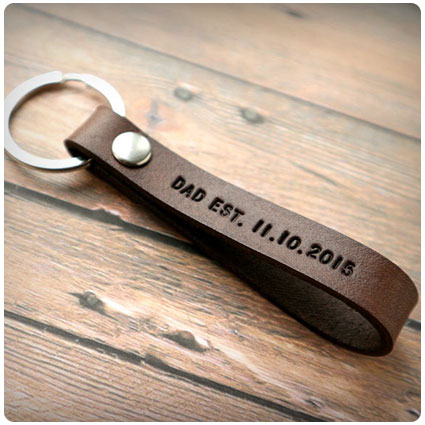 Handmade from start to finish, this simple hand-stamped leather keychain can be personalized with any message of choice, whether it's a meaningful piece of text or a memorable date.
$14.99
---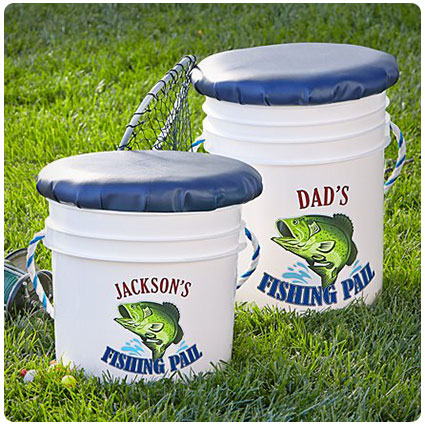 This personalized pail also doubles as a portable seat so there'll be no more uncomfortable fishing trips. Available in both adult and youth sizes, he can match with his smallest fishing buddy.
Prices vary
---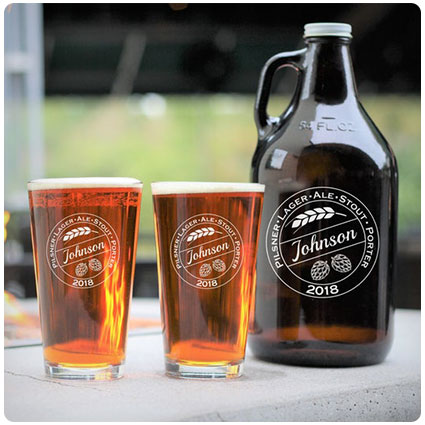 Engraved with his name and choice of year, this 64oz glass growler will keep his craft beer cold while saving the planet from the scourge of unwanted single-use bottles and cans.
$22.49
---
Personalized Tap House Pint Glasses
Your lager lover is sure to spill over a smile when he sees these cool Personalized Tap House Pint Glasses (especially if you have a cold can or two of his favored beverage ready and waiting). Don't be wary of ordering these online, either, as they're hand-packaged, ensuring they'll stay safe and intact.
$49.00
---
Can you imagine the look on his face when he opens up this amazing gift? It beats a pair of socks, that's for sure! This Personalized Whiskey Barrel really does make one impressive gift, so your siblings are going to have to think outside the box this year to catch up.
Price varies
---
Personalized Money Clip Credit Card Holder
You'll definitely be 'cashing in' with this Personalized Credit Card Holder. On front of the genuine leather case is a snazzy silver-plated, spring-loaded metal clip that will hold all his dollar bills safely and securely, while the case has space for all of his credit cards. It's also on sale, go grab this bargain!
$35.00
---
Have this gorgeous, rustic handmade wooden sign point the way to Dad's garden shed, his man cave, or garage; you name it, this sign can be personalized with any wording you like, and it can also be dry brush painted in a variety of lovely colors – will you go for Canary Yellow or Fern Green?
$35.00
---
The Washington Post Custom Birthday Book
Everyone enjoys a bit of history, especially when it involves part of them, which is why The Washington Post Custom Book makes a brilliant personalized gift for Dad. Inside this glorious book is a front page of the Washington Post from EVERY past birthday your dad has ever had – isn't that amazing?
$100.00
---
Custom Lake Art Cribbage Board
If your ol' man likes nothing better than winding down with friends over a fun game of Cribbage, then you just know this quirky board is going to make a few happy ripples. This isn't your usual Cribbage board, though, as this one is laser-etched with an amazing aerial view map of his dearest lake.
$59.00
---
Embroidered Duffel Bag Deluxe Weekender
For the dad who is always off on work trips, or likes to take weekends away down his favorite lake fishing with a few friends, or even if he's an avid gym bunny, this bag is built to endure the 'duffel' and bustle of life, no matter where he's off to.
$59.00
---
Embroidered Brown Leather Dopp Kit Travel Bag
Save him the embarrassment of having to borrow your mom's wash bag and instead, get him this luxurious Embroidered Brown Leather Travel Bag. There is something just so timeless and classic about tan leather, it really gives anything that sophisticated edge; this handsome bag being no different, it's sure to become his new traveling essential.
$59.00
---
It's a well-known fact that no matter where or what you eat, it never tastes quite as good as when Mom or Dad makes it, which is why (for your sake) you'd best order this 'My Family Cookbook' so Dad can write down all of his ever so delicious recipes for future generations.
$35.00
---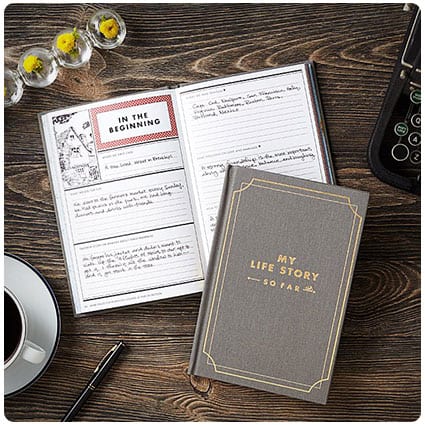 There comes an age when people like to write down their memoirs, but with SO much new found wisdom and fond memories, where on earth do you start? Well, with this 'My Life Story – So Far' Journal, you'll find it has all the prompts you need to get you quickly jotting it all down.
$30.00
---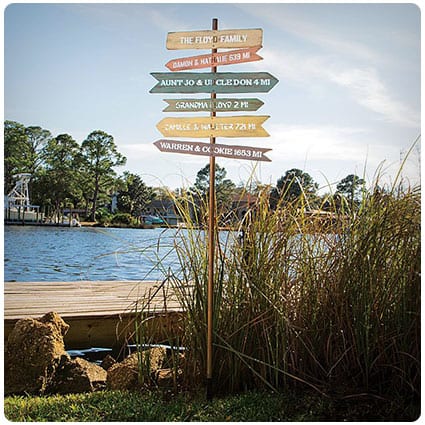 Personalized Family Member Signpost
Created by Chris Crooks is this utterly heartwarming Personalized Family Member Signpost. So whether you've flown the nest or you're due to soon, or you have aunts and uncles that live miles away, you can all now feel just that little more connected and closer with this wonderful custom sign.
Price varies
---
This amusing Personalized Amp Doormat is sure to 'rock your socks off'. The unique doormat looks just like popularly branded amps, but in place of the brand name is the family's surname instead – how sweet. It's a great way to 'amp up' your birthday gifting skills.
$35.00
---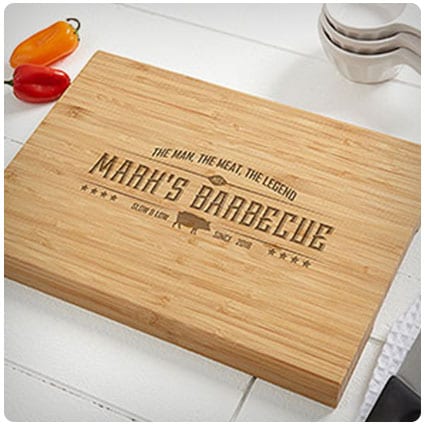 Personalized Bamboo Cutting Board
Is a dad really a dad unless he HAS to have control over anything that happens on the grill? Um, no. So, naturally, this super funny Bamboo Cutting Board is the perfect personalized gift for Dad this year. It has written: "The Man, The Meat, The Legend" *Dad's name's* Barbecue. Perfect, right?
$42.00
---
Have your dad remember the special day you were born, or another spectacular event, with this lovely Bronze Custom Map Keyring. This keyring has the location of the moment, and the back can even have a small heartfelt message from you, engraved. A great key ring to clip onto a leather travel bag, don't you think?
Price varies
---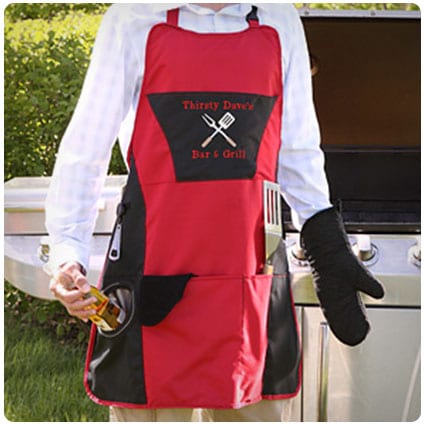 Personalized Four Piece BBQ Grill Apron Set
This amazing apron has everything your grilling professional could ever want in an apron; we're sure you've never seen anything like this, we haven't, anyway! This innovative Personalized BBQ Grill Apron Set comes with a custom apron that has a bottle opening tool, tool pockets, oven mitt AND an insulated pocket to keep drinks cool.
$45.00
---
Your rock star is sure to feel proud having their name on their very own record…okay, so it is a doormat record, but it's still pretty awesome, right? He's sure to think so. Don't forget to take your shoes off at the door, nobody wants a scratched record!
$35.00
---
The fondest memories from our childhoods are family days out at the beach, with picnics, buckets and spades, and swimwear in tow. What better way to remember those precious memories than with these amazing Custom Beach Cufflinks. These can be made with sand from any beach you like, for a gift that goes against the grain.
Price varies
---
Personalized Leather Bi Fold Wallet Regent Collection
A useful gift is always a great one, and you can't get handier than a wallet, though you should totally go all-out and choose this rather dapper Leather Bi-Fold Wallet. Want to know why? Well, not only is this crafted with the finest genuine black leather, it's also debossed with monogrammed initials.
$45.00
---
If your dad is one of those gents who owns an impressive watch collection, there's probably not much point in buying him yet another timepiece. Think inside the box by having one of these smart and classy Monogram Leather Watch Boxes made for him, which displays 2 watches and is engraved with an initial monogram.
$52.00
---
Chop chop – spoil chef Daddy with this wonderful Personalized Cutting Board. You can choose to have this beautiful maple wood cutting board hand-cut with either the family surname or maybe your mom and dad's names together, making a sweet keepsake for the cute couple, plus it looks just as great as a kitchen art piece.
Price varies
---
Penny Cufflinks With Personalized Year
You'll always have a coin to toss with these Penny Cufflinks should you ever need to make a super grown-up decision, not that you would want to toss these particular pennies as they're way too smart. Choose which year you want these coins to come from, for a truly unique gift that's always a winner.
Price varies
---
Premium Black Personalized Cigar Humidor
Keep your cigars in tip-top condition with this Premium Black Personalized Cigar Humidor. Anyone who has this stunning, top of the range humidor will wonder how they ever lasted without it, as up to 50 cigars at a time stay perfectly moistened, fresh and full of that classic taste that all cigar fans desire.
$85.00
---
Mens Personalized Spa Robe Black Microfleece
You know what it's like when you have a unique name, it can be really hard to find something in the store that's already beautifully personalized with your unusual moniker. Which is why we think you'll be over the moon with this luxurious fleece robe, complete with your own special name in a choice of fonts.
$69.00
---
Personalized Pocket Knife Survivor Emergency Tool
Everyone likes a good bargain, which is why you need to have a 'pick' at this nifty Personalized Pocket Knife. These make a great gift for any dad as they're perfectly portable, so they're always there should an emergency arise, or he merely needs to open his can of cold beans when camping.
$36.00
---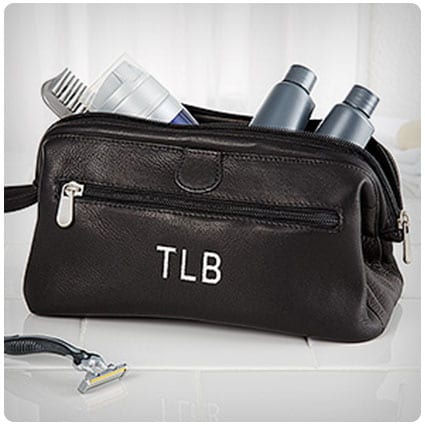 Personalized Toiletry Bag Black Leather
Ooo, another great item on sale, we're on a roll here! If you're looking to save a few pennies, you're definitely in the right place (and Dad never needs to know). You can't go wrong with a durable toiletry bag, as they're incredibly useful during family vacations and business trips, or just everyday use.
$59.00
---
Personalized Crystal Globe Keepsake Gift
If you've been looking for that perfect gift that's 100% going to have your pops feeling as special as he truly is, take a look at this glorious glass globe – it almost looks like a trophy, doesn't it? And so it should, as being the best dad is definitely an achievement to be proud of.
$47.00
---
Personalized Leather Cord Traveler
There's not a smarter way to keep your cables neat and tidy, than this Personalized Leather Cord Traveler. Isn't it just so frustrating, reaching into your bag to find your headphones or charging cables somehow manage to tangle themselves up into some plasticky maze EVERY time? Those days are gone with this, though – phew.
$49.00
---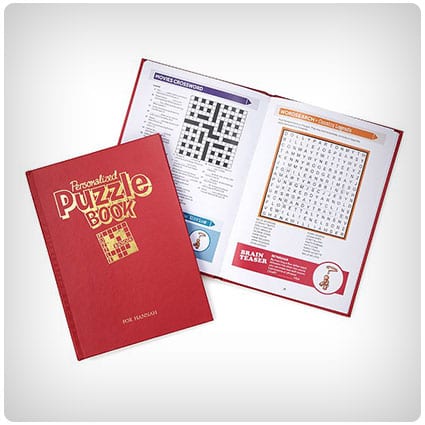 If he's always on the go, whether thta's traveling on planes or spending hours commuting every day, he needs a way to stay occupied, right? So you know he's going to appreciate this brilliant Personalized Puzzles Book, and with 50 pages, it'll keep him happily 'puzzled' for plenty of boring trips.
$40.00
---
Heavy Duty Personalized Garment Bag Luggage
Keep your suits looking smart throughout your travels with this Heavy Duty Garment Bag. It's made from sturdy material, giving around 6 garment items ultimate protection, and finished off with the most handsome initial monogram in khaki thread. It's also designed to easily fit and tie onto your suitcase, what more could you want?
$74.00
---
New York Times Custom Birthday Book
Ever wondered what was on the front pages of the paper when you were younger? Well, with this fabulous custom book, you'll now find out all the news that made the headlines on every previous birthday – how neat is that? History fans are sure to go crazy for this New York Times Custom Book.
$99.95
---
Ever gone to the gym and been left wondering which bag is yours once you're ready to leave? Fear not, because with this genius, yet in-trend Nike Embroidered Duffel Bag that'll never happen again. This bag isn't just great for the gym, though, it won't get mixed up at the airport, either – phew.
$85.00
---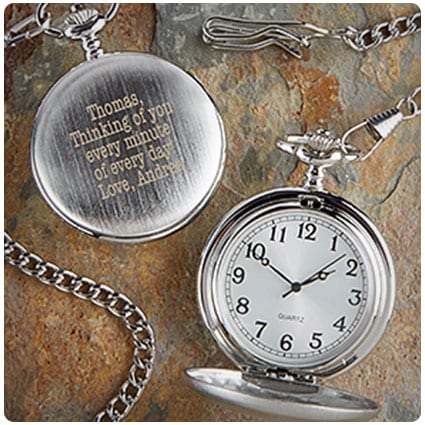 Personalized Silver Pocket Watch With Engraved Monogram
It's 'time' you dig in your 'pocket' for this one. Welcome the Personalized Silver Pocket Watch; this timeless gadget is the perfect outfit accessory for the dapper man in your life. The watch is also immaculately engraved with a custom monogram on its front, with a sweet message from you on the back – how lovely.
$39.00
---
5 Cool Diy Gift Ideas to Make Dad's Day
---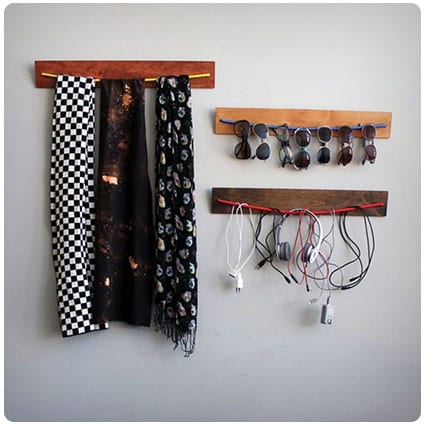 Men aren't always the best at organizing their clothes and possessions, so why not give them a crafty helping 'hand'-made DIY Wooden Bungee Organizer. These effective, rustic wooden pieces look great in any room, no matter how modern it may be, and keep all his little nik-naks neat and tidy.
---
Struggling to find something to make for the nerdy dads out there? Then take a look at these awesome DIY Comic Book Coasters. This craft can be a little fiddly, though if you're a DIY pro, you'll have no problem at all – plus this make requires Mod Podge which is uber fun to work with.
---
How to Make the Best Beef Jerky in the World
Try not to drool, but take a good look at this 'How To Make the Best Beef Jerky in The World' tutorial, over at artofmanliness.com – we're sure you'll be grabbing your notebook to write down the yummy ingredients as soon as you set your eyes on it. Doesn't this recipe just sound incredibly delicious?!
---
How to Make a Laptop Riser for Watching Movies in Bed
Does your dad enjoy winding down by watching his fav shows? Now he can do just that, but in the comfort of his own bed. "The laptop will overheat!" we hear you say; nope, not with this genius DIY Laptop Riser. Have a look at this tutorial to find out how to make it.
---
Oh gosh, you can tell this handmade soap smells absolutely incredible just by looking at it, so you just know you HAVE to make this for dad, as he won't be able to resist lathering himself up in its ultra yummy oaty, almondy-beer scent straight away – mmm, divine!
43 Unique Gifts All Dads Will Love