Tea lovers can be tough to shop for because there are only a few things that go into enjoying a cup of tea. But having the perfect tea accessory and the perfect tea leaves can make all the difference. Here are some of the best tea gifts you can get to make drinking tea less of a daily activity and more of an art form.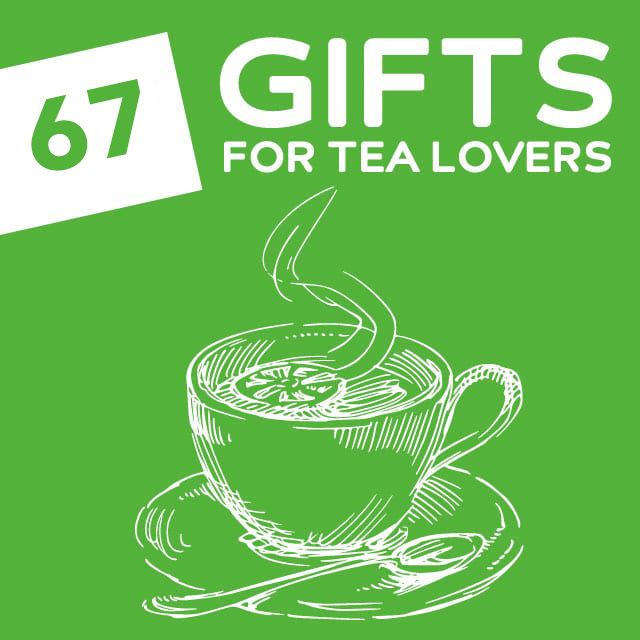 ---
Anything celestial has a certain magical air, and these tea bags – which come as stars, moons, and clouds – are no exception, with 5 each of English Breakfast, Earl Grey, and White Berry.
$30.00
---
Like latte but with tea, this set allows for a smooth, tasty drink brewed like its stronger counterpart, and comes with a box of rose infused sugar cubes for a delicately exotic taste.
$45.00
---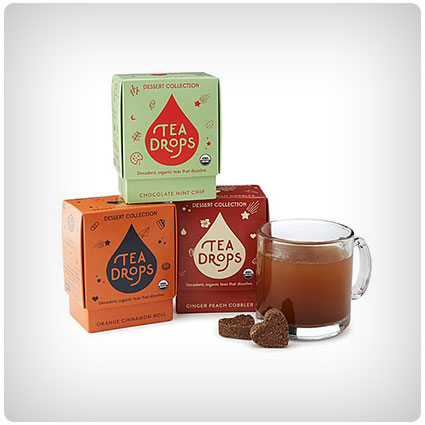 This gift set reads like a who's who of delicious desserts, but without a calorie in sight these scrumptious-sounding tea drops will round an evening meal off nicely.
$32.00
---
Do you know someone who loves tea so much they could bathe in it? Now they can with these Lunar Phases Bathing Teas, which are each designed with a phase of the moon in mind.
Prices vary
---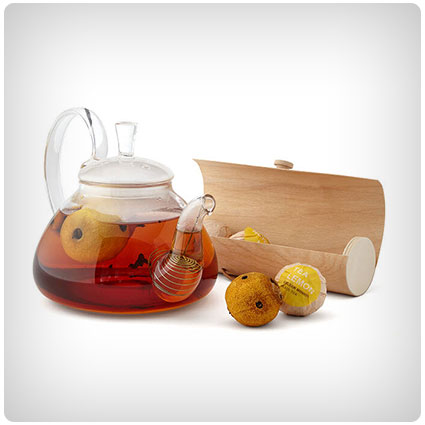 Lemon tea has been taken to the next level with this unique packaging idea, in which Californian lemon peels are stuffed with black tea to infuse each brew with a deliciously tangy taste.
$20.00
---
The prettiest tea they'll ever see, this Ayurvedic pink chai is made from a blend of organic ingredients such as rose petals, cinnamon, and stevia leaf for a delicate, health-giving brew.
$15.00
---
If their ideal tea is a little bit of this and that, let them blend their own with this set which includes herbs and teas which can be mixed and matched to taste.
$40.00
---
Matcha makes a great alternative tea gift for someone who is looking for something different, and with two delicious flavors included, this set makes a fine first foray into this powdered green tea.
$38.00
---
Even palaeontologists need a tea-break during the day, and what better way to enjoy one than with a steaming brew in one of these incredible earthenware dinosaur mugs?
$37.00
---
They can fake it til they make it with this 'pretend' coffee, which looks and feels like the real thing, but with a slightly spicy and much lighter caffeine hit.
$10.00
---
Sprinkle these tea dusts into hot water and all their cares will dissolve along with the powder, and with three varieties in each set, there's a brew to match every mood.
$29.00
---
Thai iced tea is a delicious blend of organic sugar, green tea, and creamy condensed milk, which can be boosted even further with any spice you like, and poured over ice.
$15.00
---
Tea is as good for the body as it is for the soul, and this set of four glycerine soaps comes infused with nourishing oils to moisturize, and various tea leaves for natural exfoliation.
$20.00
---
Elwood the Rainbow Unicorn Mug
Any tea lover will tell you that the first sip is sheer magic, so have them carry on that theme with Elwood, the enchanting unicorn mug with a sparkling rainbow mane.
$40.00
---
If they're planning on trying sober October or dry January, this bourbon infused tea will make the perfect gift as it imparts all the flavors of American whiskey, without the alcohol hit.
$20.00
---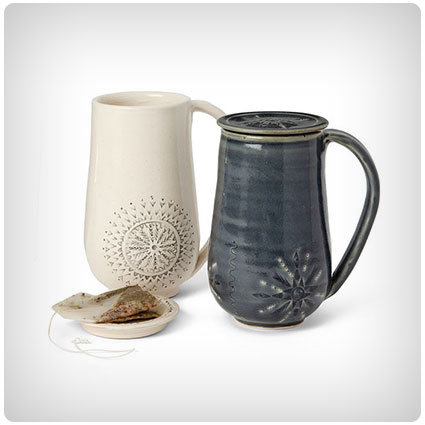 Save someone from the horrors of drinking cold tea (unless it's iced) with this clever stoneware mug which comes with a heat-keeping lid that doubles as a spoon rest or coaster.
$45.00
---
Japan exports only 5% of its teas, making it a rare treat for any tea lover. This set contains 4 connoisseur-picked green teas in varieties such as Tamaryokucha Imperial and Genmaicha.
$27.00
---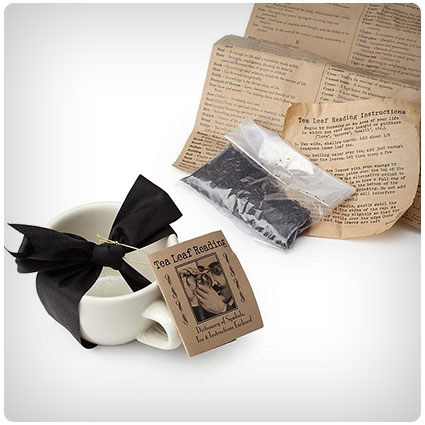 Fact or fantasy, tea leaf reading is a lot of fun, and this kit will teach them how to decipher the patterns and symbols left in the bottom of the cup.
$23.00
---
Utterly beautiful to watch, this jar contains small dried buds which, when dropped into hot water, will slowly unfurl into a flower which is as delightful to see as it is to taste.
$21.00
---
Completely charming, this hand thrown mug features a whimsical gnome sitting on the front, holding a heart carefully in his hands – what a wonderful way to start the day.
$42.00
---
Take them on a global tour of tea with this set of pyramid bags which contain leaves from China, the Himalayas, England, and Ireland, in deliciously refreshing blends.
$38.00
---
Coffee might be the go-to post-dinner beverage, but this merlot-infused tea might just change their mind. With flavors of bergamot and vanilla, it's set to become their new favorite evening sip.
$20.00
---
They don't need a degree to know that tea + hot water equals the best drink of the day, but this chalkboard-style mug is covered with math equations to make it seem like they do.
$16.00
---
Grown close to a Buddhist temple on a single plantation, these steeping flower blossoms make the most picture-perfect teas imaginable as they imbue the hot water with deliciously floral tastes.
Prices vary
---
Take the road less travelled with a set of 10 teas, which will open their eyes and their tastebuds to the delicious blends which can be found all over the globe.
$55.00
---
History buffs will enjoy learning about the Boston Tea Party of 1773 as they partake of one of the five varieties included in this set, which were among those tossed into Boston Harbor.
$35.00
---
Ideal for Valentine's Day, an anniversary, or even just because, this set of 15 heart shaped tea bags contains 3 different varieties of teas for a romantic breakfast in bed.
$30.00
---
Now THIS is genius, and could save a lot of domestic dramas – a mug with an integral pocket for used tea bags! No more tea stains and no more rows.
$34.00
---
Butterfly Fields Morning Tankard
No mug could be more perfect for greeting the sunrise each day than this Butterfly Fields Morning Tankard, which has been handmade in a beautiful rustic design with an illustrated raw center band.
$27.00
---
Self-Care Chamomile Tea Gift Set
Chamomile tea is one of nature's greatest soothers, and this wonderful set will enable any tea lover to grow and steep their own relaxing brew thanks to a clever hydroponics system.
$50.00
---
If their tea consumption so far has consisted only of leaves, it's time they tried mushroom tea, because these brews use spices and fruits to impart the most delicious flavor sensation.
$36.00
---
Every morning is a clean slate, a chance to start anew, just like this Bob Ross mug which features a plain black background until hot liquid is added, and then the magic begins.
$16.00
---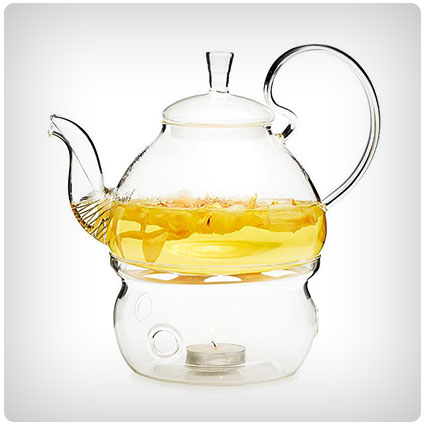 Whether they use dried flowers or ordinary bags, this glass teapot will provide a stunning show of ombre colors and swirling hues, while the tealight underneath will keep the pot warm.
$36.00
---
Takeaway tea rarely tastes great, but with this clever Tea Maker To Go, they can have their tea brewed exactly how they like it, and it will stay warm for up to 6 hours.
$35.00
---
Cute and practical, this felt teapot is actually a purse and features feet on the bottom to keep it clean and dry, while the inside will hold any small incidentals.
$89.00
---
Doodling while drinking is encouraged with these mugs which come in graph or lined versions, and include pens which can be wiped off over and over until the design is 'baked' in the oven.
$24.00
---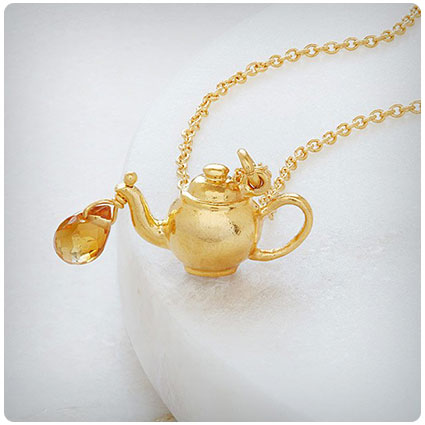 Made from gold plate and hanging on a 16" – 18" chain, this teeny teapot charm has a beautiful citrine gemstone droplet coming out of the spout as a tribute to their beloved drink.
Prices vary
---
With names like Raspberry Moon Brew, there has got to be something magical about the recipes in this book which are all based on ways to make plain old water absolutely delicious.
$25.00
---
With 5 organic teas, plus fruit peels and flowers, this kit will allow anyone to experiment with mixing their own blends, either from the included recipe book, or by making up their own.
$40.00
---
Pressed into tiny drops of heaven, these tea shapes can be added directly to hot water where they will dissolve into steamy, aromatic cups of deliciousness, like blueberry acai and rose Earl Grey.
$34.00
---
Beauty Steep Tea Bag Eye Masks Set of 6
Tea bags are well-known for reviving tired eyes, but they do tend to slide off. These eye-masks are filled with aromatic leaves for the same refreshing effect with the convenience of staying put.
$30.00
---
Bubble tea is everywhere right now, but if you know someone who hasn't yet tried it, this kit will enable them to create their own delicious Taiwanese treat by just adding milk.
$35.00
---
Cold Weather Comfort Tea Gift Set
Treat those winter blues without the need for medicine with this set of Cold Weather Comfort Teas, which includes flavors such as Peaceful Spirit, Cold Comfort, and the delicious Quiet Cough.
$38.00
---
Trio of Cocktail Inspired Teas
Cocktails become mocktails with this trio of drink-inspired teas, which contain no alcohol and yet draw inspiration from the flavors of mojitos, cosmopolitans, and good old fashioned Pimm's.
$25.00
---
Mix words with a warm drink in one of these literary-inspired mugs, which feature quotes from the likes of Jane Austen, Lewis Carroll, Edgar Allen Poe, and of course, the Brontë sisters.
$16.00
---
The exotically-named teas in this gift set are certainly delicious, but will they try out Japanese Fleur de Geisha, English Blue of London, or Thé des Moines from a Tibetan monastery first?
$55.00
---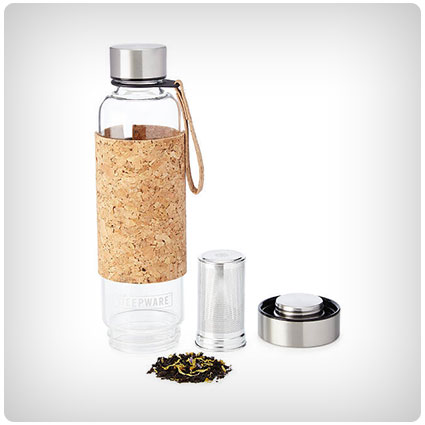 Portable Tea Tumbler with Cork Sleeve
Sleek and sophisticated, just as a flask should be, this tumbler features a removable cork sleeve so the borosilicate glass doesn't get too hot (or cold in the case of iced tea).
$30.00
---
Handcrafted in Fond du Lac, these porcelain mugs have been hand pressed with real wild flowers to give a unique pattern in one of the three delicate colors available.
$38.00
---
Packed with fascinating information about tea, this infographic tea towel would make an interesting addition to a tea drinker's kitchen, and give them something to read while they enjoy their afternoon brew.
$14.00
---
Disappearing Civil Liberties Mug
Never more pertinent than now, this Disappearing Civil Rights Mug will give a sobering taste of things to come as the warmth from the tea makes certain rights disappear before their eyes.
$14.00
---
This is a Japanese-style teapot that is hand-molded from cast iron. This is a way to bring some old school qualities to your tea experience. It includes the necessary accessories to properly brew a pot of tea, and the cast iron construction means it stays hot longer.
$60
---
Glass Kettle with Stainless Steel Steeper
With most tea kettles you can't see the magic happen because they're opaque. This kettle let's you peak behind the curtain and watch ordinary water turn into tea through the steeping process. It can be helpful if you know how strong you like your tea because you can remove the steeper when the tea reaches the proper color.
$60
---
The tea lover in your life will always need a fresh supply of tea, and what better way to go than an assortment of high quality teas for their perusal. This is a good gift if you're not quite sure of the type of tea they enjoy, and you feel that asking them would be too obvious and give away the fact that you're buying them a tea-related gift.
$24
---
Go all out with this tea tower! Of course it comes with some English tea, but it also includes a tea set for one, honey, crackers, cookies, and more. It has everything one needs to have a most enjoyable tea time, and the suede hatbox it comes with can become a keepsake.
$85
---
---
---
---
---
---
---
---
---
---
---
---
---
---
---
---
8 DIY Gifts for Tea Lovers
---
---
---
---
---
---
---