Whiskey lovers are a special breed. They love to know all the latest information on home distilling, aging, and custom flavoring their spirit of choice—and they get a special thrill from serving in style. These gifts will be a hit with the whiskey lovers in your life.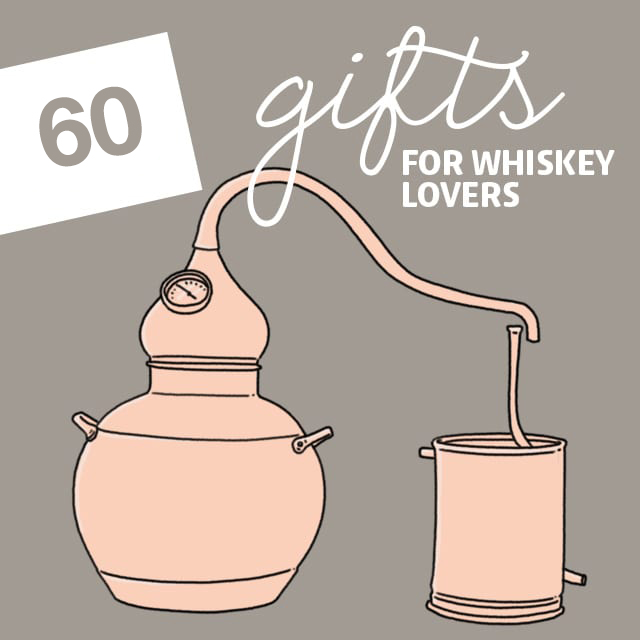 ---
Be a rebel and make your liquor at home with this handmade copper moonshine still. It's compact enough to use inside or out, and the copper design eliminates the harmful chemicals found in other home stills. You'll be most popular guy in your group of friends as you sip fresh homemade whiskey anytime you want.
$369.95
---
Whiskey lovers will be in high spirits when they receive this crate, which includes 2 personalized rocks glasses, a pair of ice sphere molds, coasters, and a selection of savory snacks.
Prices vary
---
They'll be underwhelmed by this prank gift until they realize that it's hiding a year's subscription to the best whiskey-tasting club around, which delivers whiskey samples, selected bottles, and even live tasting events.
Prices vary
---
Give him the means to create his own blend as he adds his own favorite whiskeys to the bottle and labels it, for a tipple that's truly unique to him.
$48.00
---
The drink may be Old Fashioned, but pecan wood smoked maple syrup gives it an up-to-date twist. This crate contains syrup, personalized etched glasses, bitters, and an ice tray for keeping things cool.
$89.00
---
Personal Whiskey & Water Decanter
Super smooth and incredibly handsome, this decanter holds whiskey and water separately until it's time to drink, and then allows each to be poured independently of the other for the perfect mix.
$30.00
---
For a home-baked taste without the prep, this mix needs just butter and eggs (and pastry, of course), to turn it into a delicious bourbon-soaked pecan pie which whiskey lovers will adore.
$21.00
---
Whiskey-Enhancing Oak Honey Tumbler
Everything about this oak wood tumbler has been designed to bring out the flavor of the whiskey, from the wide base (giving the aromas room to expand), to the honey wax it's lined with.
$14.00- $50.00
---
Definitely not for kids, this trio of dreamy and creamy caramels use whiskey, absinthe, sea salt, and other organic ingredients that will satisfy the most discerning of palates.
$36.00
---
The personalized decanter and matching glasses are the centerpiece of this handsome whiskey appreciation crate, which also includes ice sphere molds, a whiskey journal, coasters, and a selection of tasty nuts.
$119.00
---
The Many Varieties of Whiskey Wood Engraving
This infographic will look stunning on the wall of any home or office, and is engraved with the details of the different types of whiskey onto beautiful cherry plywood.
$185.00
---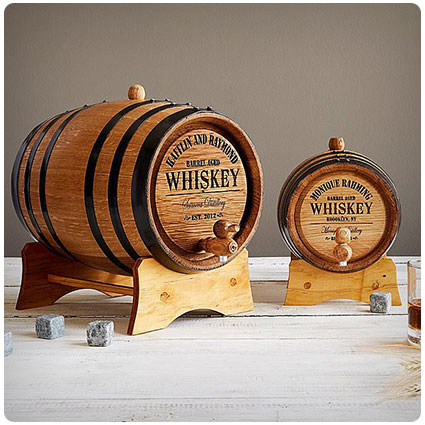 These personalized mini oak barrels age whiskey up to ten times faster than a traditional barrel, and come with the option of flavor essences to add an extra depth to the liquor.
$85.00- $200.00
---
Scotch-Infused Toothpicks Gift Set
Let the taste linger a little longer with a set of single malt scotch infused toothpicks, which impart the flavor of this classic spirit without the effects of actually drinking it!
$35.95
---
With everything a whiskey lover could need, this wooden crate includes crystal scotch glasses, engraved decanter, stones, coasters, snacks, and even a notebook for keeping track of tipple tastings.
$129.00
---
---
---
---
---
---
---
---
---
---
---
---
---
---
---
---
---
---
---
---
---
---
---
---
---
---
---
---
---
---
---
---
---
---
---
5 DIY Whiskey Gifts
---
---
---
---
---
(You may also like: 31 Awesome Gifts for Drinkers, Drunks & Boozehounds)