You know deep down in her soul she's wish you'll give her a homemade Valentine's Day gift. It shows you took the time to make her something special rather than just making an online or impulse purchase at the store. You don't have to go all Martha Stewart with this, as today's DIY gift ideas are clearly mapped out so you can follow them step by step but still be a gift-giving hero to her.
---
Succulents make great houseplants because they look great and are easy to look after. This guide shows you how to create the sweetest love heart pots for Valentine's Day and beyond.
---
If shoes are your girlfriend's raison d'etre, fashion her a pair of these faux Alice and Olivia flats by painting tiny acrylic hearts all over a pair of plain, nude pumps.
---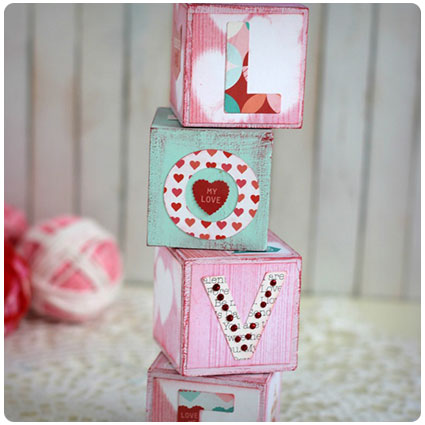 Wooden blocks don't just make great toys, but they are also fantastic for craft projects – this tutorial shows you how to turn them into painted, distressed L.O.V.E blocks for a gorgeous rustic feel.
---
Warm hands, warm heart will be her mantra when you give her a pair of these sweet hand warmers, which are incredibly easy to make but will mean the world to her.
---
If she loves flowers AND candy, this is the DIY Valentine's Day gift for her! A hidden vase full of roses surrounded by delicious multi-colored candy hearts makes a stunning visual arrangement.
---
Bath bombs bring a touch of magic to tub time, so why not make her a batch of these sensual and moisturizing hearts using the exotic aromas of jasmine and sandalwood?
---
If she likes her footwear funky, have a go at turning an ordinary pair of ankle socks into a bang-on-trend faux cross stitch one using fabric paints and a steady hand.
---
Take inspiration from this video and create your own acrylic tote gift basket for Valentine's Day, by filling it with as many cute love-themed items as you can find.
---
This DIY idea is super cute and would make a fantastic Valentine's gift from the little ones in the family, as it uses their fingerprints to create adorable little hearts on painted jars.
---
With a little careful craftsmanship, you can create this sweet Valentine lightbulb using a standard bulb, a block of wood, and some pliable red wire to create the hearts.
---
Carving initials into a tree is an age old tradition, but this DIY will allow her to have that symbol of everlasting love on her desk, her bookshelf, or even on her wall.
---
Use a page from her favorite book (buy a second copy, though) and choose a graphic to print onto it for one of the coolest pieces of art she'll ever see.
---
Show Me Your Love Painted Canvases
This set of 4 mini canvases will make a truly thoughtful gift, and you can paint them in any colors and write any message you like, which makes them super personal to her.
---
Mason jars are so versatile, and these ones are pre-decorated, which makes them perfect for holding mini bouquets. Just add the free printable tags for the finishing touch.
---
This homemade strawberry sugar scrub is good enough to eat – literally – because it's made with freeze-dried strawberries, sugar, and super-healthy coconut oil for the softest skin and the sweetest smell.
---
Red roses are the traditional Valentine's Day gift, but it's sad when they start to wilt. Make her this vibrant heart wreath and it'll stay looking fresh for years to come.
---
If you're not a dab hand with paint and you really can't sew, this Duck Tape plant pot makes a great DIY alternative and adds a brilliant splash of color to any room.
---
Turn a plain white tumbler into a stunning make-up brush holder by following the incredibly easy steps in this blog post – you can even adapt it to fit in with her color scheme.
---
These little felt candy hearts have a beautiful innocence about them, and could be made in the suggested size for holding sweet treats, or even made bigger to hold something more substantial.
---
If you know how to knit, you'll be able to make this cute cup cozy which, when made in baby pink, makes the ideal Valentine's Day gift for any coffee loving lady.
---
Use the suggestions listed here, or add some of your own, and she can have a pretty jar that's packed with the perfect date night ideas for the weeks and months to come.
---
This beautiful lace throw blanket is worth the effort, and will look stunning draped over her bed or kept on the couch for cozy evenings in front of the TV.
---
High-end quality bath bombs don't come cheap…unless you make them yourself! These ones are made with detoxing Epsom salt, eucalyptus oil, and luxurious rose petals for that sensual touch.
---
She can hang these pillows in her closet, put them in a drawer, or just scatter them around the house for the fresh scent of lavender, rose, or whatever herb she likes.
---
This is one ring she'll never refuse to wear! Made using jewel colored candy melts, these sparklers use edible glitter to add a bit of bling to her Valentine's Day outfit.
---
This DIY will bring you back to childhood as you mold and shape air dry clay into 3D hearts, before painting them red and attaching magnets so she can display them on her fridge.
---
Heart-shaped Page Marker Origami
Protect her books from turned down corners and learn a pretty neat trick at the same time, with this tutorial which shows you how to create a sweet origami heart page marker.
---
Simple but so effective in any kind of kitchen, this wooden heart cutting board can be made using any untreated wood, and then finished with food-friendly butcher's block conditioner.
---
If a diamond solitaire is not on the cards this Valentine's Day, have a go at making this delightful wire heart ring instead, which she'll cherish just as much.
---
Xs And Os For Your Toes In a Jar
If she doesn't feel dressed without painted toenails, package up a couple of bottles of her favorite polish and add kisses and hugs using glittery stickers, along with a pretty, handwritten gift tag.
---
Valentine's Day Mason Jar Bouquets
Now this is a DIY idea that Doris Day would adore! Rustic and charming, these mason jars can be decorated with burlap and doilies, and filled with the prettiest doily flowers.
---
Go overboard with red and pink and fill a gift basket with love-themed baking accessories this Valentine's Day; just add them into a pretty basket, and tie them up with a fancy ribbon.
---
This sweatshirt looks way more expensive than it is – the colored conversation hearts come in a free printable download, so all you have to do is iron them on! Simple.
---
Are you looking for an impressive DIY Valentine's Day gift for her that's not that hard to make? Take a look at these Celtic heart knot bracelets; they're perfect for Feb 14th.
---
Fill a bottle with her favorite tiny candies and add a label – you could have them printed or make your own – for a simple gift idea that will keep her sweet.
---
Photoshop has opened a whole new world of DIY gift ideas, and this one can be adapted to suit any length relationship – simply choose which maps you want to feature, and go!
---
You can make this heart shaped box as simple or intricate as your crafting skills allow, using a suitably shaped gift box, acrylic paints, stamps, and any embellishments you want to add.
---
The trusty mason jar is the focal point of this fun homemade game, which uses bingo cards along with Valentine's themed candies for a readymade game of bingo to play on Feb 14th.
---
You Mean The World To Me Valentine Globe
A fun way to add a little romance to the room, decorate a globe by adding a sweet message in gold lettering, with a smattering of red heart stickers all over.
---
Dominoes is a great way to spend an evening in, and by following the suggestions here you can create a Valentine's themed set using wooden rectangles, pink backgrounds, and little paper hearts.
---
This beautiful necklace will take a steady hand but it will be so worth it, as the end result is a stunning heart beat embellished with delicate red beads.
---
Love her, love her dog with this easy to make, no-sew dog scarf which will be the perfect Valentine's accessory for her precious pooch on this annual day of love.
---
Give her a jar of date night ideas and she will be on cloud nine. You'll never run out of ideas to go to out on a date and it shows her that you really look forward to the times you can spend with her when it's just the two of you.
---
Glitter Valentine's Day Photo Props
Take the perfect Valentine's selfies with these glittery photo props. X's and O's let everyone know that the love is in high supply here, and it is a way to broadcast your feelings without saying a word.
---
This card ends up looking pretty complicated, but the instructions walk you through it so it's actually not that hard to put together. It gives the card an added bit of creativity and is likely not the sort of Valentine she's ever received.
---
This is a very distinctive piece of artwork, and something that you can keep up on the wall long after Valentine's has come and gone. It's time to get in touch with the artsy craftsy side of yourself and remember what it was like to use glue and construction paper, but it will all be worth it when you see the look on her face.
---
These fortune cookies are very decorative, and the great part is you get to fill them with your own message. These can be as cute or kinky as you want, so use what you know about her to pick the right mix of messages so that it's a Valentine's Day she won't forget.
---
A classic design gets turned into a pillow with this LOVE pillow. Not only is it a gift that she'll love to open, but it's something she can snuggle up with while watching a romantic comedy on the couch with you later.
---
It's always nice to be told why you're loved, and this framed gift has you choose one really good reason and immortalize it for her enjoyment.
She's sure to keep it proudly displayed, so make sure you pick a good one from the many you have to choose from.
---
If you've taken photo booth pics this year this makes a great way to display them. When the card is closed just one picture shows through, and when it's opened the rest are revealed. It shows her that you think those pictures are special enough to make a card out of.
---
If you just give her these utensil holders this might be a dud of a gift. You have to follow it up by cooking her a dinner and setting the table with the utensils in this holder. She'll know that you took an extra step above and beyond making dinner.
---
This heart bracelet uses a tile spacer in a very creative way to make a cute yet durable bracelet that she'll love getting and can wear as often as she likes without worrying about it breaking. You can choose your own material for the rest of the bracelet and tailor it to her style.
---
Put these along the driveway to tip her off to the romantic night you have in store. Or use them to lead her to your favorite park or other favorite place. It's the sort of pre-planned and elaborate romantic you see in the movies that always makes the audience swoon.
---
Take the corks from the wine bottles you've enjoyed together and make them into a piece of artwork. This is perfect for the wine loving couple that saves their corks, but may have to wait until next year if you don't have enough corks saved up at the moment.
---
This is a cute play on words and serves a dual purpose of being a handy place to tack up notes and memos. It's totally up to you to drive home just how special it is by populating it with love notes before you give it to her.
---
"You Complete Me" Valentine Pillows
What a perfect way to make up the bed this Valentine's Day. It has two pillows that come together to form a complete heart, and there are plenty of ways to present this to her. You can have one pillow in one room, and one in another and have her find them separately, or just make the bed if that's not your usual thing.
---
This puzzle gives her something to do while you distract her with kisses and cuddles. It takes your favorite photo of the two of you from the last year and puts it into puzzle form. You can even include a message on the back so she'll think it's extra awesome.
---
This canvas looks like something you'd buy in a store, so she'll be shocked that you made it by hand. They walk you through the instructions, or if you don't have time and need a last minute but thoughtful gift there's a template you can download to make it easier.
---
Everyone loves breakfast and bed, and you can make it extra special for her with this plate adornment. They'll show you a quick and easy way to make perfect little hearts out of ketchup so you can turn a condiment into a profession of your love.
---
If you've written Valentine's off as a "Hallmark holiday" now's the chance to thank Hallmark for giving you the opportunity to totally outdo anything for sale in a store and make her a card that actually means something. This card is the perfect add-on to any of the homemade gifts above.
---
(You may also like: 600+ Cool and Unique Valentine's Day Gift Ideas)