When you need to buy a gift for someone, spa gift baskets are ideal. Not only are you giving them some beautiful and amazing smelling products and pamper tools, you're also giving them the gift of some me time. We've gathered together some brilliant baskets of goodies which are bursting with everything they'll need to have an at home spa experience.
Island Spa Escape Bath & Beauty Gift Basket
Spa gift baskets are the best way to help someone unwind, and this one will make them feel like they're on a desert island. With the tropical scent of coconut, this basket contains a sugar scrub, salt scrub, loofah and more which will de-stress and unwind you after a long hard day.
$27.20
---
Vanilla Therapy Bath and Body Spa Basket
Presented in a lovely wicker basket, this vanilla themed spa basket has everything you need to pamper yourself and have some "me time". Included inside this gift basket is a body lotion, body scrub, chocolates, loofahs, a candle and a towel as well as loads of other luxurious products.
$79.14
---
Lavender is widely recognized as being used to help us relax and sleep; there's just something about that scent that makes us feel sleepy. That's why lavender essential oil, alongside coconut milk, have been used in the products included in this basket, to help us unwind and make our skin super soft.
Prices Vary
---
There is nothing more relaxing than being at the beach. The sound of the waves lapping, and feeling the warmth of the sun on your skin…there's nothing like it. While we can't treat you to a day at the beach, we can bring you a taste of the sun and sea with this spa basket.
$59.95
---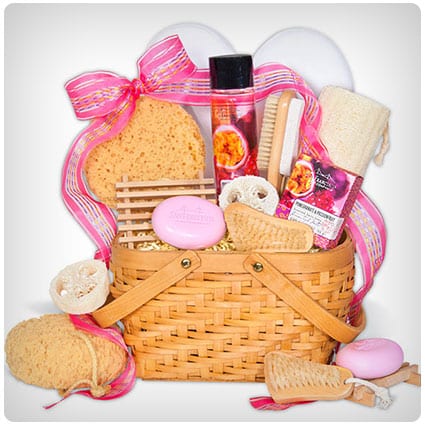 Inside this gorgeous Classic Spa basket you'll find some body wash and a soap, as well as some great accessories like a loofah, wooden soap holder and slippers. Why pay those expensive spa prices when you can have the same experience in your own bathroom?
$79.99
---
---
---
---
---
---
---
---
---
---
---
---
---
---
---
---
---
---
---
---
---
---
---
---
---
---
---
---
---
---
---
---
---
---
---
---
---
---
---
---
---
---
---
---
---
---
5 Relaxing Diy Spa Gift Baskets
---
---
---
---
---
(You may also like: 36 Most Unusual Birthday Gifts That Will Blow Her Away)