Valentine's Day is not all about couples, it is simply a great day to celebrate your love for anyone that you appreciate. If your best friend forever is in need of a bit of love this coming February, use this list of gift ideas to make them laugh, smile and feel loved.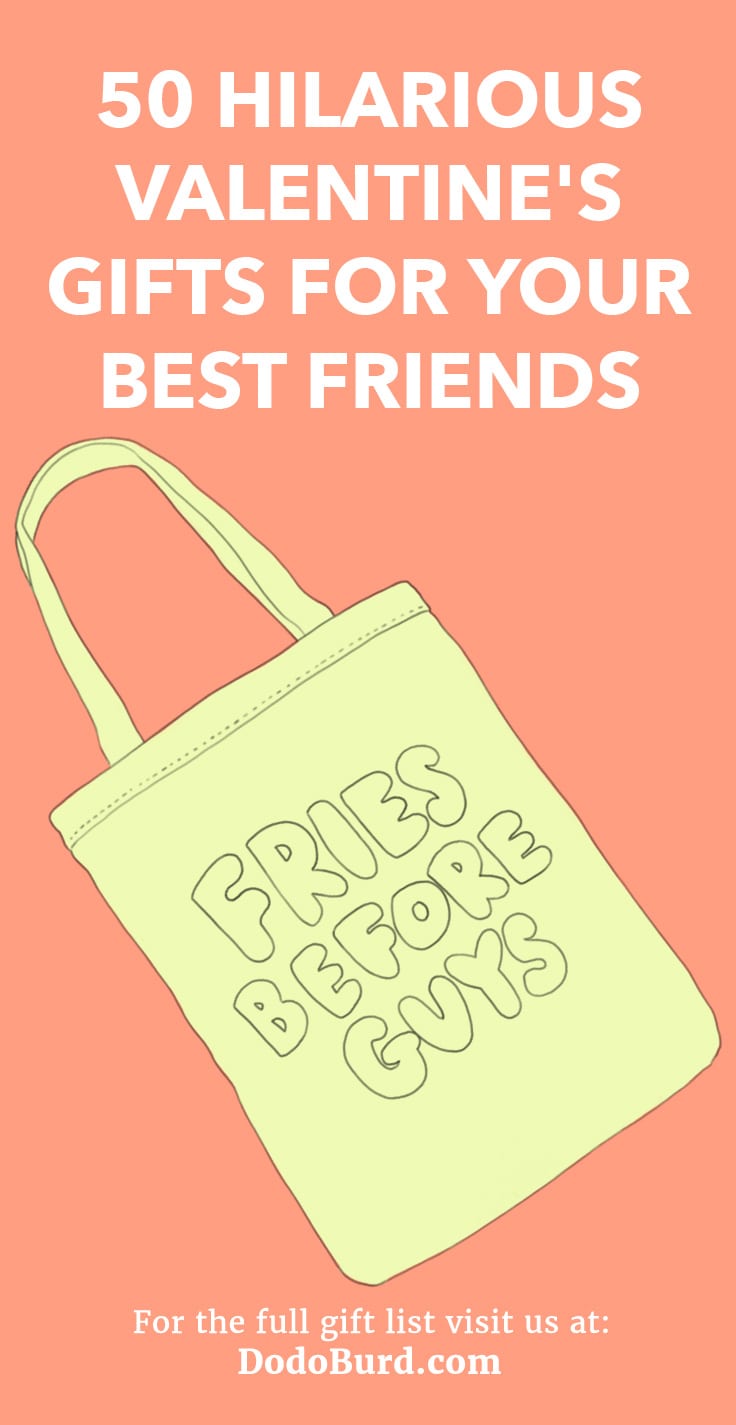 Ban.do Canvas Fries Before Guys Tote
Valentine's Day is the holiday of love, so if you have love for your best friend, this could be the gift that you should buy them! This simple yet awesome tote bag reads 'fries before guys' and is perfect for those friends that are single and happy about it.
Prices Vary
---
Looking for a friendly and funny way to tell someone to be nice? This mug is the way to do it. With a cute image of a hippo printed on the side, the giant 15oz mug also features the words 'don't be a hippo-twatamus'. Trust us, the recipient will love it.
$14.99
---
BigMouth Inc The Great Garden Gnome Massacre
If they are proud of their garden and also have a soft spot for giant dinosaurs and sci-fi monsters, this is the garden gnome for them. Featuring Godzilla eating a load of gnomes, it is a funny yet frightening garden ornament and is guaranteed to be met with laughter by any who see it.
Prices Vary
---
If your friend is a fan of celebrities such as Cardi B and many others, this is the present that they will appreciate. At the touch of a button, they will be able to blare out that signature sound that can be often heard from said celebrities whenever they want.
$16.99
---
Every Valentine's Day, so many single people feel doom and gloom. Instead of letting them complain about their loneliness, help them to celebrate their singleton status with this cool t shirt. Available in a range of colors and even reading 'happy single's day', they will adore it.
$14.99
---
---
---
---
---
---
---
---
---
---
---
---
---
---
---
---
---
---
---
---
---
---
---
---
---
---
---
---
---
---
---
---
---
---
---
---
---
---
---
---
---
---
---
---
---
---
3 Sweet Diy Valentines Day Gifts for Friends
---
---
(You may also like: 100 Epic Valentine's Day Gifts for Her (Best of 2019))