Finding Valentine's gifts for boyfriends can be tricky, but it doesn't have to be hard with the help of this list. So what should you get your boyfriend for Valentine's Day when you can't think of anything unique and thoughtful at the same time? We've hand-selected some of the best gifts that boyfriends would love to receive, so all you have to do is take your personal information that you know about him and put it to use by choosing something that you know will be perfect.
---
Face Licker Custom GIant Sucker
Give him the pleasure of licking your face even when you're not there with this giant face licker, the delicious over-sized lollipop that's designed to look like you.
$65.99
---
Personalized Constellation of Love Art
If your boyfriend is a bit of a geek, give him this gorgeous personalized constellation print which shows the night sky just as it was on your chosen special date.
$125.00- $195.00
---
If he misses you when you're not there, wrap him in your love with this superior quality weighted blanket, which have been scientifically proven to help users relax.
Prices Vary
---
These beautiful brass cufflinks have been designed in the shape of envelopes, and open to reveal the teeniest wooden love letters which can be engraved with your own personal message.
$80.00- $105.00
---
Pocket Monsters aren't just for kids, and if your boyfriend likes all things Pokémon, this little Pokeball-in-a-bottle – which comes with a choice of packaging and labels – will really 'catch' his attention.
$10.87
---
This gorgeous gift box is filled with romantic goodies, which includes a his and hers pillowcase set, a love-themed matchbox, and a beautifully scented candle in a choice of two sizes.
$84.95
---
Personalized Boyfriend Peanut Butter Spoon
Girls don't share ice cream, and boys don't share peanut butter, so treat him to this silver-plated PB spoon which will be stamped with his name to let everyone know it's his.
$22.00
---
Lovebox Spinning Heart Messenger
Send love across the miles with this sweet wooden box, which has a heart that spins when a message is sent, and a digital screen inside to display your sweet nothings.
$100.00
---
Personalized Valentine's Song Print
Every couple has 'their tune', and now you can have the lyrics turned into a beautiful piece of art with this personalized print, which displays the words in the shape of a heart.
$20.00
---
Whether he loves to cook or you want to encourage him to start, these awesome Star Wars Instant Pots will get him (and keep him) in the kitchen for longer.
Prices vary
---
A tasty Valentine's Day gift for the boyfriend who is more of a boob than a butt man, this set of delicious nibbles will keep him sweet until your next date night.
$11.99
---
A beautiful gift you can complete together, The Story of Us is a journal which invites you both to document your relationship journey through helpful prompts and spaces for photos.
$35.00
---
Fortunate Love Personalized Fortune Cookie
Compose and personalize your own romantic, silly, or NSFW 'fortune' and have it inserted inside this hinged nickel plated fortune cookie, which comes delivered inside a real Chinese take-out carton.
$13.99
---
Blacksmith Made Forged Iron Dice
If game night plays a big part in your relationship, how about giving your boyfriend this set of hand forged iron dice which come presented in a handsome leather pouch.
$25.00
---
You're My Favorite Thing to Do Mug
If there's nothing in the world you'd rather be doing than your boyfriend, this cheeky mug will make the ideal Valentine's gift for him as it spells it out in black and white.
$10.50
---
Hand drawn using a variety of different mediums, such as markers, watercolors, and pencils, these portraits are created from an original photograph, and feature unique mandala-style detailing.
$459.80
---
What's cuter than a corgi (apart from your boyfriend, of course)? This sweet mug shows the Queen's favorite pooch with a heart-shaped butt along with a funny little greeting.
$21.99
---
Personalized Hand Stamped Guitar Pick
Hand stamped with a choice of slightly risqué (and not so risqué) phrases, this aluminum pick makes the perfect Valentine's Day gift for boyfriends who love their guitars, or music in general.
$8.40
---
There's always one place which is special to every couple, and this pair of matching keychains celebrates that, with the coordinates of your chosen location hand-stamped, along with hearts and initials.
$14.00
---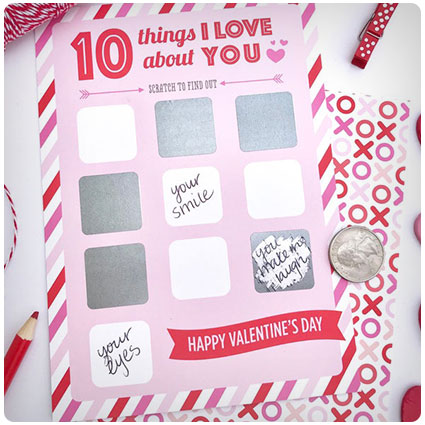 Never mind the lottery, these scratch cards can be filled in with the 10 things you love about him, and then covered with panels just waiting to be scratched off.
$7.00
---
Celebrate Valentine's Day with a set of specially printed, personalized labels which can carry up to 7 lines of text and are designed to be attached to any bottle of liquor.
$6.50
---
You Repulse Me The Least Chocolate
If sweet nothings really aren't his thing, give him this bar of delicious rose and raspberry flavored pink chocolate which comes wrapped in an alternative yet strangely romantic sleeve.
$10.99
---
Give his work bag a stylish makeover with this smart and classic backpack in brown or black, which is water repellent and features a dedicated, padded laptop and tablet compartment inside.
Prices Vary
---
Take the legwork out of date night with this set of 52 cards, which are each printed with a different date idea for a year's worth of activities that you'll both enjoy.
$27.50
---
Personalized Brick Yourself Keyring
Now he can carry you (or his own mini-me) in his pocket with a LEGO mini figure keychain which has been customized to look just like you (or him).
$32.99
---
Available in 7 different colors, this incredibly cute t-shirt features a pair of love-struck otters on the front, and is pre-shrunk to guarantee the perfect fit wash after wash.
$24.99
---
I'm Hooked On You Personalized Fishing Lure
If he's really into his fishing, your boyfriend will love this lure which is made from heavy gauge steel and boasts a sweet message which will be personalized with both your names.
$8.99
---
Definitely NSFW, these aluminum love tokens can be cashed in at any time and promise the bearer whichever naughty delight you've chosen to have stamped.
$5.99
---
A beautifully different take on an old classic, this world map is made using wood to give a wonderfully rustic look as he marks his journeys with the included push pins.
$170.00
---
For the most intimate piece of art he will ever own, this kit includes everything needed to create a one-of-a-kind picture which uses your bodies instead of paint brushes.
$70.00
---
Rugged and dapper are two words synonymous with the ideal man, and if yours fits the bill, this set of skincare products will help him keep his face in tiptop shape.
Prices Vary
---
The ways you love him are endless, but this sweet love letter allows you to lay out 26 of them by filling in each of the 26 A to Z prompts included.
$20.00
---
Whether you choose the floating frame or the gift box option, this sweet little bottle comes filled with sprinklings of love, along with the key to your heart and a cute little message.
$10.87
---
If he loves his meat, indulge his caveman appetite with this bouquet of 20 sticks of jerky in 4 exotic flavors, including elk, buffalo, and mouth-tinglingly hot venison.
Prices Vary
---
Super stylish yet understated, the Chrono Gunmetal Sandstone is a beautiful watch which comes with a soft leather strap, gunmetal face, and offers both a 30 minute timer and a 60 second timer.
Prices vary
---
Choose from a vegan leather or a silicone strap for this stunning bracelet, which carries your own message engraved in discreet Morse code, making it strictly for your boyfriend's eyes only.
$38.00
---
---
---
---
---
---
---
---
---
---
---
---
---
---
---
---
---
---
---
---
19 DIY Valentine Gifts for Boyfriends
---
---
---
---
---
---
---
---
---
---
---
---
---
---
---
---
---
---
---