Join the jar revolution, and find your own thoughtful homemade Christmas gifts this holiday season. We've assembled some of the best Christmas jar gifts on the planet, so you can be sure the recipient will be happy with what they've received.
The beauty of it is that many of these projects won't cost you much, but are also guaranteed to please.
---
Hot Chocolate in a Jar and Baileys
This jar comes with plenty of hot chocolate powder and marshmallows, and has a little something extra to pour in. Hot cocoa will warm them up this holiday season, and a bit of Baileys will warm them up even more. They call this a naughty but nice beverage and it's easy to make.
---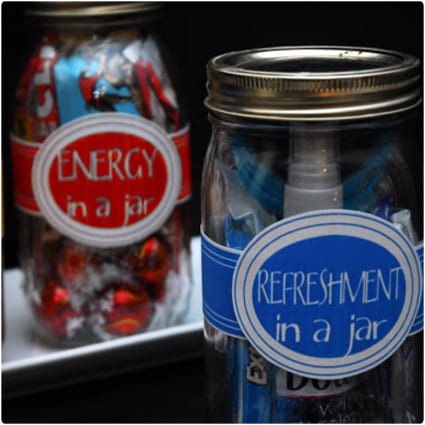 This is a trio of jars that shows you how to give them "everything" all in jars. There's a jar full of energy, a jar full of refreshment, and a jar for pampering. You'll have all of their bases covered, and they walk you through the contents of each jar so you can replicate them exactly.
---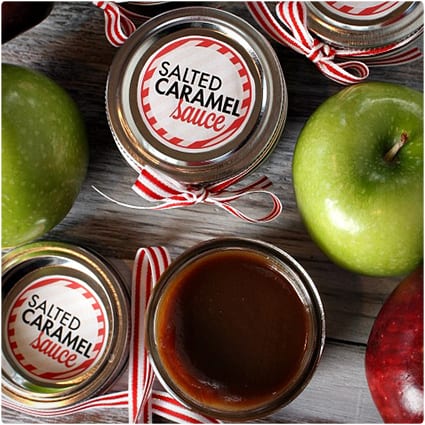 This rich, creamy caramel sauce is great for dipping apples into during the crisp winter months. It's a sweet treat that is sure to make a great gift for anyone that loves the taste of caramel, or a good gift to make multiples of and hand out to a larger group of people.
---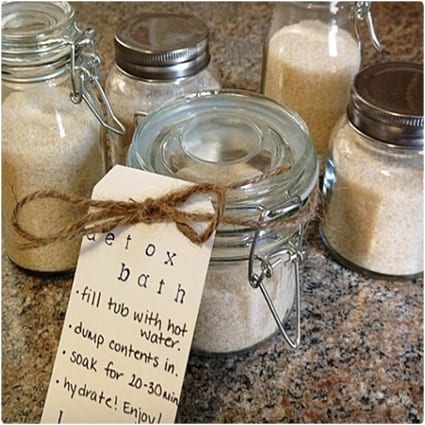 Give them the gift of relaxation, all in the convenient packaging of a jar. The ingredients themselves are easy enough to find, and she's made a few slight modifications of the recipe from an earlier version. With this one it's all about the packaging, so be sure you spend time making the tag look nice.
---
Anytime is a good time for S'mores, and this jar brings this classic campfire treat indoors with a recipe and ingredients so they'll have everything they need for success. These turn out extra cute when you use Teddy Graham style graham crackers as shown. The recipe card lets them know exactly how to make them.
---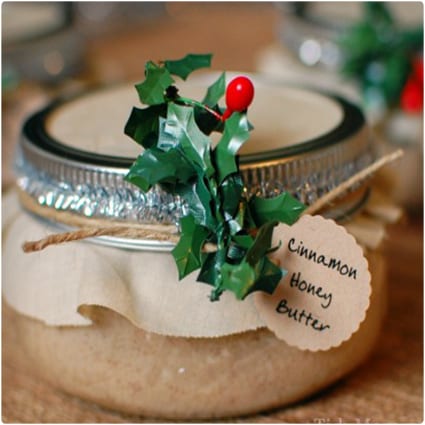 Cinnamon Honey Butter in a Jar
This honey butter is seasoned with cinnamon to give it a unique taste they probably haven't had before. Like any gift you give in a jar you'll want to dress it up so that it looks as nice as possible, and here they're using a bit of ribbon and a sprig of holly to make it very festive.
---
There's nothing like the smell of brownies baking, or diving mouth first into an ooey gooey brownie fresh from the oven.
These are some deluxe brownies, with three different types of chocolate chips, milk chocolate, dark chocolate, and white chocolate, as well as cocoa powder for good measure.
---
Here's an interesting potpourri mix that is designed to conjure up the scents of the season all in one jar. It's an assembly of fruit, herbs, and spices that they're supposed to cook over the stove to release the aroma of Christmas and breathe in the smells to relive that Christmas cheer.
---
Banana bread is comfort food, and what better way to package it than in a jar. Rather than bake the bread and then try to jam it into the jars, it gets baked right in the jar so it is ready to go as soon as it cools and gets a lid. As far as DIY Christmas gifts go, this one is easy for you, yummy for them, a win-win for sure!
---
These jar toppers have a distinctive holiday look to them because they feature nutcrackers, which brings to mind The Nutcracker ballet and the Christmas season. The great thing about the jars is that you can fill them with just about anything, with popcorn and candy being just one serving suggestion.
---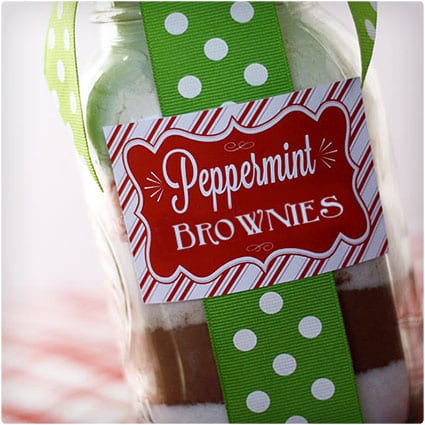 Regular brownies are nice, but during the holidays it's always fun to incorporate aspects of Christmas into ordinary items. These brownies have the peppermint flavor of candy canes added to them, so they'll get cool minty flavor along with the classic chocolate taste of brownies. The labels are included to make this look fantastic.
---
Homemade bread is delicious, but can be a real pain to make. This jar simplifies that by putting all of the required ingredients in one place, and breaking down the directions into simple steps. In no time they'll be able to have a warm loaf of bread all compliments of you.
---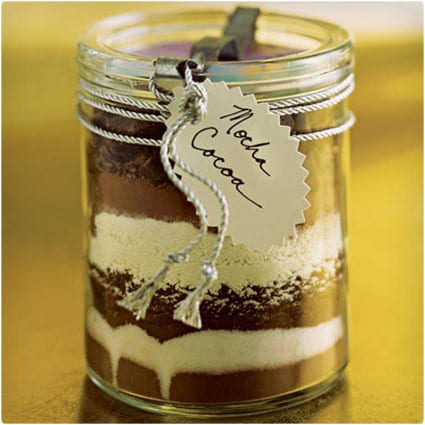 This gift is not only great for those that like hot chocolate, but also for coffee lovers. That's because it's primarily hot cocoa, but with espresso powder mixed in to give it that caffeine kick. A great way for them to stay awake and alert while losing themselves in a warm mug of cocoa.
---
Giving a gift card can be anticlimactic for the recipient, so here's a way to make it special for them, and something they'll remember receiving. It's basically a glittery snowglobe, with the card acting as the main attraction. Don't worry, you won't be ruining the card by getting it wet.
---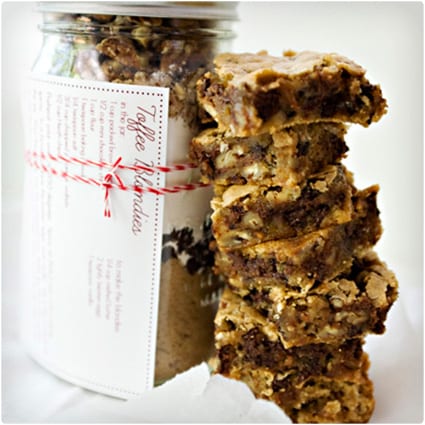 These toffee blondies are sure to make their mouths water, and all they have to do is whip up them according to the directions. The recipe uses yummy Heath bar chips so they'll turn out tasting great, and when presented in a jar they look like a lot of fun to make, all nicely layered.
---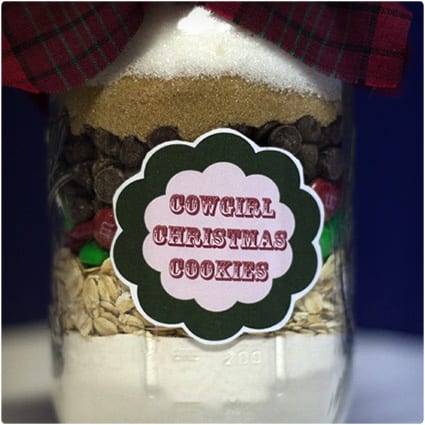 Cowgirl Christmas Cookies in a Jar
These cowgirls cookies are pretty great because they have been time tested and approved by people that have tried them before. They look sharp because they come with a label which makes them look professionally made, even though they are easy to make. Your secret is safe with us on this one.
---
This snow globe features a snowman as the centerpiece, but they also have plenty of other snow globes for you to try. They end up looking like real snow globes that you'd buy in the store, except they're made with jars and other common arts and crafts materials.
---
We all love cupcakes, so this is a no brainer gift because you end up getting a cupcake right in a jar, and you can eat it right from the container. The coloration on these cupcakes is also great, a nice festive red, so all you need is some green bow make it complete.
---
This jar puts the entire recipe for oatmeal Scotchies cookies right in a jar, so all they will have to do is follow the instructions and the next thing they'll know they'll have a fresh batch of yummy cookies ready and waiting. It's a nice break from the standard chocolate chip or sugar cookies.
---
This hot cocoa mix is really cute because the marshmallows are actually made to look like snowman heads. You don't actually have to be an artist to make the snowman heads, you just need a specific type of writing utensil that is food safe.
Simply follow the design as seen on the picture, and don't be afraid to make a few yummy mistakes.
---
Red & Green Holiday Bark in a Jar
This jar looks absolutely amazing when you're finished, and you won't believe how easy it is to make. You simply add the necessary ingredients, in layers as shown, and accessorize the jar as required. This particular version uses mini chocolate chips, as well as red and green M&Ms or other crispy candies.
---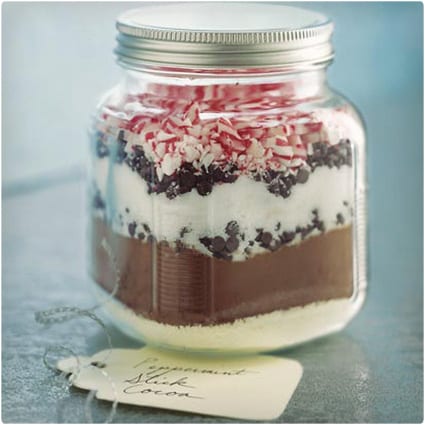 Peppermint Stick Cocoa in a Jar
This cocoa recipe has the distinctive flavor of peppermint added to it, and it uses the peppermint sticks that are so ubiquitous during the holiday season. This means you can enjoy a traditional cup of hot cocoa, with a boost of minty freshness from the peppermint candies. Anyone who likes mint chocolate chip ice cream will also like this peppermint cocoa.
---
Rosemary Mint Sugar Scrub in a Jar
You won't believe how easy it is to make this rosemary mint sugar scrub, and you might end up making a little extra just so you can have some for yourself. Giving a beauty themed gift like this is very thoughtful, since you'll be helping someone feel good, and while they're feeling good, they'll be thinking of you.
---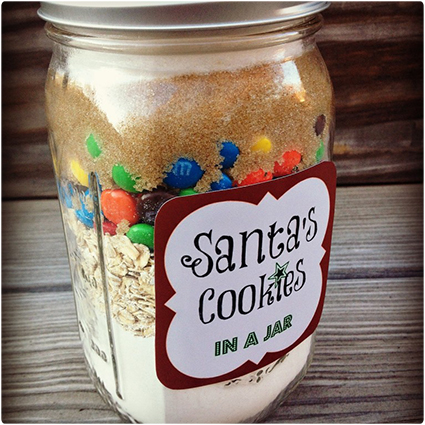 You just gotta leave some cookies out for Santa, and this jar will totally have you covered in that department. It includes all the ingredients that you need in order to satisfy the big man in the red suit. This makes a great gift for Christmas Eve so that you can bake the cookies as a family and then leave them out in time for Santa's arrival.
---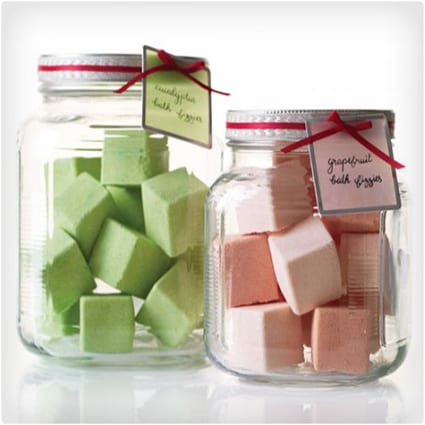 The bath fizzies recipe comes from Martha Stewart so you know they're going to turn out really great and work like they're supposed to. The presentation is key because you don't want to just give someone some colored cubes, it's important that they feel like they're getting a high quality gift. A jar makes perfect sense, because you can see what's inside, and it doesn't take up much space.
---
When you make gifts for people by yourself, you get tube do a lot of quality control that you otherwise don't have when you buy things in the store. In this case you get to use real Jasmine essential oil for the Jasmine bath salts. Combine that with a bit of Epsom salt, and baking soda, and you're good to go.
---
Cranberry Winter Cookies in a Jar
Christmas cookies are a lot of fun to make, but too often they end up being the same old cookies year after year. This recipe hopes to change that by introducing cranberries into the mix in this delectable recipe that is prepared ahead of time so all they have to do is mix them and bake them.
---
Everything they need to pamper themselves like crazy is included in this jar. They'll be able to relax the day's stress away, which can get amped up thanks to the holidays. Its always good to de-stress, and all of that running around during the holiday season can catch up quick, making this a very thoughtful gift.
---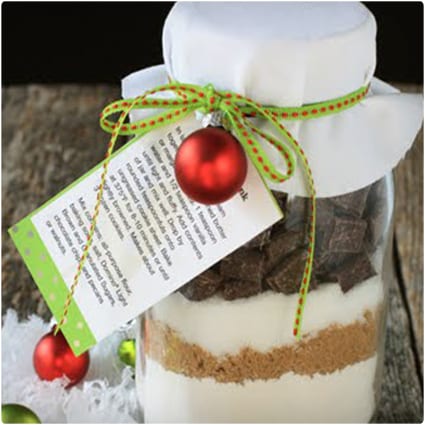 Chocolate Chunk Cookie Mix in a Jar
The only thing better than chocolate chip cookies is when the cookies have chocolate chunks in them. This jar comes loaded with the cookie mix already made, so all they need to do is follow the included baking instructions and they'll be chowing down on chocolate chunks in no time.
---
If you're looking for one of the cutest edible Christmas gift you can give someone this year, try turning ordinary Nutter Butters into Santa Nutter Butters. All of the instructions are provided so you can make this look just as good as they do in a picture.
---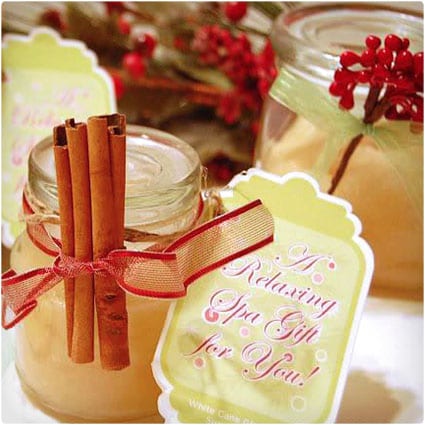 Sugar scrubs feel absolutely divine on the skin, and they're so easy to make you may feel guilty that this is the gift you're giving. But you'll get over it, and they'll love it, and likely won't know that you didn't spend all day on it.
---
It's almost an unfair advantage when you're trying to decide on a gift for coffee lover. Basically anything that contains coffee in it will go over well. This cappuccino mix is something they'll definitely enjoy, and it's quite a novelty that it's all contained in a single jar.
---
Cinnamon Sugar Popcorn in a Jar
Talk about easy, all this recipe really requires is adding cinnamon to popcorn kernels and putting it in a enormous jar. But its pretty creative because most people haven't tried cinnamon popcorn, so they'll be trying out a new taste sensation and they won't really be thinking about how long it took you to make it or what it involved.
---
Simple Cinna-Bun Butter Cakes in a Jar
These cakes capture the taste of cinnamon buns, and present them in a jar so that they're both easy to make, and easy to eat. It's not often that you hear cinnamon buns being brought up as a holiday tree, but nothing beats a warm cinnamon roll on a cold morning.
---
If you're trying to come up with a great gift for a craft lover, this craft set will keep them busy for several hours. It contains an assortment of craft projects that they will put together, with all the materials pre-arranged and ready for their use. The cool part is they'll be thinking of you while they make them.
---
Beeswax Poinsettia Candles in a Jar
These candles are shaped to look like a poinsettia flower, and they're made using common jars
that you can buy at any craft store. They're made with beeswax, so you'll want to make sure that you're not giving this gift to a vegan, but most everyone else should appreciate it as a very unique and pretty gift.
---
Pottery Barn Mason Jar Knock Off
This jar is made to look like a Pottery Barn decorative mason jar, but without the high price. Many of the craft you see in stores can be replicated at home, as long as you have the instructions in front of you. These turn out great, and make a festive decoration for the holiday season.
---
Luminary Advent Calendar Using Jars
Count down the days of Advent with this luminary calendar that uses mason jars as candles bases. The instructions show you how to add the different numbers to the candles, just be sure to make the complete set of candles when giving this as a gift because it can be used again each year.
---
Tropical Bath Tea Soak in a Jar
This jar is filled with tropical themed ingredients so that they can soak in the tub, and relax there cares away. Instructions are also given on how to make a bath scrub so they can exfoliate their skin before getting into the bath. It's a dynamic duo gift that will surely make them happy.
---
These cakes end up looking like Santa's midsection, because his big undeniable belt is front and center. Red food coloring is used to make the cake red, and red frosting is used as well. That sets the stage for the big black belt to go around the jar with the gold square buckle in front..
---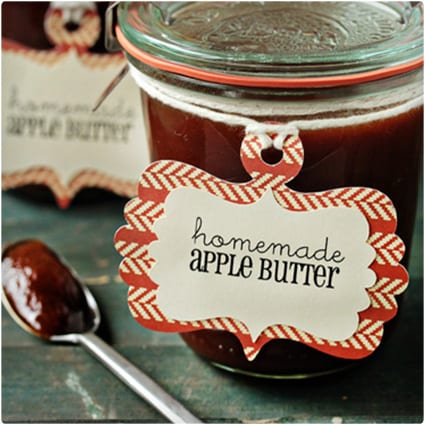 Slow Cooker Apple Butter in a Jar
The great thing about this jar is that it's filled with apple butter you've made using your slow cooker. This means you can make a big batch of it, and fill several jars so you can give this gift to all of your friends and family. Apple butter tastes good on many things, so they will surely appreciate this.
---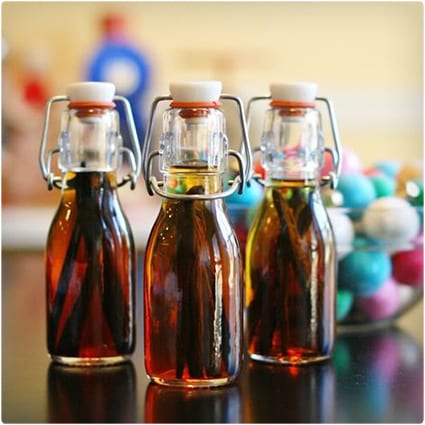 Vanilla extract gets used in so many recipes throughout the year that it's nice to have a ready supply of it. These instructions show you how to make your own vanilla extract, and also how to present it in a way that is special, and gift worthy. Anyone that likes to cook will thank you for it.
---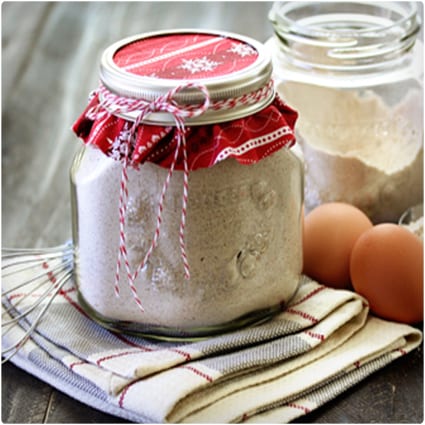 Nothing beats fresh homemade pancakes, except for when you make the pancake mix from scratch. These jar instructions will show you exactly how to make your very own pancake mix, and then how to package it up so that it looks presentable and ready for the next morning's breakfast.
---
Peppermint Zebra Icebox Cakes in a Jar
These cakes have a zebra pattern to them because they are layered with chocolate cookie pieces and Cool Whip to give them a nice black and white striped effect. Peppermint is used, so these will be cool and minty, as well as chocolatey and creamy. Yum!