Nothing shows a friend or a loved one just how much you care than a gift basket. Unfortunately, traditional gift baskets can be so blasé. Jazz things up a bit by choosing a personalized wine gift basket that is specially suited to any occasion!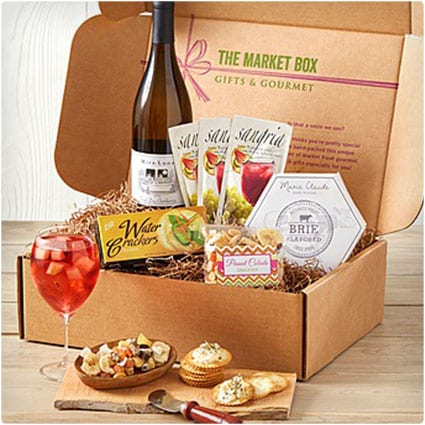 Sip and Celebrate Wine Market Box
Looking for a way to celebrate the warm weather? Or maybe you're looking to celebrate the warmer months ahead? Either way, this sip and celebrate wine market box makes the perfect gift. It includes summer favorites like a sangria mix and a peanut colada snack mix.
$50.00
---
Decadent Red Wine and Brownies
Matching a red wine to a desert is challenging. Do all the work for that special someone by creating the perfect pairing with this wine and brownie mix set. This gift set includes your choice of brownie mix and Paseo Prestige red wine. Some of the red wine is even used in the brownie recipe!
$30.00
---
If you're looking for an unforgettable gift basket, look no further than the ultimate Dom Perignon gift basket. This unbelievable gift comes with a wide assortment of tasty snacks including smoked sausage, hot pepper cheese, chocolate covered strawberries, and of course, it comes with a bottle of 2004 Dom Perignon.
$400.00
---
Gourmet Food Basket with Smoked Salmon
Celebrate the good times with this cute "cheers" bucket full of tasty favorites and unexpected flavors. A delicious Merlot wine cheese spread is accompanied by gourmet shortbread cookies, chocolate raspberry cake, smoked salmon, and more. Because this gift basket comes with sparkling cider, it is appropriate for all ages.
Prices Vary
---
The 5th Avenue Wine Gift Basket
Relive a special trip to New York or congratulate the New Yorker in your life with this classy 5th Avenue wine gift basket. That special someone will feel like they're wining and dining in a high-end restaurant because this basket comes with two bottles of red wine, Auberge Camembert cheese, and much more.
$99.95
---
Wine Gift Basket in a Wine Crate
After shopping for the perfect wine gift basket, they all start to look the same. This basket is sure to stick out. Instead of including wine and snacks, this basket includes all of the essential wine accessories that any wino is sure to love. The balancing bottle holder even turns into a romantic candleholder!
$145.00
---
Sunshine Picnic Basket with Wine
Wine baskets that also contain fresh fruit are hard to come by, but many fruits pair exquisitely well with a good bottle of wine. This unique basket contains a bottle of Harry & David™ 2013 Chardonnay, as well multiple juicy Royal Verano Pears.
$64.95+
---
Chianti Wine – Italian Gift Basket
Who doesn't love a good glass of Chianti! This Italian gift basket includes a bottle of that award winning wine, as well as an assortment of other authentic foods and snacks such as artisan pasta that was made by hand in Abruzzo, as well as a rich, gourmet Arrabbiata sauce.
$100.00
---
Why choose a basket that features items from one corner of the globe when you can send a friend or family member on a culinary trip around the world! Not only does this gift basket include a cute, world traveler's trunk, it also includes food and drink items from Italy, France, and Spain.
$129.95
---
California Wine Country Gourmet Gift Basket
Take a trip to wine country with this gourmet gift basket. It is jam-packed with everything you need to feel like you're vacationing in Napa Valley. It includes Nunes Farms snack mix, California almonds, Sonoma cheese, Napa Valley mustard, and two bottles of organic California Sonoma sparkling ciders.
Prices Vary
---
So many wine gift baskets are full of wine, cheese, and sweets. Instead of edible items, this gift basket focuses on cute wine gifts instead. Not only does this basket include a bottle of wine, it also includes a cute teddy bear, a pair of wine stoppers, and two decorative wine glasses.
$55.00
---
Napa Valley Wine Duet with Personalized Gift Box
Not a big fan of the traditional gift basket, but still want to give a wine and snack gift? This personalized gift box comes with two distinct Napa Valley wines, California pistachios, roasted almonds, lemon shortbread cookies, and more. The best part is, the gift box is labelled with your special message!
$74.95+
---
If you're attending a party, send your goodies ahead of time instead of bringing them with you. This cool basket will help the host or hostess get ready for the big night because it contains tasty snacks, such as hot pepper cheese and smoked sausage, as well two bottles of wine.
$90.00
---
Why send a gift in a basket when you can send a gift in a hat instead! This basket is the perfect gift for any man in your life. It includes a variety of Seattle favorites such as Partner's roasted garlic and rosemary Wisecrackers, Portlock smoked salmon pâté, and Seattle's Own shortbread cookies.
Prices Vary
---
This gift basket may come with an assortment of snacks that include grilled vegetable antipasti, habañero pepper jelly, and Pome Frais, but this gift is truly about the wine. It includes a bottle of Opus One 2011 that has a 92 point rating from Vinous.
$549.95
---
If you're looking to channel memories of lounging on the beach, skip the wine and choose this margarita gift basket instead! It comes with everything you need to create the perfect fiesta in your own backyard. All you have to do is supply the tequila!
$49.95
---
This gift basket offers the perfect mix of tasty snacks, delicious wine, and functional accessories. It comes with a premium bottle of Justin Cabernet Sauvignon, creamy cheese, gourmet crackers, and flavorful salami, but it also comes with a cutting board and cheese spreading knife.
$40.00+
---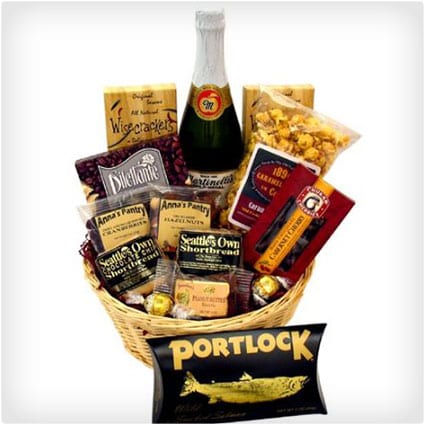 Treat a friend or family member to the culinary delights that can be found in Seattle with this gift basket that is a best seller! Because it comes with Martinelli's sparkling apple cider, it is appropriate for all ages. The basket includes both sweet and savory treats that are North-western favorites.
Prices Vary
---
Champagne and Truffles Gift Basket
If you really want to impress someone, treat them to this decadent champagne and truffles gift basket. It comes with Ghirardelli chocolates, cookies by Kimball Lake Bakery, and chocolate crêpes by La Patisserie, but the best part is that you have the choice of La Marca, Veuve Clicquot Yellow Label, or Dom Perignon 2004.
$100.00+
---
Sure, gift baskets are cute, but the basket often gets tossed in the garbage or donated. This gift comes in a vintage style picnic case that can be used again and again. Plus, who can complain when it contains delicious champagne and premium Saraivanov caviar!
$44.95
---
Skip the basket, crackers, chocolate, and other unnecessary items and focus on the wine. This trio is an especially good gift for the rocker in your life. Winemaker Mark Beaman has combined custom wines with the legendary spirit of unforgettable rock bands for a truly unique gift.
$65.00
---
It's all about the cheese with this delectable gift basket. Four high-quality cheeses have been assembled in a sturdy, decorative wooden crate for the cheese lover in your life. The basket comes complete with a bottle of Harry & David™ 2013 Chardonnay that compliments each cheese perfectly.
$74.95+
---
Shopping for the bride and groom can be extremely difficult. Take all the guesswork out of finding the perfect gift with this wedding gift basket. Its colorful ribbon and celebration themed snacks will give the happy couple something to nibble on as they spend their first night together as husband and wife.
Prices Vary
---
Not everyone loves wine, but that doesn't mean they shouldn't enjoy everything a wine gift basket has to offer! This delectable basket includes everything you'd find in a traditional basket, like nuts, pretzels, and mustard, but it comes with an assortment of beers instead!
$69.95+
---
Oregon Wine Country Gift Basket
Some of the best vineyards are located in Oregon, even though they aren't as well-known. This best-selling gift basket is sure to tantalize the taste buds as it contains a wide variety of items straight from Oregon. It even includes Tillamook special reserve cheddar, which was voted America's Best Extra Sharp Cheddar in 2013.
$76.95
---
Red Wine and Dark Chocolate Gift Basket
There really is nothing more delicious than dark chocolate paired with the perfect red wine. This gift basket is sure to impress because it contains a wide assortment of high-quality dark chocolates and your choice of Côtes du Rhône by Les Dauphins, Malbec by Catena, or Alexander Valley Cabernet Sauvignon by Silver Oak.
$90.00+
---
South American Duo Gift Basket
Sometimes, the simplest gift baskets make the best gifts. Instead of overwhelming the recipient with countless crackers and spreads they may never eat, this classy basket features a few delicious items, including a bottle of Indomita Cabernet Sauvignon red wine and a bottle of Colores Del Sol Malbec red wine.
$60.95
---
Custom Bridal Shower Wine Poem Basket
Unfortunately, some gift baskets can seem impersonal. Add a personal touch with this custom bridal shower gift basket. It comes with a poem theme that carries into the bottles of wine that are recommended for the basket. You can even customize the gift for a different occasion!
$35.00+
---
Have a co-worker that's working his way up the corporate ladder? Or maybe a loved one has just received a promotion? This wine gift basket is the perfect way to celebrate a new job. The items even come in a classy keepsake chest that will look great in any office.
$79.95+
---
Taste of Tuscany Italian Wine Gift Basket
Give the gift of Italy with this classy Italian wine gift basket. Your friend or family member will feel like they're sitting in an Italian café as they sip a glass of Villa Campobello Chianti red wine or Maison Nicolas Reserve Pinot Grigio.
$75.95
---
Silver Oak Duo – Red Wine Gift Basket
Silver Oak wines are an elegant gift for any occasion because they are known for their consistent complexity. In addition to including all the yummy snacks you would expect to find in any quality gift basket, this gift includes not one, but two bottles of the popular red wine.
$300.00
---
Anthon Berg Dark Chocolate Liqueurs with Original Spirits
Who said tasty wines and liquors have to come in a wicker basket? If you're looking for a truly unique gift, look no further than this box of dark chocolate liqueurs. Each mini bottle is made out of dark chocolate and contains a wide variety of liqueurs and spirits to suit any taste.
Prices Vary
---
Looking for a more relaxed gift basket that's perfect for a country luncheon? This gift basket comes with a bottle each of Rogue Cellars California Cuvee Red and Rogue Cellars California Chardonnay, in addition to a large assortment of tasty snacks.
$99.95
---
Marvelous Moscato Gourmet Gift Basket
Not everyone has a taste for traditional red and white wines. For those with a sweet tooth, this Moscato gift basket makes the perfect gift. It comes with two bottles of Beringer Moscato wine and is packaged in a rustic keepsake basket.
$89.00
---
White Wine Countryside Gift Basket
A great wine gift basket doesn't have to cost a fortune! Instead of spending hundreds of dollars, choose a basket that has all the necessities at a more affordable price. This basket includes a delicious bottle of white wine, hot pepper cheese, pretzel twists, and more.
$50.00
---
Nothing harkens back to summer like a chilled glass of Sangria. Give a friend or loved one the gift of warm, beautiful weather memories with this gift basket. The recipient will be able to snack on caramels, Brie cheese, and crackers while they sip their choice of Bodega de San Antonio sangria wines.
$99.95
---
Wine Down Gift Basket with Wine Lovers Essentials
This gift basket makes the perfect gift for a new homeowner or a loved one who has just turned 21. It includes wine stoppers, wine tags, a serving plate, and a wine bottle carrier. It even includes a wine bottle candle kit!
$75.00
---
Take the stress out of finding the perfect birthday gift with this themed gift basket! It comes with everything the birthday boy or girl needs to celebrate in style, including two 187-millilitre splits of Chandon Brut Classic, signature Saraivanov Caviar, and it even comes with a birthday themed bow!
$79.95
---
Wine doesn't have to stay in the kitchen. Pamper a special woman in your life with this wine and spa gift basket. Instead of peanuts and mustard, it includes all of the things that she needs to unwind including moisturizing body lotion, terry cloth slippers, and of course, a bottle of Line 39 Chardonnay.
$125.00