Just like a marriage, bronze is made from merging 2 strong elements, and pottery is made from clay which represents the solidity and strength of an 8 year union. Choose a traditional 8 year anniversary gift around either theme and you'll be giving a gift that will look beautiful and will last throughout the decades to come.
A wedding jug is a wonderful 8 year anniversary gift – not only is it made from pottery, so traditional, but it's personalized and can be passed down through the family, too.
$190.00
---
Tea is such a comfort, but teabags are a nuisance! Save someone from the horror of tea stains and drips with this chunky mug that comes with its own teabag pocket.
$34.00
---
Sweetly sentimental, this teal blue and brown wedding bowl is wheel thrown from stoneware clay and features a charming verse about love around the rim. A beautiful addition to any couple's collection.
$240.00
---
Mountain Lover's Morning Tankard
Using the views from the Sangre de Cristo Mountains, the artist hand makes each mug individually, meaning every single one is unique, just like your significant other. Holds 16 oz.
$27.00
---
Marriage means giving each other the gift of time, and this infinity sign represents that perfectly. Personalized with their details, this 100% bronze piece makes a lovely 8th anniversary gift.
$63.78
---
Turn a tea break into a mini meditation session with one of these mugs, which have been infused with healing minerals and set with a 'worry stone' to focus the mind.
$26.00
---
Give them a reminder of how far they've come with this hand-cut personalized copper wallet card that counts down the years, months, weeks, days, hours, and minutes that they've already put in.
$42.00
---
Playful and super cute, these 'open minded' mugs hold a massive 21oz. of their favorite drink, and come with a sweet facial expression inscribed on the top. Choose from bride or groom.
$48.00
---
Give the twitcher in your life a real des-res for their feathered friends with this adorable birdhouse that is truly a thing of beauty. A thoughtful gift for any nature lover.
$28.00
---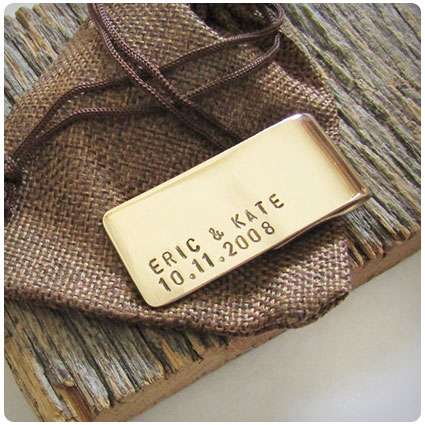 Copper is the traditional 8 year anniversary gift, so treat them to this copper money clip that comes with a choice of personalization possibilities and optional burlap gift bag.
Prices vary
---