Of all the things that grandmothers hold close to their hearts, it's their grandkids who mean the most to them. Give her a daily reminder of their love with this selection of personalized gifts for Grandma, which she can wear, look at, or use to simply brag about her loved ones.
This Grandma Belongs To Personalized Keychain
Give the matriarch of the family the love she deserves with this personalized gift for Grandma of a birthstone keychain. Held on a stainless steel keyring, this decorative offering has a square or rectangular disc with the names and birthstones of her grandchildren displayed as a joyous keepsake.
Prices vary
---
Close To Her Heart Personalized Fleece Blanket
Keep your Grandma warm on a cold winter's night with this delightful and snug, personalized fleece. Made from super-soft, micro coral fleece, you can feel the warmth imparted, and with up to 21 names from close family members, she'll know you are with her in spirit as well.
Prices vary
---
Give your Grandmother a gift that she'll treasure with this delightful keepsake box containing a gold chain complete with birthstone charms. Made from 14k gold, which is perfect for sensitive skin, the 18 inch chain complements the gold plated Swarovski crystal birthstone charms, each delicate stone measuring approximately 6mm.
Prices vary
---
Grandmas Are Like Stars Wall Art
This unusual keepsake takes the birthdate of your Grandma's grandchildren and their birthplace and translates it into a scene of the night sky. Available in a range of finishing styles, the item is capable of incorporating several children into the design and makes a truly unique gift.
Prices vary
---
Spoiled Grandchildren Personalized Doormat
Give your Nan a proud doormat for her home which lets others know just how much she spoils her grandchildren. Personalized with their family name, the doormats come in a range of sizes, with or without a black trim, making it suitable for any doorway of any house.
Prices vary
---
Grandchildren Personalised Plaque
For those Nanas with a large number of grandchildren, this keepsake for the wall provides something to remember them all with. Featuring a sentimental quotation and the names of each grandchild on a separate heart, this 25x20cm plaque comes in 4 different color schemes or can be customized to your liking.
Prices vary
---
Grandma's Garden Personalized Garden Flag
Add a personalized touch to Grandma's yard with this delightful garden flag that has up to 27 tulips, each individually named, to represent important people in her life. Double sided for display flexibility, the flag is made from 100% polyester and measures 17.25×12.5 inches, making it easily visible to any visitors.
$19.99
---
We Love You to The Moon and Back Keychain
This lunar inspired key chain will delight any Grandmother with its hand stamped finish onto lightweight aluminum, meaning it doesn't tarnish and is hypoallergenic. With a moon complemented by hearts displaying grandchildren's names, the item can be further personalized by replacing standard text with heartfelt words of your own choosing.
Prices vary
---
Orrefors Engraved Crystal Heart Bud Vase
Your Grandmother will know of your love for her without any words being spoken with this stunning Orrefors engraved crystal heart bud vase, that has her name vertically displayed on one side and up to 8 names etched on the other. Perfect for a floral display in her favorite room of the house.
$79.99
---
Personalized Birthstone Grandma Bracelet
The beauty of this gorgeous keepsake which displays birthstones to represent all of your Granny's grandchildren is that it can be added to or adapted as the family changes over time. Complete with single letter stamped leaves and an expandable bracelet to fit anyone, this is jewelry that will remain close to her heart.
Prices vary
---
Grandchildren Spoiled Here Personalized Doormats
Let your Nan welcome others to her home with this fun doormat that tells of the fondness her grandkids have for the female head of the family. With her surname added to the striking legend, this simple home accessory makes a great personalized gift for Grandma and suits all pockets.
Prices vary
---
Hand Stamped Long Distance Key Chain
This simple but stylish keyring is a great gift to remind Gran of the love of her grandkids and to be carried everywhere with her. Made to order and customized to your suggestions, the key ring is stamped with 2 states of your choosing, on these hand made aluminum discs.
$25.49
---
Loving Them Collage Personalized Frame
Fill these heart felt words with your own pictures that speak volumes of Grandma. Choosing from 6 matboard colors, you'll create a one of a kind frame that is sure to tie in with any home color scheme, and then make it your own with a word selection of your own choosing.
$27.99
---
My Grandkids Personalized Throw Pillow
When only a select gift will do for a special Grandmother, you can turn to this stylish personalized throw, adorned with the name and birth date of their favorite grandkids. With a 1 line personalization also included, this is a keepsake to be treasured for years to come.
Prices vary
---
Light up the home of your Grandma with this delightful picture frame that hosts details of their grandkids on a 8×10 inch personalized print, created on real rustic burlap. Using only quality inks that last for years to come, this keepsake will hang in pride of place for the days ahead.
$20.00
---
Grandmothers Birthstone Necklace
With an inspired birthstone design, this family tree necklace includes a washer personalized with your loved one's name or title, as well as a family tree charm and up to nine Swarovski crystal birthstones. Finished with a stainless steel chain of your choice, this fashionable item will be worn with pride.
Prices vary
---
This Grandma belongs to Cushion Cover
Adorning the favorite chair of choice in her household, this gorgeous cushion details the grandkids that mean so much in a Grandmother's life. Capable of representing up to 7 of her prodigy, the design is fully customizable for any special names or sayings appropriate to the children.
$19.64
---
Grandkids Make Life Grand Tote Bag
For the active Grandma constantly on the go, this cheeky tote bag will give her a constant opening to talk about her treasured grandkids to anyone she meets. Made from cotton canvas with black handles and a gusseted bottom for easy loading, this bag is also fully functional as well as decorative.
$18.00
---
Personalized Hand Stamped Keychain
With a single birthstone standing proud on an imprinted metallic disc, this practical but personal key chain lets your Nana know she is thought of all day long. You can choose the most appropriate stone for your grandparent as well as requesting a customized message to touch her heart.
Prices vary
---
German Grandmothers will appreciate this gorgeous mug with the simple statement of Oma, the German for Grandmother. With a range of sizes, this mug is dishwasher and microwave safe, made from stoneware and has the design printed on both sides. A loving gift for any Gran with German connections.
Prices vary
---
Our Greatest Blessings Call Us Sign
This stylish sign makes a great personalized gift for Grandma as you can place all of her grandkids' names on the motif and even request further customization. Made with high quality Sherwin Williams paints, sprayed on for a smooth professional finish, this indoor plaque also has keyhole routed hangings for a flush finish.
$31.50
---
For the Grandma that loves to cook, this apron makes a great gift as it uses your own words printed in either black or metallic text. Leave a lasting impression that will stay with her everyday, with this poly cotton apron that has an adjustable strap to fit all sizes of grandmothers.
Prices vary
---
My Grandkids Personalized Photo Frame
Grandmothers love nothing more than pictures of their grandkids, and what better gift than a customized frame to display these images. With a choice of 2 color options and up to 6 grandchildren's names, this quality crafted wooden frame with a gloss laminate front makes a perfect present to match any Grandma's best room.
$32.99
---
My Favorite Faces Personalized Fleece Photo Blanket
Wrap your Nan up in the smiling faces of her grandkids with this super soft coral fleece photo blanket. With capacity for 5 of your favorite photos and 3 open text boxes for your messages, this plush luxury blanket will keep her warm both on the inside as well as the outside.
Prices vary
---
They're Worth Spoiling Personalized Photo Coffee Mug
For an affordable gift to touch Grandma's heart, this stunning mug, complete with photos of her own grandkids, will touch her heart. Complete with 2 lines of personalization, Gran will be reminded every morning, over her wake-up coffee, of those that are dearest to her heart.
Prices vary
---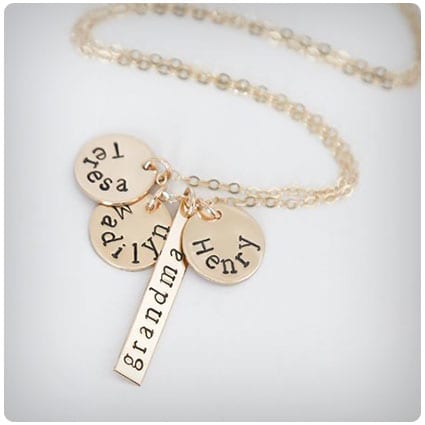 This gorgeous keepsake necklace includes a mini vertical bar with a customized name and up to 3 mini discs to represent grandkids. Delivered in a 100% recycled cardboard black jewelry box, this item will be treasured as a reminder of those most dear to Granny in her life.
Prices vary
---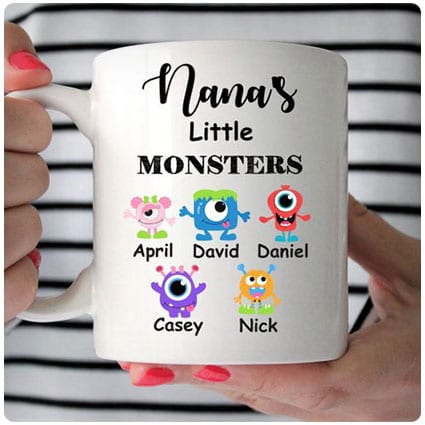 Any fun loving grandmother will love this comic mug with a cheeky design of all her grandkids on the side. This ceramic mug is dishwasher and microwave safe and has the design printed on both sides, to keep Grandma reminded of the cheeky monsters that have come into her life.
Prices vary
---
They're Worth Spoiling Personalized Photo Coffee Mug
Let Gran brag about the grandkids that rule her life with this delightful mug which is customizable with her favorite photographs of her grandkids. Available in 11 or 15oz mugs, the design also allows for 2 lines of personalized text giving that special touch to this practical and fun gift.
Prices vary
---
Featuring up to 20 dainty birthstones inside a miniature crystal glass locket, this necklace is hand pieced together and features a silver floating "Grandma" charm. The locket opens up so that any new additions to the family can be added and kept close to Gran as a reminder of how lucky she is.
Prices vary
---
Birthstone Necklace Personalized Grandmother Gift
Give Nan the gift of a daily reminder of her wonderful grandkids who light up her life, with this attractive and clever keepsake necklace. With a birthstone representing each child, the necklace is hypoallergenic, being nickel and lead free, and made to last using sterling silver filling.
Prices vary
---
A Grandparent Is Born Personalized Frame
At the arrival of a first grandchild, a new life is born in the grandparent as well as to the parents. That's the subject of this quality crafted wooden frame picture complete with a picture of the new child. Set her heart alight with this stunning personalized gift for Grandma.
$19.99
---
Warm Granny's heart with this cheeky motif that depicts her grandkids in stickman form on the side of a custom designed ceramic mug. Created using a heat pressed dye that won't crack or fade, there's room for 12 kids on the side of this mug which, with proper care, should last a lifetime.
$15.99
---
Capture your Nan's heart with this delicate keepsake which uses birthstones to represent each of her grandkids, marking each individual who means so much to her. The necklace comes hand stamped with any name you choose and uses an 18 inch chain, making this suitable for any grandmother to wear.
$21.98
---
Personalized Grandma Family Necklace
In a different take on representing the family on a chain, this design uses different size birthstones to represent first Grandma, and then her children, and then her grandkids. With a fully customizable chain and gemstones, you'll be able to purchase the perfect necklace for this special lady.
Prices vary
---
Personalized Hand Stamped Keychain
When collecting her keys, Gran can think about her favorite grandkids by being reminded of them with this clever key chain. Hand stamped and made to order, this gift can be personalized, with its aluminum disc being stamped with a name and year of your choice to accompany the central birthstone.
Prices vary
---
My Grandkids Personalized Grandparents Canvas Print
Touch the soul of your Nana with this personalized canvas print that details her greatest blessings, namely her grandkids. This exclusive design has a unique texture applied throughout the background and uses only the finest museum grade durable canvas to detail Grandma's feelings for her newest family members.
Prices vary
---
Blessed Grandma Personalized T-Shirt
If your Grandmother cuts a fashionable image then this funky t-shirt may just be her next fashion item. Featuring the name of her beloved grandkids on a cool motif, this super soft shirt can have its sleeves rolled for a different look and can even have a knot tied at its end.
Prices vary
---
This clever pillow printed by dye sublimation, a process that uses non-toxic and environmentally safe inks, sports any family name that you desire and makes a cherished gift for Grandma. With 2 colors to choose from and a hidden zip to make the interior accessible, this pillow is washable and irons easily.
$24.95
---
This clever piece of jewelry shows Grandma's family, with an attached disc to the central band for every desired family member. Each disc is accented with charms and the aluminum silver bracelet is fully adjustable to fit any wrist, so treat her to a keepsake she'll wear for all time.
Prices vary
---
3 Thoughtful Diy Gifts for Grandparents
---
Make a special gift for Gran with this detailed blog that shows you how to create an illuminated picture, much in the style of a candle lit window. By clever use of photocopiers and craft skills, this gift for Gran will delight by showing her family to her in a different light.
---
Grandmas love pictures of the young ones of the family and now you can make a clever frame to hold them in for her. Follow this instructive blog that uses photographs and simple details to help you create a stunning looking gift for the matriarch in the family.
---
Grandmas like to keep their family close and you can help yours feel you are always nearby with these clever photo pendants. Check out this detailed blog that shows you step by step how to make personal and simple photo pendants for Grandma to wear out and about every day.
35 Heartwarming and Unique Gifts for Your Grandma, Nana or Nonna