If you are looking for unique, personalized Father's Day gifts, check out this list of specialty items from daughter to dad. You will find everything from picture frames and wallets to framed art and coffee mugs, but the special twist is that you can personalize most items with your own sentiment to create lasting keepsakes.
Long Distance Father and Daughter Wall Art
This is perfect for the adult child looking for a beautiful Father's Day gift for the dad who lives far away. This framed print is customized with graphic maps showing the locations of parent and child with tiny hearts that are intertwined, plus a lovely poem to complete the sentiment.
Price varies
---
Dear Dad Poem Personalized Valet Box
This custom valet box is perfect for the dad who needs someplace to store his change and keys at the end of a long day. You can personalize with one of nine offered poems, customize one of those selections, or add one of your own to make it truly personal.
$32.99
---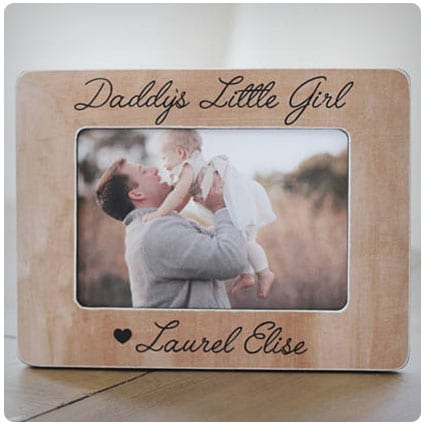 Daddy's Little Girl Personalized Frame
This sweet little personalized frame would look great on Daddy's desk at work or at home. These handmade wooden frames say "Daddy's Little Girl" across the top and there is a place to add a name below. Since these frames are made to order, you can have them engraved with any phrase you like.
$23.95
---
Personalized Wallet Insert Card
If you are looking for a unique gift for dad this year, check out this hand-stamped metal wallet card that can be customized to say anything you like. The same size as a credit card, it fits neatly into a wallet so that Dad will know how much you love him wherever he goes.
Price varies
---