Any gift will be well received, but for something truly unique and heartfelt, personalized anniversary gifts are definitely the way to go, not just because you've gone to the trouble and effort of ordering them, but because nobody else will have one exactly the same. So whether you're thinking small (how about a leather bracelet for him?), or big (a giant photo canvas springs to mind) this list has it all.
Wooden Wall Clock Personalized
This personalized wooden whimsical clock will look good whatever the décor, thanks to its rustic barnwood gray design and intertwined hearts, couple's names, and wedding date. Comes with keyhole slot for hanging.
$69.99
---
Take them on a trip down memory lane with this gorgeous throw which comes with the couple's initials 'carved' into the tree, and is available in Autumn, Winter, or Spring colors.
$135.00
---
Anniversary Wedding Bouquet Keepsake
The bouquet is the second most important choice a bride has to make after her dress, and this hand embroidered keepsake will replicate it beautifully, along with the wedding date.
$200.00
---
Personalized Wedding & Anniversary Tree
Whether it's Shakespeare's Sonnet, sheet music, or a special place, you can have it as a background to this gorgeous 3D tree which features dangling hearts personalized with names and wedding date.
$100.00
---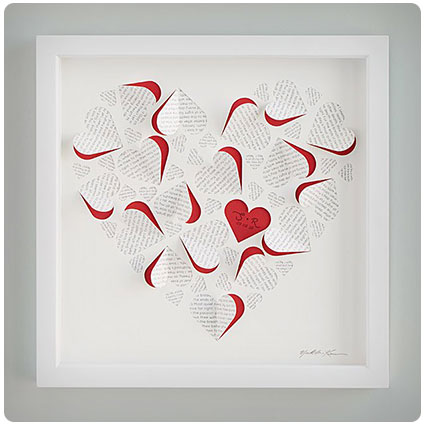 This adorable art-piece has love written all over it! Using a favorite poem, song, or text, these fold-out hearts are set against a vibrant red background and personalized with initials and date.
$160.00
---
This wall art makes a beautiful personalized anniversary gift, as it features the bride and groom's hands intertwined as they raise a toast, along with their names and the date they're celebrating.
Prices vary
---
---
---
---
---
---
---
---
---
---
---
---
---
---
---
---
---
---
---
---
---
---
---
---
---
---
---
---
---
3 Heartfelt Personalized Anniversary Gift Ideas
---
---