34th anniversary gifts don't follow any particular theme, so why not adopt food as the best way to celebrate? These traditional gourmet gifts will make for easy eating as they require minimum (if any) preparation, but will be more than enough to satisfy even the hungriest of appetites. Sweet, savory, salty, or spicy…it's all there for the choosing. Enjoy!
Filet Feast and Maine Lobster Tails Dinner
Celebrate your anniversary in style and have someone else do all the hard preparation with this incredible Surf 'n Turf dinner, which includes large Maine lobster tails and filet mignon steaks.
$148.95
---
Premier Selections Wine Gift Basket
These delicious wines and decadent snacks are all that's needed for a sumptuous picnic for two, even if it is just on the floor in front of a roaring fire!
$124.99
---
Black Tie Cheese Tasting Event
Presented in a rustic wooden crate, this Black Tie Cheese Tasting Event consists of cheese…lots and lots of delicious cheese…along with salami, cherries, red bee honeycomb, and sourdough crackers.
$219.95
---
Fit for Royalty Gourmet Basket
Treat your king – or queen – to an opulent gift basket that really is fit for royalty. With crispbreads, olives, cheeses, and even butter cookie brittle, this basket will feed them for days.
$149.95
---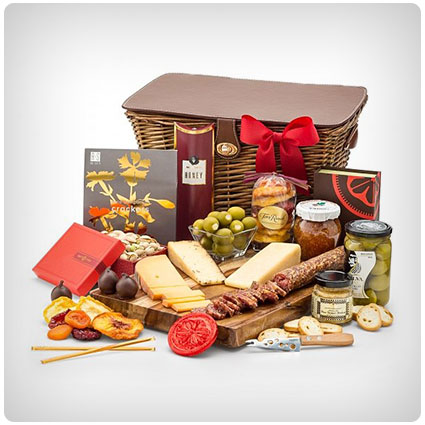 'Pass the cheeses, please' will be an oft-used phrase when you give someone special this packed hamper which contains cheeses from around the world, along with carefully-paired nibbles to go with them.
$139.95
---
Gourmet Chocolate Covered Pretzels
If they're partial to pretzels, take their snack game to the next level with this set of pretzel rods which come in 8 different flavors, sprinkled with all sorts of sugary goodness.
$30.00
---
New England Breakfast Gift Basket Classic
It's the best meal of the day, so get your anniversary off to a flying start with this New England breakfast basket which includes pancake and scone mixes, and all the fixin's.
$59.99
---
Dry aged for richness of flavor, this pair of tomahawk ribeye steaks come with an extra-long bone for presentation, and plenty of marbling for the tenderest of tastes.
$239.95
---
Molecular Gastronomy Kit – Cuisine
Oh the fun you can have in the kitchen with this Molecular Gastronomy Kit, which positively encourages you to play with your food by gelifying and morphing everything in sight!
Prices vary
---
Gourmet Peanut and Nut Butter Cups
Made for the discerning palate, these chocolate cups come in the most decadent flavors imaginable, such as matcha cashew, birthday cake, and pink chocolate cherry chai. We dare you to stop at one.
$40.00
---
Take movie night up a notch with this deluxe snack gift basket, packed with tempting treats such as kettle corn, pretzels, peanuts, and cookies for those with a sweeter tooth.
$99.99
---
Indian Chana Masala Complete Dinner Kit
If you fancy cooking up a romantic Indian meal but are a little lacking in the culinary dept., this kit contains everything needed to whip up a delicious chana masala at home.
$36.00
---
Breakfast will definitely become their favorite meal of the day when they see what this gorgeous wooden serving tray holds – blueberry, orange, and chocolate scones, coffees, and 2 different flavored jams.
$69.99
---
Congratulate your other half on 34 years of marriage with this pack of delicious Oreos, which are covered in milk, white, and dark Belgian chocolate and spell out the word 'congrats'.
$34.99
---
Caught in the North Atlantic, these perfectly plump Maine lobsters are married with the succulent filet mignon for a feast fit for a romantic anniversary dinner for two.
$134.95
---
It's not just police officers who love them! This selection of mini doughnuts are delicately dunked in Belgian chocolate before being hand-embellished with sweet sugar sprinkles and fabulous fondant detail.
$39.99
---
Belgian Chocolate Dipped Cookie Tower
If you want to give someone a really sweet treat, take a look at this Belgian Chocolate Dipped Cookie Tower which contains 12 each of biscotti, macaroons, and chocolate chip cookies.
$109.99
---
If you can't go to Paris, bring Paris home with this selection of artisan cheeses from arguably the most romantic country in the world, along with sausage, black cherry confit, and olives.
$159.95
---
Belgian Dipped Chocolate Chip Cookies
As if the chocolate chips inside these cookies weren't enough, there is also the decadent dark and milk Belgian chocolate they're hand dipped into, as well. Utterly delicious, and totally moreish.
$29.99
---
Blackberry Farm Exclusive Brunch Gift
Give the home-cooked taste without the hassle with this gorgeous gift crate which comes with both griddle cake and biscuit mixes, along with premium meats, granola, maple syrup and more.
$299.95
---
With blends named 'Be Happy' and 'Joy to the World', how could anyone resist this set of six peanut butter samplers which use ingredients such as pretzels, chocolate chips, and toffee.
$40.00
---
Share an intimate picnic with the one you love, with this veritable celebration of cheeses which comes accompanied by honey, preserves, charcuterie, olives, crackers, and more in a stylish wooden crate.
$159.95
---
Select Charcuterie and Gourmet Cheese Hamper
The insulated basket alone will delight with promises of picnics in the sun, but wait 'til they see the delicious artisan cheeses, Spanish charcuterie, chocolates, pickles and more hidden away inside.
$199.95
---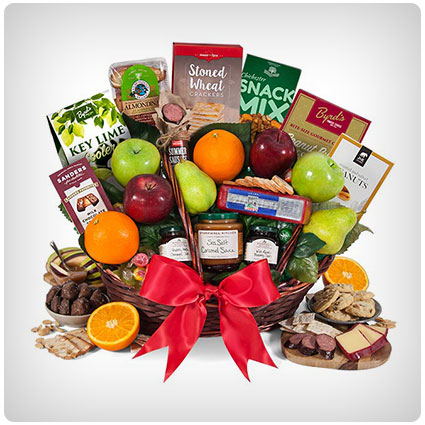 Bountiful Harvest – Fruit Gift Basket
This basket is the ultimate 34th anniversary gift for mixing healthy with hedonistic eating, because nestled among the chocolates, cheddar, and meat is an abundance of juicy orchard fruits.
$124.99
---
Gourmet Chocolate Dipped Pretzels
Looking almost too good to eat (almost), these pretzel rods have been dipped in rich Belgian chocolate before being rolled in a rainbow of candies, nuts, and deliciously tempting chocolate drizzles.
$54.99
---
Molten chocolate or fruity cereal? Why not choose both and serve up a feast of delicate macarons with these kits which come with shell mixes, piping equipment, and recipes for fabulous fillings?
$24.00
---
President's Choice Cheesecake Sampler
Share them or stash them! 8 extraordinary flavors of cheesecake make up this platter, which contains 2 slices of each flavor so neither of you have to miss out.
$54.99
---
Gourmet Chocolate Dipped Oreo® Cookies
As if Oreos weren't delicious enough, now you can get them dipped in delicious milk, dark, or white chocolate and generously bedazzled with fun and fabulous candies, nuts, and drizzle.
$0.00
---
If you thought making fresh ravioli was beyond your capabilities, think again, because this kit comes with everything needed to make delicious mushroom ravioli, just a-like a-Mama used to make.
$30.00
---
Anniversaries deserve the finest of foods to celebrate with, and this platter contains premium artisan meats and cheeses, along with olives, tomatoes, and a wooden board to serve them on.
$99.99
---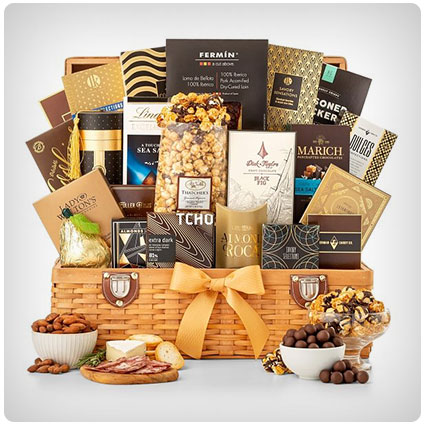 Grand Indulgence Gourmet Gift Basket
Their basket will runneth over with this selection of gourmet foods – from Manzanilla olives and butter cookie brittle, to cheddar popcorn and choc-chip cookies – all tied up with a personalized ribbon.
$139.95
---
White Chocolate Covered Strawberries
There's something inherently romantic about chocolate covered strawberries, but these ones go a step further as they are blanketed in beautifully embellished Belgian white chocolate. Available in a 6 or 12 pack.
$0.00
---
3 Diy Delicious Food Anniversary Gifts
Watch the video in this tutorial for some fab suggestions on how to make up a festive food basket, with suggestions on how to decorate your gourmet gifts, and what to include.
---
These gifts are simple to make and look stunning with the layers of ingredients showing through the glass. Add your own label, instructions, and wet ingredients list and you're good to go!
---