If you've been searching high and low for the perfect birthday gifts for her, this list of unique and unusual gifts are sure to please her. From carry-on cocktail kits, and jellyfish chimes, to colorful birthday balls, you'll find a variety of fascinating items that are sure to pique her interest.
You've just finished a delicious meal, now what? Not sure whether to reach for that rich, after-dinner wine or a fresh-brewed coffee? Enjoy both with these merlot-infused beans. You'll get a flavorful brew with 100% Arabica beans aged in oak wine barrels of red berry flavors, coupled with subtle hints of currants and blackberries.
$20.00
---
Moscow Mule Carry-On Cocktail Kit
If you're a jetsetter, the Moscow Mule carry-on cocktail kit will fit right into your travel plans. Follow the easy recipe and you'll be jetsetting off in style. Included in the kit are all the ingredients you'll need to create this vodka-based cocktail, meaning you'll travel with flair in first class style.
$24.00
---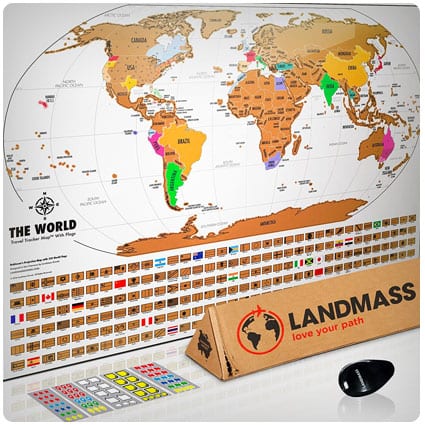 Landmass Scratch Off World Map Poster
It's the kind of gift that every world traveler wants! If she likes keeping track of all the places she's ever visited, this vibrant map will store all the careful details. Scratch off the states or countries visited with a scratcher tool – she'll be inspired, and 10% of profits from sales will go to charity.
$22.79
---
Just like the old days! Get a subscription of Vinyl Moon and receive a mixed tape of new music pressed onto an actual vinyl record. You'll love the original artwork that comes along with one of the most exciting gifts around, if you're into discovering new music.
Price varies
---
This retro briefcase turntable will bring back fond memories if you can remember back to those good ol' days. Trends have a habit of turning the tables on us and bringing back old items as new. This standalone turntable with built-in speakers and bluetooth connectivity comes in black or retro blue – the perfect old-fashioned gift!
$84.79
---
Book Page Holder For Book Lovers
If your friends love to read, these beautiful, rich-colored, stained wooden book page holders are the perfect gift for book lovers. They're shaped to fit most thumbs and fit snuggly into your book without damaging or denting its spine. These are ideal for thin or thick books, as well as soft or hard-cover books.
Price varies
---