Fathers and their little girls have a special bond, even when those little girls are all grown up. Choosing the right birthday gift for Dad from his daughter takes time – you want to put as much care into that as he has put into looking after you – and whether you want silly or sentimental, the perfect gift can be found right here.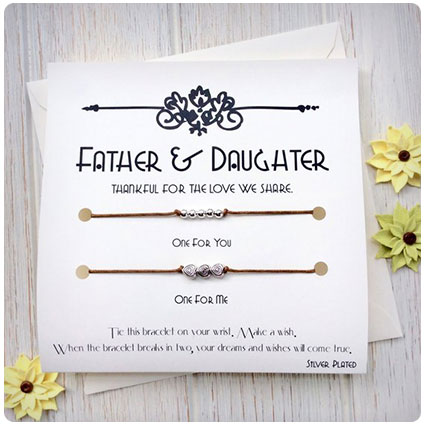 Father and Daughter Matching Bracelets
Wishing bracelets are designed to break; according to legend, the wish you made when you tied it on will then come true. This pack contains one each for you and Dad.
$14.95
---
Frank Lloyd Wright Double Sided Puzzle
This 500-piece double-sided jigsaw features a stunning photograph of Fallingwater – Frank Wright's iconic Pennsylvania masterpiece – on one side, while the other features the blueprint of his design.
$16.00
---
If your dad loves baseball, this stadium blueprint will make a treasured keepsake to hang on his wall. With 33 stadiums to choose from, his favorite is bound to be there.
$185.00
---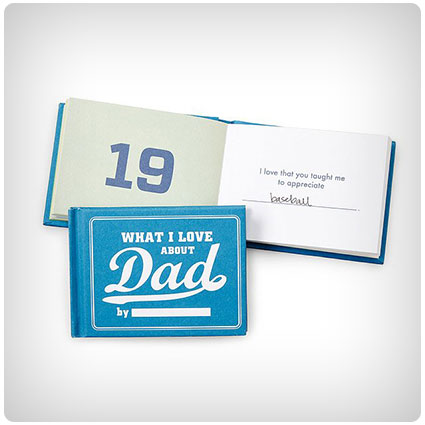 What I Love About Dad By Me Book
This little book makes a lovely birthday gift for dads from daughters who want to remind him how loved he is, by filling in the 50 sentimental prompts.
$10.00
---
Socks are typical dad gifts, but these ones are a cut above! With 5 pairs included, each one can be personalized in 2 places with up to 28 characters in total.
$50.00
---
Food will go down the hole in one when Dad gets to grilling at the next bbq with this set of golf-inspired cooking utensils. Contains stainless steel tongs, fork, and spatula.
$26.00
---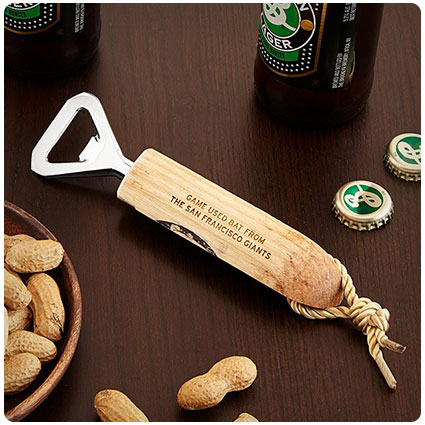 Game Used Baseball Bat Bottle Openers
Beer and a game, what more could he ask? Now he can reminisce about baseball with this game-used bat bottle-opener, which is stamped with details about the team who used it.
Prices vary
---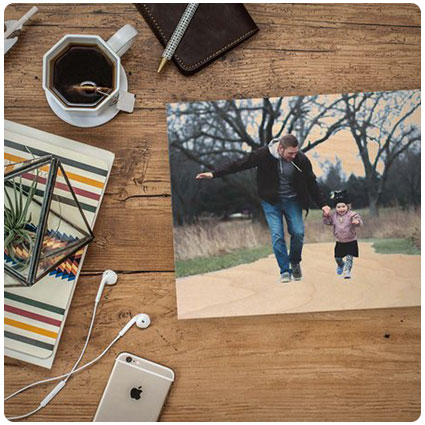 Have your father's most prized photograph set onto wood in one of these charming, rustic prints. With the wood grain showing through beautifully, these prints come ready to hang or stand.
$34.95
---
Create a 'hygge' atmosphere in his home with this unusual tealight holder which holds 4 candles, nestled between 2 rows of Nordic trees to cast a warm glow in any room.
$40.00
---
Filled with words of wisdom for new fathers, this book likens fatherhood to baseball as it shouts encouragement from the side-lines, with prudent quotes from some of the world's best-loved coaches.
$13.00
---
These made-for-relaxing men's slippers are filled with relaxing lavender buds and can be cooled in the summer and warmed in the winter to provide instant relief to hard working, tired feet.
$48.00
---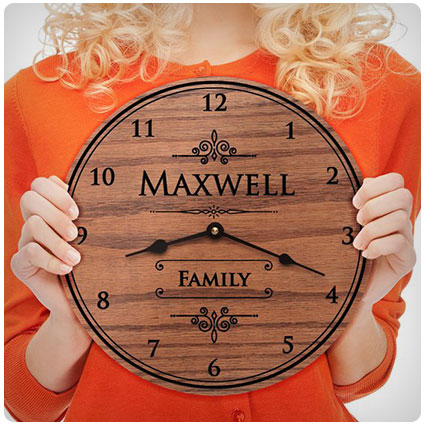 Time is the greatest gift you can give to anyone, and with this handsome personalized wall clock, your dad will always have time on his side. Available in 3 different sizes.
$79.00
---
Simple but essential, this bottle opener makes a thoughtful birthday gift for a dad from his daughter, as it can be personalized with up to 50 characters across 2 lines of text.
$6.25
---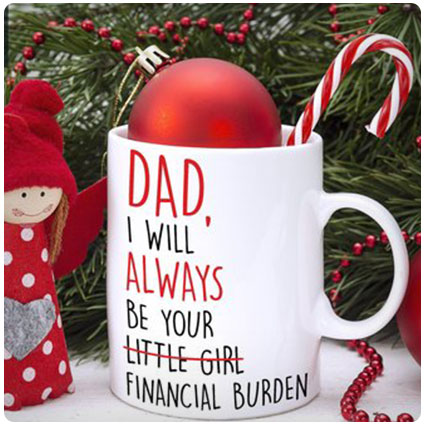 Dad I Will Always Be Your Financial Burden Coffee Mug
If Pop is always there to help you out, make him smile with this ceramic 11oz or 15oz mug which tells him, in humorous terms, that you will always be his.
$14.95
---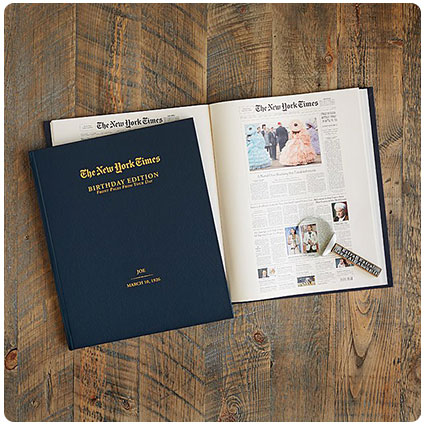 New York Times Custom Birthday Book
With one front page for every birthday he's enjoyed so far, this personalized New York Times hard-cover book makes an intriguing keepsake as he looks back over his life in news.
Prices vary
---