He might drive you crazy at times, but you wouldn't be without your husband, so take a browse through this collection of anniversary gifts for him that are both masculine and sentimental. Tie-in his favorite pastime, or go for something he'd never have bought for himself, but whatever you do, choose him something that tells him how much he means to you.
These teeny envelopes open to reveal a wooden note reading 'I Love You', and are mounted in a pair of shiny brass cufflinks so he can wear his heart on his sleeve.
$80.00
---
You're on this journey together, so if you're looking for an anniversary gift for him that's travel-based, this scratch off map will reveal in glorious color all the places he's already been.
Prices vary
---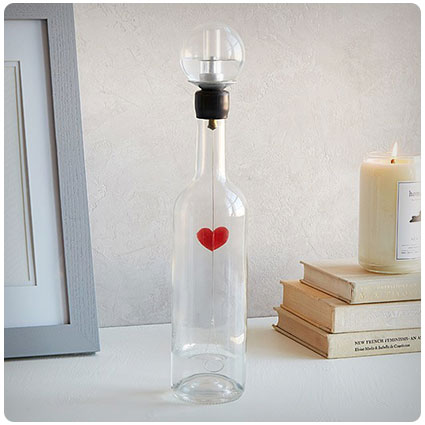 Beating Heart in a Bottle Sculpture
If your hubby has a taste for the unusual, this beating heart bottle will intrigue him. As water drips down, the suspended heart 'beats' and then stills, almost mimicking a real heartbeat.
$100.00
---
OUR MOMENTS Couples Conversation Cards
The daily grind can take its toll on a marriage, so make sure you stay connected with this pack of cards which feature thought provoking conversation starters to keep the flame alive.
$18.95
---
Help him de-stress whenever he has a spare moment with this Love Tuner, which features a meditative flute suspended on a 27" chain which plays harmonious notes as he breathes.
$58.00
---
12 Ways to Say I Love You Journal
"12 ways to say I love you" is a little book with a big heart, as it comes with a dozen fill-in prompts to explain why you feel the way you do.
$28.00
---
Game-Used Baseball Bat Handle Openers with Stand
Made from game-used bats, these MLB bottle openers come engraved with the details of the team which used the bat, along with a stand for displaying it proudly.
Prices vary
---
If you're forced to spend time away from the hubster, bridge the distance a little with this pair of lamps which show him you're thinking of him whenever you turn yours on.
Prices vary
---