This year, spoil Grandpa with the best gift ever. In this wonderful list, you'll find plenty of gifts that you're sure to never have thought of. Best of all, they're personalized! So whether it's a keychain with a sweet message or a custom photo frame you're after, you're in the right place.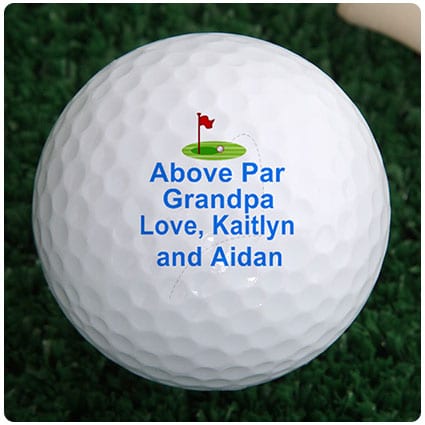 For the sports fan, get a hole in one with this fantastic personalized golf ball set. You can use any name you like, along with a message of up to two lines. The ball set can even be made extra special with a choice of lovely gift boxes.
$32.99
---
New York Times Custom Birthday Book
If you're wanting a magical gift that stands out from all the rest, then take a look at the New York Times custom birthday book. This special collection features the newspaper's front pages from all of his previous birthdays. It will be like stepping back in time as he looks at his very own history.
$99.95
---
The 23andme DNA testing kit is a thoughtful gift like no other. With just a quick at-home saliva swab, you can find out all about your ancestry, covering over 150 populations from around the world. It even offers a DNA relative finder, so you can choose to talk to others who share the same DNA.
$99.00
---
Personalized Unique Real Star Map
Spoil the special man in your life with this gorgeous night sky print. The gorgeous star picture is of the view from the very night of the date he was born. You can even personalize it further with the wording of your choice and the date printed below it.
Prices vary
---
From BackRoadsPZ over on Etsy is this super neat personalized ammo box. It's a great gift for those who were in the army, collects guns and weapons, or perhaps those that have a passion for hunting. It's made from sturdy green metal, so you can be sure that your ammo is safe and secure.
$25.00
---
Game Used Baseball Bat Bottle Openers
Whether he's ride or die for Tigers or he has followed the Giants ever since he can remember, you won't be able to find a better fitting gift for the baseball fan than these awesome game-used bat bottle openers. Made from bats that really have been used in actual games, they're sure to wow.
Prices vary
---
Hooked on Grandpa Fish Keychain
Have a grandpa that enjoys a spot of fishing? Then 'tackle' your gift-finding dilemma with this adorable 'hooked on' keychain. This sweet keychain has a hook-shaped pendant saying "hooked on Grandpa' (or name of choice), and extra little fish that have the names of his dear grandchildren.
Prices vary
---
New York Times Custom Front Page Puzzle
Being made with any front page you like, this New York Times puzzle is sure to make him smile. Whether it's the date of a wedding, birthday or any other special occasion, this unique gift is one he's sure to treasure forever. Consisting of 500 pieces, he can have it put together in a jiffy.
$49.95
---
With just a few clicks, you can create your very own family picture book with PastBook. Using social media you can have others join in and add special photos, then PastBook does all the hard work for you. You can even send it anywhere you like, which is great for families that share long distances.
Prices vary
---
To My Loving Grandpa Personalized Frame
When looking for sweet personalized gifts for Grandpa, you can never go wrong with a thoughtful photo frame. Customize this handmade frame however you like; start with the background design and name of the gift giver, and then add any message or poem of your choice.
$24.95
---
Wood Personalized Desk Organizer
Give Gramps a little helping hand with this lovely wooden docking station. You know what men can be like, always misplacing or forgetting something – with this they can now keep all of their essentials in one place. It even has a port for them to insert their phone cable and charge it.
$29.75
---
Personalized Hand Stamped Great Grandpa Keychain
Celebrate the family generations with this fun hand stamped keychain. It can be completely customized by the creator, so it could also be made for those great grandpas out there, too. Add the due date of the exciting new arrival for a unique pregnancy reveal gift.
$21.49
---
With luxurious flavor essences, you simply can't give these stunning oak whiskey barrels a miss. Each one comes personalized with your recipient's name – you could even go for a special pet name you have for him. The barrel's small size also hurries the aging process up to 10x faster!
Prices vary
---
Personalized Family Member Signpost
If your family lives far apart, stay together with this funky family member sign. Each arrow points in the direction they live in and states their names and how many miles away they are. The handmade sign looks great in any garden with its weathered oxidized steel finish.
Prices vary
---
Designed and created by Charlotte Guptill is this heart-warming custom map paperweight. Inside its unique compass design sits a hand cut map of your chosen location, sealed with layers of boater's resin. Will it be where he was born, where he lives, or the place you hold the fondest memories of together?
$125.00
---
Make his day with this custom key ring which has a charming nautical feel, making it the perfect gift for sailors and fishermen. It comes with a map clipping inside of a special destination – a place he holds dear – and there is also the option of having a message engraved into the back.
Prices vary
---
This Granddad Belongs To Keychain
Remind him just who he belongs to with this light hearted, high grade aluminum keyring, which both the kids and your pops will love. You can add up to 10 extra name tags onto it too, and have him carry every darling grandchild with him wherever he goes.
Prices vary
---
Coastal and Lake Art Serving Trays
Looking for something to make him smile when he's locked away in his man-cave? He's sure to enjoy this unique hardwood coastal lake art tray which has a shoreline or lake of your choosing topographically mapped in 3D using laser, and sealed under a glass layer, making it easy to clean.
$150.00
---
Best Grandpa Ever Custom Photo Socks
Not one grandpa can have a birthday and not be given a new pair of socks, it's a rite of passage! Don't go for any ordinary, run of the mill socks though, have his funky new socks personalized with photos and the words 'best grandpa ever' printed on them too, which is true, of course.
$21.95
---
Grandparent Gift Custom Family Illustration
How gorgeous is this extended family portrait? Titled 'the best family ever', it's sure to have even the grumpiest of grandads grinning from ear to ear. Everything can be personalized with this fabulous digitally drawn print, right down to the outfits – even the family pets can be included! You can't forget Fido now, can you?
Prices vary
---
Personalized Golf Balls with Personalized Case
Spoil him to this ultra-luxurious golfing set by AmericanMoments; with a beautiful monogrammed box, it makes a fabulous personalized gift for golf-loving grandpas. Inside the box are 12 custom golf balls, tees, and pencils. This is quite simply a set that no avid fan can go without.
$42.95
---