When seeking out a present for your beloved, something unique is always a sensible choice. This personalized gifts for wife list contains a range of keepsakes, as well as practical gifts, that can all be customized to include her name, a message, or a design that will touch her heart.
When thinking of personalized gifts for your wife, combining practicality with style will always bring a winning result. This make up bag comes with no gusset, making it a perfect size for holding all her beauty essentials, and is 100% cotton canvas with vibrant screen printed images to ensure a quality product.
$14.00
---
This gorgeous memento symbolizes your family, with the nest indicating a home and the number of eggs inside representing each of your children. Made by hand from pewter, this stylish construct is presented in a shadow box frame and is handmade by Cynthia Webb, the Californian artist.
$84.00
---
The Washington Post Custom Birthday Book
Suitable for a milestone birthday or simply as a special gift, this custom made, commemorative book is a treasury of historic events that have crossed the path of your recipient. Secured in a hardback binding, the headlines of the Washington Post throughout the ages are there for each of their celebrated birthdays.
$100.00
---
This handmade, white ceramic mug can be personalized with your recipient's name and comes in either a 15oz or 11oz versions. Permanently printed onto the mug, the name will not erode from either side and the mug itself is dishwasher and microwave safe, suitable for their daily beverage of choice.
Prices vary
---
Remember where you first met your lover, or where your first child was born? With this custom set of coasters you can celebrate the cartography of your life. Made from rustic tumbled marble, complete with a cork backing, the four coasters display a 9 square mile area around your chosen location.
$65.00
---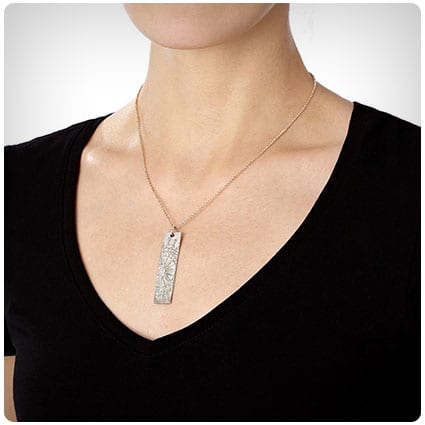 Remember that special location in your life, somewhere you met your partner or maybe had an encounter you'll never forget? With this keepsake necklace, that location is always with you on this sterling silver chain with hand forged solid recycled sterling silver pendant. Something to treasure for the rest of your life.
$175.00
---
When thinking of an unique gift for a spouse or partner, this love equation necklace should always come to mind. The customized equation represents a first date, or an anniversary, with hand stamped dates and initials also representing your unique relationship on this recycled sterling silver plaque.
$185.00
---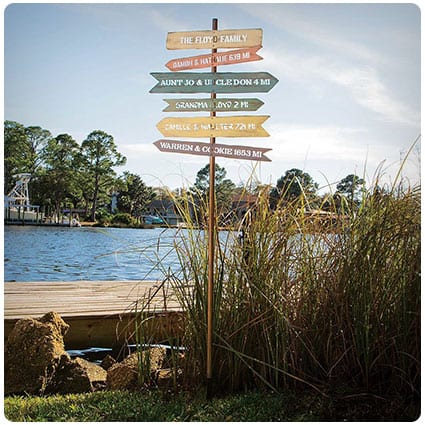 Personalized Family Member Signpost
Families are often these days scattered across the globe, so what better way to keep everyone in mind than with this signpost pointing to each precious member, along with their distance away. Hand painted and skillfully weathered, this is a charming reminder of family throughout those months apart from them.
Prices vary
---
For a thoughtful wedding or anniversary gift, this personalized, nature inspired vase celebrates the love you have for each other in the image of silhouetted lovebirds. Perfect for displaying flowers or organizing kitchen utensils, it is hand decorated and comes with 2 sets of initials and a special date on its side.
$150.00
---
For a bold way to create art from your love, try this one of a kind canvas kit where you paint a picture of your pure love from your most intimate moments. Using non-toxic paint, you produce a canvas to hang on your wall to be a constant reminder of your closeness to one another.
$70.00
---
For a special message to a loved one, try this pendant that contains your words transcribed as a sound wave. Imprinted on a solid sterling silver pendant suspended from an 18 inch silver chain, the words are also inscribed on the rear of the pendant making this a uniquely personalized gift for your wife.
$125.00
---
---
---
---
---
---
---
---
---
---
---
---
---
---
---
---
---
---
---
---
3 Unique Diy Photo Frames
---
---
---
(You may also like: 39 Most Romantic Gifts for Wives of 2018 (Show Her How Much You Care))