Kids can have a lot of fun with these DIY Valentine gifts that are suitable for moms and dads alike. The best part is that you can join in the fun and help them along or just watch them get immersed in making something from the heart just for you.
---
Kids can give Valentine awards this year for Best Mom and Best Dad in the form of hugs, kisses, and love. They can add their own designs to it to change up the award as they see fit and make it something that you'll absolutely love.
---
Capture the moment with this handprint Valentine gift that uses the shape of their hand and colorful gems to make a pretty piece of art. You can also have them make a heart design, or simply make something pink and red colored for the occasion.
---
The little ones will be able to turn ordinary kitchen towels into something more this Valentine's day, and you'll end up with a useful reminder of their love. The finished product might not look as picture perfect as this, but it will have their special quality built right into it.
---
All that's needed for this kiddy craft is some toy animals and a label maker. Perfect for when they're age appropriate for working a label maker, and a way for them to practice their spelling. These will look great on your desk and is something you can keep up long after the day is over.
---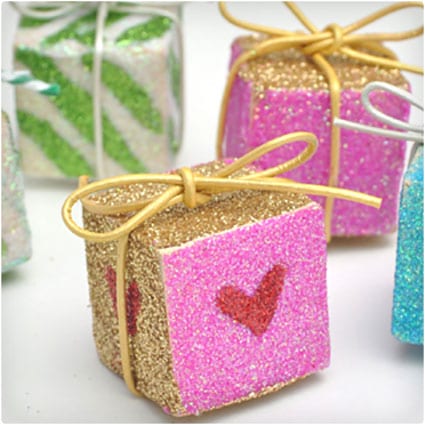 Glittery Wood Block Valentines
Here's a fun craft you both can work on, a special heart block made pretty with copious amounts of glitter. They'll be able to customize the block as well, thanks to its many sides. They can put a heart on one side, your initial on the other, or just play jazz with it.
---
These salt dough hearts are sure to be something they'll have fun making, and you'll love keeping it around after they give it to you thanks to the irresistible scent of lavender. With just a few simple ingredients, this takes just a bit of an afternoon to complete.
---
Cupid's Arrow Valentine Wall Art
It's always fun to decorate the house for the holidays, and kids get an extra special feeling when they see their creations adorning the walls. With a very simple supplies list this is one craft that doesn't take up the entire day, with easy set up and cleanup.
---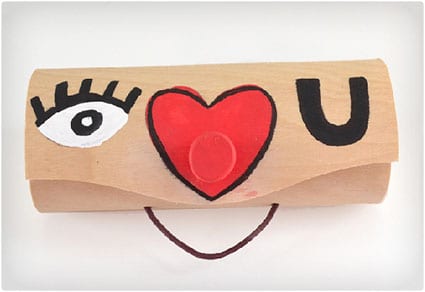 If you wear glasses you can have your child make this custom eyeglass case that reads Eye Love You with an eye for the I. The trick is finding the right eyeglass to be donated to the cause, one that you don't really mind if it gets painted on.
---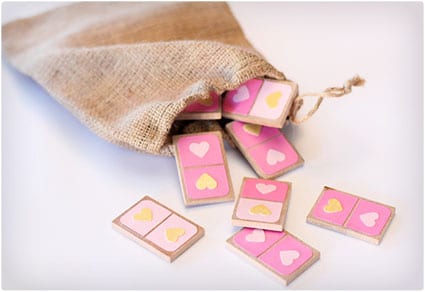 Gifts you can play with are always the best kind, and with this DIY project you and your child can make a set of Valentine-themed dominoes. This is a specially made domino set that lets you match up similar shapes rather than the more complex regular version.
---
There's no shame in having kids make things for you that you'll be using to pamper yourself. With this simple but fun foot scrub you'll be getting the wonderful scent of sugar cookies, and a foot scrub that will leave your feet feeling amazing.
---
This heart card is not only easy to make, but gives great results that are customized to your child. By spreading out their hands and making the shape of a heart they are simultaneously creating a cute heart card and documenting the size of their hands for posterity.
---
When you make this heart stamp out of a toilet paper roll and give it to your child, the masterpiece they create is sure to become an instant Valentine classic worthy of framing. Even if they're little it's sure to resemble an avant-garde piece you'd see in a museum.
---
Tissue Paper Stained Glass Hearts
Stained glass crafts always turn out great, and in this one they'll be making hearts to show how much they love you. This is a great piece to hang up on a window so that the sunlight can shine through it and drive home the stained glass effect.
---
They'll have fun putting together this jar of hearts, and when they're done it can be a Valentine keepsake that you bring out each year to have on a mantle or a shelf. They can put special messages on the hearts inside if they're old enough to, or just have fun crafting the hearts.
---
Have them write you a special Valentine note and then attach it to this tree so that you have a place to preserve the cards and look at them down the road when they're all grown up. It's a great way of displaying as well as saving piece of your child's childhood.
---
Who said Valentines had to look a certain way? With this project you're letting them have creative license over what they make, and accepting their final creation as the Valentine that truly came from their heart. You supply the materials and watch them go to work.
---
This keychain is something you'll love keeping with you everyday, and makes a great Valentine's gift for mom or dad. Your child will love seeing you use it all the time, knowing that they made something that goes with you wherever you go, even when you're apart.
---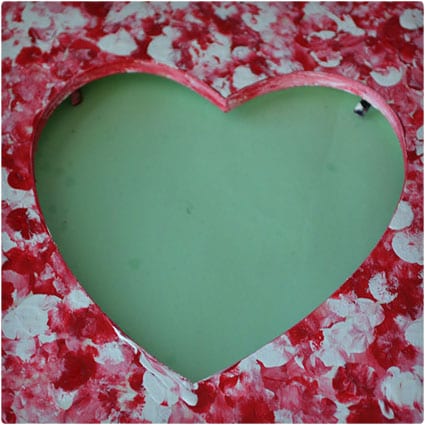 It's easy enough for them to make these fingerprint frames because they already have the tools on the ends of their fingers. It's a gift that you'll look at as the years go by and remember the time when their fingers were as little as they were to make the prints on this frame.
---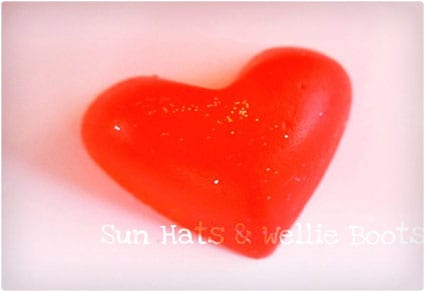 It's a lot of fun making this glitter soaps, but even more fun using them in the bath or shower. This is one gift that everyone can use, so they can really be gifts for the whole family. The glitter is an optional item, and they come out looking amazing with or without it.
---
Here's a fun project to work on together, and one that almost guarantees great results. All they need to do is dip the pads of their hands into paint, and then form a heart with them as they press onto the canvas or paper. It makes a cute little heart to go on the wall.
---
This heart mobile will twirl round and round and is a great piece to hang up and keep up through the spring as windows get opened and fresh air rushes in. It's made with classic kid materials like paints, string, and straws. They'll have fun making it and you'll love the way it looks.
---
With this project your kids are encouraged to shake things up and no matter how they shake it it will still look like a work of art. The necessary paint and toys are added to the box along with the hearts, and this creates just what's needed to have it come out looking like it was hand painted.
---
This laced heart is fun to do and easy to customize with different colors. Your child can lace up as much or as little as they want, and how they decide to lace will determine how the heart looks. You can make one along with them to show how it's done.
---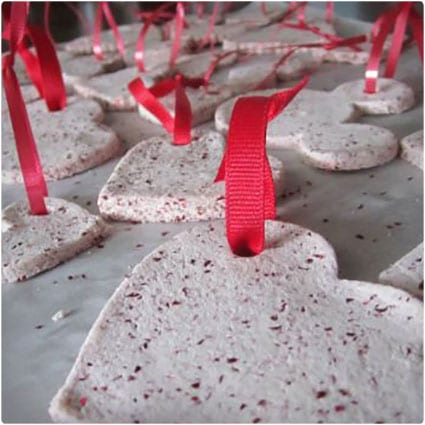 Playdough Valentine's Day Kid's Craft
It's fun to play with Play Doh and even more fun when you actually make something that sticks around. With this Valentine's day craft they'll be making hearts for you with a hole in them that you put a ribbon through so the heart can hang on a doorknob.
---
The magic of this Valentine is that you not only make a beautiful heart from bird seed but you and your children can watch the birds come and make a meal out of it. Show them the fun of watching birds come to your bird feeder and see if you can attract some early spring arrivals.
---
When they make you this paper heart garland you'll have a hangable piece that you can put just about anywhere. The hearts look cool because they're made up of curled up paper, and although it looks hard to do it's rather easy, and easy to show them how it's done.
---
Valentine's catches the tail end of winter in most northern locales, and you can help spread the warmth of love even if temperatures outside are still cold with these heart snowflakes. Hang them on the windows for a nice decoration that can stay up until spring arrives.
---
This banner is one you're sure to love because each heart on it will be a little different than the next. If you have more than one child you can have each of them do one heart, or each of them do a few hearts, and it will be a really special decoration you can hang up each year.
---
Hang this chandelier above the dining room table and your child will get a kick out of the fact that their creation is now accentuating the dinner ambiance. They can make as many or as few strands as needed in order to have the right look once it's hung up.
---
Here's a suncatcher that will help the end of winter along and will keep you in good spirits long after Valentine's has passed. Its simple design means it's easy to make but still has a strong visual appeal that you'll enjoy looking at. Recommended for hanging in the kitchen.
(You may also like: 15 Subscription Boxes to Give Him This Valentine's Day)