These Mother's Day gift baskets are the perfect gift for mom when you can't be with her on her special day. Show you care by inundating her with amazing chocolates, treats, and much more all in one basket.
---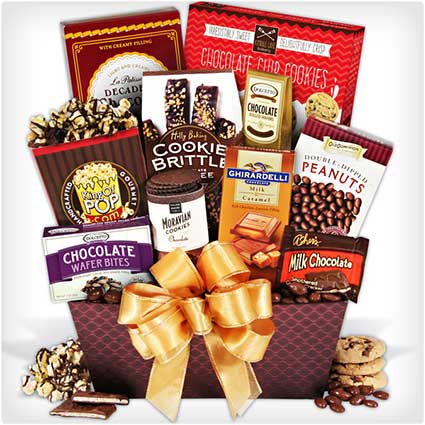 Mother's Day Chocolate Gift Basket
Win mom over with a ton of amazing chocolate in this Mother's Day chocolate gift basket. It's features a wide assortment of different types of chocolate goodies so she won't get bored with the same thing. Ten different items makes this a gift basket to be reckoned with.
$70.00
---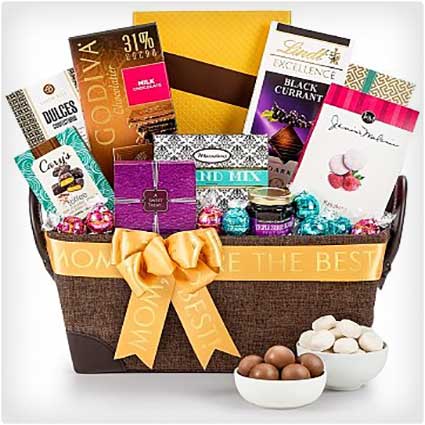 Mother's Day Gourmet Gift Collection
Mom deserves the best, so be sure you're getting her top-notch treats with this gourmet gift collection. From Godiva chocolate to a macadamia nut mix there's a little bit of everything in this collection. Comes wrapped in a ribbon that reads You're the Best Mom.
$50.00
---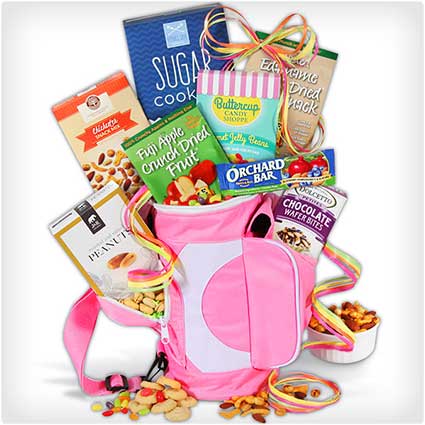 If mom loves to golf this is the gift basket to get her. It has snacks she can enjoy while out on the links, and a few surprises as well. Instead of a traditional gift basket the items are placed inside of a mini golf bag that doubles as a cooler she can bring with her.
$55.00
---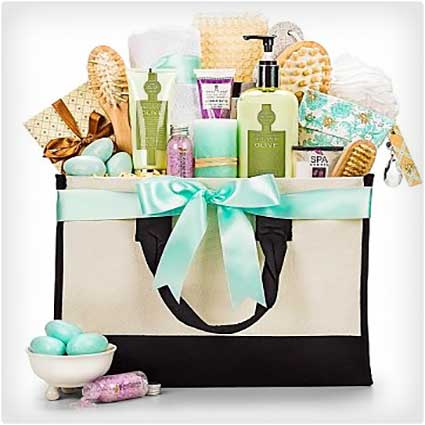 Pamper mom by getting her a gift basket that transforms her bathroom into a luxury. This is one gift she's sure to love because of the way it will make her feel. It's always nice to give mom gifts that make her feel appreciated, and this spa set does the trick.
$100.00
---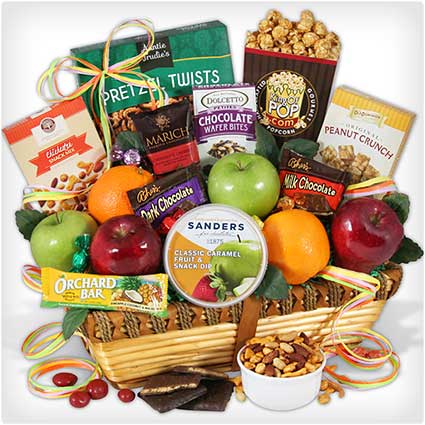 Mother's Day Orchard Fruit Basket
This fruit basket does a good job of providing both fruit and sweet snacks so mom gets a combination of different foods. There are deliciously ripe pieces of fruit and you don't have to worry if they'll be ripe, they're picked fresh and shipped out right away.
$70.00
---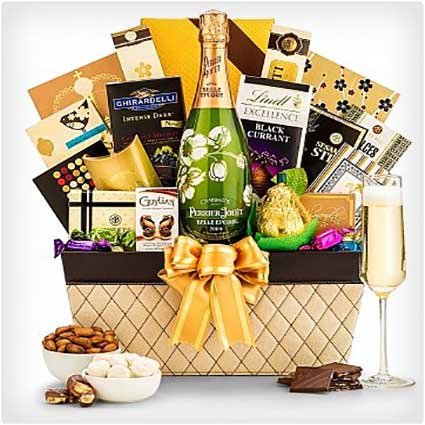 Mother's Day Champagne Collection
If you really want to get mom's attention get her this champagne collection featuring Perrier-Jouet champagne and an assortment of chocolate and crunchy snacks to enjoy with it. The entire collection is presented in a quilted box and packed by hand for accuracy and care.
$260.00
---
Want mom to have a delicious brunch even though you can't be there to make it for her? Send her this brunch basket and she'll have everything she needs to have one impressive brunch. As an added bonus she can use the tote all summer long and think of you each time she does.
$60.00
---
This tower of power is sure to knock mom's socks off when she sees it arrive. It contains several tiers and is rather impressive and fun to open. Inside mom will find all sorts of funa and tasty items, like fresh fruit, nuts, candies, and more.
$50.00
---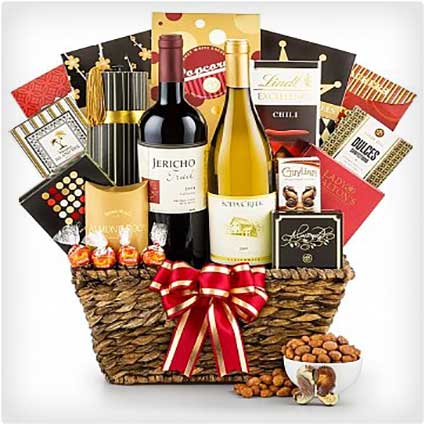 Mother's Day Delight Gift Basket
Is mom the type that can't decide between red and white wine? With this gift basket she doesn't have to! It contains two bottles of wine, one red and one white and both from California. There's also a bevy of different snacks and treats to go with it.
$65.00
---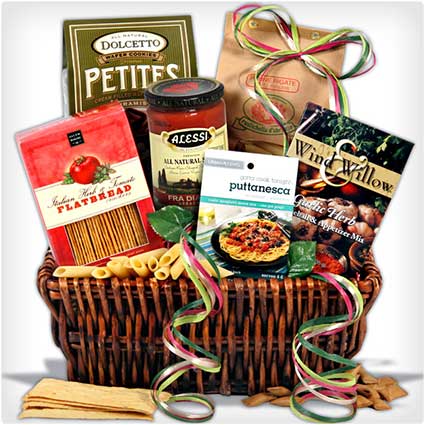 Give mom the Italian dinner you wish you could cook for her this Mother's Day. This basket includes all of the different ingredients she'll need to get a delicious Italian dinner. Be sure to give her a call after dinner to see how much she liked it.
$60.00
---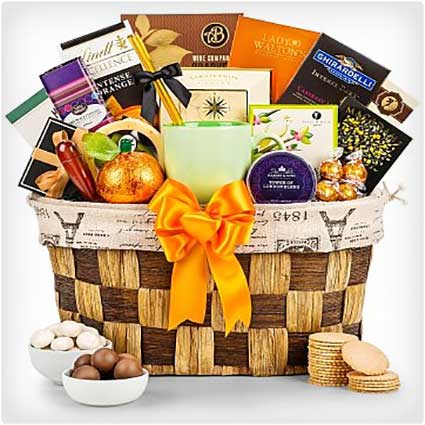 Mother's Day Decadent Brunch Basket
Brunch is a time to indulge, after all it's two meals in one. With this Decadent Brunch basket mom will get a trove of brunchtime yummies that are sure to put a smile on her face. From truffles to cheese, and even caviar she'll be in seventh heaven.
$80.00
---
Just for Mom Gourmet Gift Basket
Mom did so much for you that it's about time she got something that was just for her. This Just for Mom gourmet gift basket is just the thing that will show her how much you appreciate all she's done with a keepsake basket full of delicious items she'll enjoy immensely.
$60.00
---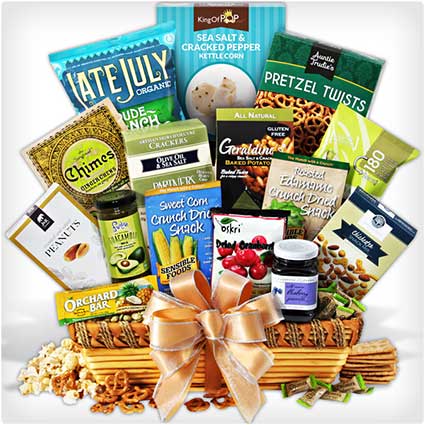 Help mom snack healthy with this gift basket. It's filled to the brim with smart snacking options that also taste great. If you know she's been trying to eat right and manage her weight, this gift shows you support her won't sabotage her progress with a bunch of chocolate.
$100.00
---
Chocolate Decadence Gift Basket
If mom is a certified chocoholic you can't miss with this Chocolate Decadence basket. She'll be taken on a tour of the different chocolates from Ghirardelli, and there's even a special drinking chocolate she's sure to savor just like a cup of hot chocolate.
$40.00
---
This Spring Fling basket is a just a lot of fun to open and enjoy. It features a mix of different chocolates, each better than the last, as well as a few items like cookies and wafers that help round it out. There's even two types of shortbread, so if she's a fan you've got to get her this.
$60.00
---
Fit for a Queen Mother's Day Gift Basket
Want to give mom a gift that's fit for a queen? Here's the gift basket that is aptly named and ready to impress this Mother's Day. You get your choice of red or white wine, or you can gift both for a little more. The packaging is extra stylish for the discerning mother.
$70.00
---
Mother's Day Day at the Spa Basket
What's great about this spa basket is that it comes with all of the tools needed to really treat the skin well and massage the body. There's also an assortment of Burt's Bees products so that she can treat the different parts of her body and make them smooth and soft.
$35.00
---
Coffee Lover French Press Hamper
If mom doesn't already have a French press to make coffee with, this gift is sure to be well-received. Perfect for coffee lovers, this set contains everything she'll need to make one impressive cup of coffee. There's even a mug to drink it from, and snacks to enjoy with it.
$65.00
---
Gourmet Luxury for Mother's Day
This basket goes above and beyond and gives mom some delicious cheese to enjoy on her special day. There's also some delicious crunchy and sweet snacks. The basket this comes in is so nice she's sure to re-purpose it and keep it on display somewhere in the house.
$85.00
---
Mother's Day Insulated Tote Gift Basket
This is one of the best gift baskets for a mom that's still in touch with the child within. It's full of fun snacks that come packed in a ladybug tote she can use for trips to the beach or to hold gardening supplies. Just be sure she likes to snack because it's full of many different kinds.
$70.00
---
Relaxation Kit for a Special Mother
Go deluxe with this relaxation kit that is sure to help mom de-stress and find her center. They've gone the extra mile by filling this basket with premium items like organic massage oil and dye-free body wash. Perfect for the mom that would never justify buying these for herself.
$100.00
---
Tea Time Keepsake Box with Teapot
Mom can enjoy a nice spot of tea with this Tea Time Keepsake Box. It even comes with a teapot, so if she doesn't have one she finally will. It's a cute little tea pot that can brew up one or two cups of tea if she wants to enjoy it with dad or a friend.
$50.00
---
Bring the garden indoors with this From the Garden basket. It comes fully loaded with beautiful plants that mom will likely be able to identify if gardening is her passion. You get to personalize this basket with a card, and the plants are picked out by a pro.
$70.00
---
Mother's Day Wine and Gourmet Basket
It will take mom more than a day to savor her way through this amazing wine basket. It comes complete with all the side items that can make a glass of wine even more enjoyable, including fresh fruit and gourmet snack selections.
$205.00
---
What's better than a trip to the spa? The privacy of your own home paired with the same type of items they use in the spa. In this gift set mom gets a range of different products that let her pamper herself to her heart's content, all courtesy of you.
$75.00
---
Mother's Day Fruit & Sweets Basket
Fruit and sweets just go together, and in this basket mom gets plenty of both. Two different types of pears, and two different types of apples covers a range of different flavors, and it's always nice to have some fresh fruit along with a square of chocolate.
$40.00
---
Mother's Day Champagne Brunch Basket
What's better than brunch? A bubbly brunch! In this brunch basket mom gets to have a nice glass of champagne. Or maybe she'll add in some orange juice for a mimosa, the brunch beverage of choice. Tasty crackers hold delectable caviar for an unforgettable brunch experience.
$100.00
---
We just had to include one more spa basket that's perfect for mom. If these ones above didn't entice you, how about this one filled with aromatherapy salts and massage oils as well as a bath pillow and even a sleep mask so she can drift off into a peaceful sleep after her pampering.
$80.00
---
5 DIY Gift Baskets for Mother's Day
It's easy enough to put together a hand-crafted gift basket for mom, filled with things you know she loves. In this green beauty basket Stephanie shows you just how fun it can be to assemble different items and make them special with a beautiful basket.
---
Can't be there for breakfast with mom on Mother's Day? Send her a loaf of this amazing banana bread and honey butter along with a bag of coffee so she can enjoy it with her bread. It's a way for you to take care of mom on her special day, even if you're far away.
---
Is mom a coffee lover? Cater to her tastes with this incredible coffee basket, complete with beans, mugs, and more. It's everything she loves, all in one basket and is sure to show her how much you care when she sees that it was made by hand.
---
If the garden is where mom loves to be, this gift basket is the one to go with. It basically entails rounding up some of the most-used gardening items and presenting them in a nice basket. Useful gifts are always a winner, especially for a hobby like gardening.
---
Make mom's time in the kitchen easier with this kitchen gift basket. The beauty of it is that it's really easy to assemble, and if you know that mom loves to cook it's going to put a smile on her face and get a lot of use.