As each week goes by, you get closer to your grandmother's big day. Thanks to the following list, you won't struggle to find presents as this collection of goodies contains the very best birthday gifts for Grandma. From personalized gifts to homemade gifts, each one is unique and beautiful, just like her.
Kids and their grandparents have a very special bond, a relationship that needs to be nurtured and cared for. With all of this technology, the art of writing has been lost; help your little ones to keep in contact with their grandparents with these postcard writing prompts that will help them regularly write to them.
$30.00
---
With amethyst gemstones included, this necklace is sure to make your grandmother (or your little one's grandmother) happy. If she is loved and treasured, treat her to a necklace complete with not only amethysts, but also the words 'Grandma Rocks' hanging underneath; after all, one gem deserves another.
$75.00
---
Spoiled Grandchildren Personalized Doormat
Grandparents are a special breed. Their kindness and generosity is a great part of growing up, right? Treat the grandparents in your life to this exceptionally awesome door mat. Durable in design, it reads 'Grandchildren spoiled here' and can even be personalized with their names; they will love it.
Prices vary
---
Tote bags are great – stylish and extremely useful! This particular tote bag is perfect for making the grandma in your life smile, laugh and be happy. The bag itself comes with a funny message on the front that can be personalized to suit the recipient (because the name 'Grandma' isn't for everyone).
$18.00
---
There is No Place Like Grandma's House Wood Sign
This wooden sign is rustic, handmade, and looks terrific! If your children absolutely adore going to their grandparent's house, they can use this sign to show them just how much. Perfect as a birthday gift for Grandma, she will appreciate the gesture and will hang it proudly in her home.
$17.00
---
A beautiful present for your grandmother, this vase is a great way to show her how much you care, and is a stunning keepsake. With the words 'God could not be everywhere, so he gave us grandmas' printed on the side, this handmade flower vase will be ready to hold every bouquet you buy her.
$23.99
---
Grandmother's Garden of Love Necklace
If you love your grandma more than life itself, she definitely deserves this. Whether you are looking to get her something for her birthday, or just because, she would be lucky to receive one of these garden of love necklaces that will leave her with a constant reminder of how much she is loved.
$82.00
---
Does you grandma love to sew? Brilliant, then you are in luck when it comes to buying her next gift. This stoneware sewing station is the perfect place for her to keep all of her sewing goods – great to look at, the spool design container is sure to bring a smile to her face.
$58.00
---
Peridot is the stone of healing and harmony, so it's no wonder that this stunning silver pendant boasts one. Handmade, it's ready to bring a ton of joy to your grandmother's life. Women go through an amazing journey on their way to becoming a grandparent, and this necklace symbolizes it in the most beautiful way.
$55.00
---
Grandkids Make Life Grand Wooden Sign
Hand cut and handmade, this wooden sign is perfect if you are looking for something to get Grandma on her birthday. With the words 'grandkids make life grand' painted onto the stained wood, she will be beaming with pride as she hangs it in her home for everyone to see.
$25.00
---
Anatomy of a Grandparent's Heart Mug
Grandmas are awesome. When you think of yours, does your heart instantly warm? If so, treat her to this delightful mug that sums up some of the best bits of having a gran. The hand sketched heart is full of tons of reasons why grandmas are great, making her smile every time she has tea.
$18.00
---
Does your grandmother love to wear earrings? Perfect, then this set is ideal for her birthday. Choose her birth month from the list of options and find out which flower she is paired with. These beautiful and handmade resin earrings contain real pressed and dried flowers that will never fade, just like her love.
$40.00
---
Personalized Hand Stamped Keychain
Keychains make great gifts, they always have done. If you would love to find a simple yet effective way to make your grandmother happy on her birthday, this could be the way! Grandmas are also mothers and this personalized birthstone keychain commemorates both awesome achievements.
Prices vary
---
Grandparent & Grandchild Letter Book Set
The relationship between generations is a special one. Give your children one of these beautiful books that is full of prompt cards that will help both generations stay in touch; once all of the prompts have been completed, they can be stored away inside the book as a keepsake that will be treasured forever.
$40.00
---
Happiness Is Being A Grandma Shirt
Is it that time of year again, when you start searching for the perfect birthday gift for Grandma? Cover her in reasons to be happy with this t-shirt that she will want to wear every single day! Whether you call her Gran, Grandma, or something else instead, this shirt can be personalized to suit her needs.
Prices vary
---
Every family has their own special recipes, Dad's sausage surprise, Mom's wild wings and, of course, Gran's chicken soup. Whatever recipes your family holds, you can use this book to document them and pass them on to future generations, keeping the magic and flavor alive for longer.
$35.00
---
These gift wrapped candles would make an exceptionally wonderful gift for the grandmother in your life. Handmade from soy wax, the scented candles are supplied in a cube glass jar that has a beautiful definition of the word 'grandmother' printed on the side. The candle may not last forever, but the jar (and sentiment) will.
Prices vary
---
Do you absolutely adore your grandma's cooking? Or do your children love your mother's cooking? Either way, this chopping board will help remind her of her culinary genius. The wooden board itself has been engraved with the words 'everything tastes better when Grandma makes it' and can even be personalized with names.
Prices vary
---
A Grandmother's Love Long Distance Wall Art
Not everyone is blessed with the privilege of being able to see their grandmother whenever they like; life, oceans, and air miles can get in the way. However, this burlap print will help your grandmother deal with the distance and can even be shipped with a frame allowing it to go straight onto the wall!
Prices vary
---
Anatomy of a Grandparent's Heart Screenprint
The anatomy of a grandparent's heart is unlike any other – take a look at this screen print so you can see what we mean. With a center of warmth, a ventricle of charm, and so much more, this print breaks down all the qualities that we cherish in our grandmothers in a beautifully sentimental way.
$40.00
---
Maintaining a green thumb is tiresome work, especially when age starts to take its toll on joints and bones – kneeling just isn't an option! Thanks to this gardening tool stool, your grandma can use the fold out chair to get closer to her crops, and the included pockets to store all her much needed tools.
$34.00
---
If your nan, gran or grandma loves to enjoy a freshly brewed mug of tea, this gift is for her. From all over the world, these ten single estate teas will open her palate up to some new and exciting flavors; and even come with an information booklet about the different teas included.
$55.00
---
Recycled Glass Tree Globes – Relationships
Designed to represent the love that a family shares, these beautiful glass globes contain a tree trunk with gorgeous colorful branches which depict the love a family shares, no matter how far they spread. Hand-blown from shards of recycled glass, these unique ornaments will give a stunning new meaning to the words 'family tree'.
$45.00
---
Side by Side Grandparents Heart Wall Art
This special sign showcases the words 'side by side or miles apart grandkids are close to the heart'. Handmade from a solid piece of wood, the sign is perfect if you are looking for birthday gifts for Grandma. It even comes with 7 mini clothespins allowing several photographs to be lovingly displayed.
Prices vary
---
Grandparent Grandchild Activity Set
Grandchildren and their grandparents have a truly special bond, one that is unlike any other. These activity cards are perfect for the grandchild/grandparent duo in your life. Filled with all kinds of fun adventures that they can share together, they will make fond memories that will last forever.
$38.00
---
If Found in Microwave Grandma Mug
Does your grandma have a wonderfully funny sense of humor? Perfect, then this side splitting mug will make her very happy on her birthday this year. Decorated with pretty little flowers, the mug reads 'if found in microwave please return to Grandma' and is guaranteed to have the whole family howling.
$10.99
---
A Grandparent Is Born Personalized Frame
Personalized gifts are extra special, which is why you should definitely treat your grandma to one of these customized frames. Add your own date and names to the words 'when a child is born, so is a grandparent' and make her feel extra special…for bonus points, deliver it with a picture already inside!
$19.99
---
Even gemstones get left behind when they are no longer loved. Luckily for them (and you) this handmade necklace uses repurposed and colorful gemstones to create a stunning and beautiful gift. The gemstones are hand threaded next to each other, creating a wonderful effect that the recipient will love.
$55.00
---
2 Diy Handprint Gifts for Grandma
---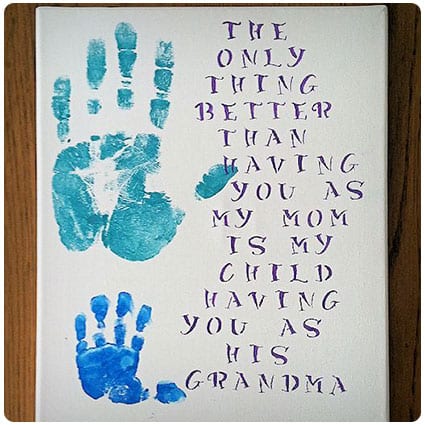 Diy Handprint Gift for Grandparents
If you are on the lookout for gifts for your grandma, consider making them yourself and show her just how much you treasure her being in your life. The following article will show you how you can create a beautiful DIY canvas complete with both your handprint, and your child's.
---