When you're shopping for someone who has champagne wishes and caviar dreams, the best thing you can do is buy them a champagne gift basket to get them started. But a champagne gift basket is not just for a lifestyle of the rich and famous—there are plenty of life occasions just begging for one of the baskets on this list.
---
Choose from a bottle of One Fils Galant or a bottle of Moet with this Champagne Wishes gift basket. It's tastefully prepared with a selection of chocolates and a variety of other goodies. It's packaged in a special gold on blue fleur de lis presentation basket.
$89.95
---
This lovely basket comes complete with a bottle of crisp La Marca champagne and a creative selection of snacks that complement the delicious bottle perfectly. Presented in a wire basket lined in linen, it includes a tasty hors d'oeuvres spread including Wisconsin cheese and light crackers.
$65.00
---
This basket is a complete gift for that special champagne occasion in someone's life. The featured bottle is Segura Viudas Brut Reserva from Spain. It's widely recognized as one of the most popular restaurant champagnes served every day across the world. The attractive leather basket is filled with delicious snacks to make it complete.
$69.95
---
Champagne and total cuteness come together in this sweet champagne gift basket. A bottle of sparkling Canti surrounded by delicious treats like chocolate covered cherries, chocolate smothered pretzels, and moca wine wafers make this basket a delight. And the Teddy Bear means it's totally irresistible.
$90.00
---
When you're planning a romantic date, it's hard to choose between an elegant dinner, a walk in the park, drinks and a show, or something completely different. There's another option: go old school romance and take a picnic with this fully stocked champagne basket. It's romance through and through.
$189.88
---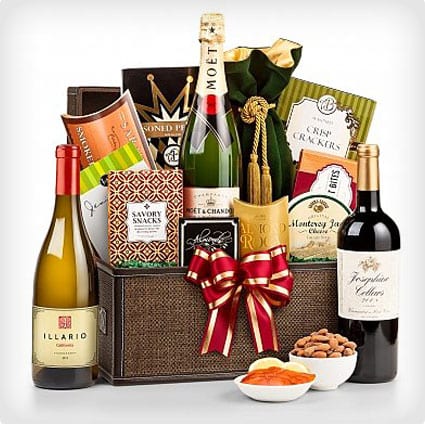 If you need to make an impression on your boss, a values co-worker or an important client visiting for a few days, this gift basket will win them over. It's beautifully presented and fully stocked with a bottle of Moet and a wide variety of snacks—from cheese and crackers to chocolates—that they're sure to love.
$124.95
---
Take a tour of the continent where it all began with this elegant champagne gift basket. The centerpiece is a famous bottle of Moet White Star, but that's just the start. Sweet chocolates, tart cornichons, and tender crepes from France are paired with cookies and biscotti from Italy make the spread complete.
$220.00
---
For lovers, spouses, or even the best of friends. Everyone deserves a luxury breakfast in bed at least once in life. You can make that happen with this inspired champagne basket. Of course it's got a bottle of bubbly, but what makes it breakfast is the gourmet hot chocolate, waffles, pancakes, and latte mix.
$151.92
---
Lots of champagne gift baskets include chocolates, but this one pairs a bottle of Spain's renowned Segura Vida with a box of the best chocolates in the world, Godiva. It's a decadent basket meant for a special celebration occasion. Give this gift when someone deserves big congratulations.
$79.95
---
Go for the gusto. If the occasion is major, don't hold back. Buy them the very, very best, because they deserve it: a legendary bottle of the granddaddy of them all, Dom Perignon. This basket comes in a two tiered leather presentation case and is full to bursting with cheese, crackers, chocolates, and more.
$400.00
---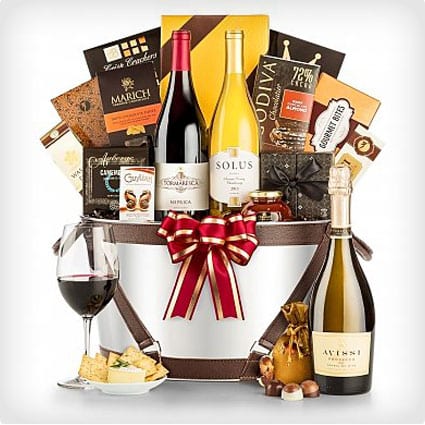 Make it a complete spread with two bottles of delicious wine and a bottle of the top-quality bubbly: Tomaresca Red, Solus Chardonnay, and the delightful sparkling Avissi Proseccco. This well-rounded basket is assembled with Italian almond biscotto, gourmet coffees, and classic Camembert cheese.
$149.95
---
Depending on your taste, you'll either go with Moet or Dom Perignon as your champagne of choice. If you like it extra dry, then Moet is the clear winner. This Moet basket is finished with a butter cookies, chocolate raspberry truffles, and a yummy milk chocolate pear.
$114.95
---
The center piece of this champagne gift basket is a bottle of medium dry, crisp Korble Brut. This excellent bottle of bubbly is surrounded by a creative assortment of complementary snacks. From apricot sage cookies to olive tapenade dip, there's something here for everyone to love.
$128.98
---
Exercise the power of choice with this basket. It covers all the basics, with a wide selection of snacks like chocolate, cheese, almonds, and popcorn. What makes this one special is you get to choose your bubbly: Moet & Chandon Imperial, Dom Perignon Brut, or Louis Roederer Cristal.
$419.95
---
Provence is the most romantic area of France—aside from Paris, of course. Wide, rolling vistas are punctuated by tiny hilltop vistas and ridges lined with vineyards. This champagne countryside basket evokes images of this idyllic landscape. Get this basket and experience a taste of epic romance.
$134.98
---
Sometimes you need to go one step beyond average when you're giving a gift basket. You need to go bigger than big: you need to go giant. This five bottle basket is your ticket to ride. It's loaded with champagne, wine, and every complementary delicacy you can imagine.
$249.95
---
There was a time when champagne and caviar was the exclusive domain of royalty. Now you be the hostess with the mostest toast when you give the pairing fit for Dukes, Duchesses, Kings, Queens, and Tsars. This basket comes with two splits of champagne alongside Saraivanov caviar and savory tasting crackers.
$44.95
---
Guys, give this champagne gift basket to a woman and she'll melt in your arms—just like the accompanying hazelnut truffles will melt in her mouth. A bottle or rare Cristal is presented in a copper chiller accented with a subtle vine motif. Perfect for birthdays, promotions, or just to say "I love you."
$374.95
---
All the champagne and chocolates slant towards the female gift recipients out there. This one flips the script and accounts for the man out there who deserves a champagne gift basket. It combines the ever popular Man Can—loaded with macho grooming essentials—with a top shelf bottle of Moet.
$148.97
---
Godiva, Lindt, Ghirardelli, Auber Brie—names that get the tummy rumbling and mouth watering, and we haven't even gotten to the best part: a bottle of Dom Perignon 2006 sitting next to a Groth Cabernet Sauvignon. Decadence and delight: this basket is begging you to buy it because it's a perfect gift.
$479.95
---
Get ready to fall out of your seat, because this champagne gift basket delivers two legends in one place: a bottle of Roederer Cristal Brut and a bottle of Dom Perignon. Surrounded by a panoply of gourmet sweets, nuts, and cookies, this basket is the definition of luxury.
$799.95
---
Dom Perignon P2 Plenitude won over champagne lovers everywhere when it was released with its creative bouquet of crushed blackberry, apricot, and exotic spices. Gourmet snacks like Auberge Brie, Lindt truffles, and rosemary crackers surround this legendary bottle of bubbly.
$709.95
---
The Korbel Ritz champagne gift basket is overflowing with delicious snacks that make it almost irresistible. From peanut brittle to chocolate to dried fruit to licorice to coffee, this collection has the most complete and varied selection of complementary champagne treats on our list.
$248.95
---
We're happy to present the only certified Kosher champagne gift basket on our list. It's a direct and elegant affair, centered around a beautiful bottle of Drappier Carte d'Or. It includes Godiva truffles, Guylian chocolates, and wins the award for best presentation in a vine-themed copper box.
$134.95
---
The Belle Époque: a period of peace, high culture, and social advancement at the end of the 19th century, before the crazy World Wars and breakneck speed of the 20th century. This popular basket evokes elegant ladies and dapper gents traveling to garden parties in horse-drawn carriages.
$429.95
---
From the wide Boulevards of Paris designed by Hausmann to the Olmstead-themed parks and avenues of New York City, the Park Avenue basket celebrates the greatest city in the world—taking nothing away from anywhere else. But New York belongs to the world, and so does this elegant basket.
$499.95
---
Make it a romantic picnic afternoon of fondue and champagne with this fun gift. It comes in a self-contained wicker basket. Display this on your dining room table and surprise your spouse or lover with a perfectly balanced selection of wine and yummy dipping chocolate.
$44.95
---
Buy this champagne and spa gift basket and all you have to do is run the bath and get it bubbly (pun intended). The rest happens by itself. This basket comes with robes, slippers, exfoliating mitts, and massage rollers. Pamper him, pamper her, sip the champagne—we think this night will lead somewhere fun.
$174.50