Struggling to find decent anniversary gifts for him? Then take a look at this fabulous list. No matter your budget, there is a brilliant gift waiting right here for your darling hubby. We have something for everyone, like stylish whiskey decanters, stand up paddleboards, and even the latest GoPro.
Spoil the special man in your life with one of these super impressive DJI Spark Drones. You know what boys are like with their funky gadgets, so any man is sure to go crazy for these amazing drones, especially since it can fly up to 50KM/H.
$549.99
---
Well, you won't get a painting more unique than the one you and your partner can make yourselves, using yourselves! Perfect for the couple who are completely at ease with each other, this kit will produce a unique piece of art which is ideal for the bedroom wall, or for when the in-laws come for dinner!
Prices vary
---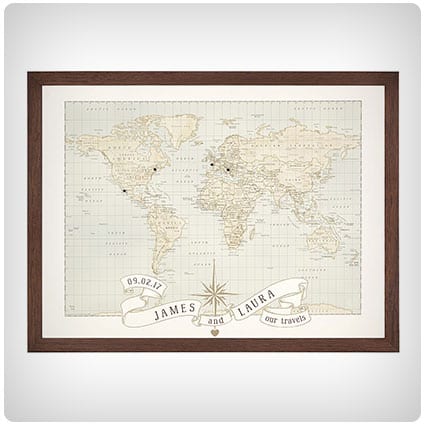 Personalized Anniversary Pushpin World Map
There is nothing more exhilarating than traveling the world with your one and only. What better way to mark your magical journey together than with this fabulous Personalized Anniversary Pushpin World Map (already framed and mounted so the work is done for you)? Where are you off to next, lovebirds?
$149.00
---
Do you have a song that instantly makes you both smile? Maybe it's the track you walked down the aisle or had your first dance to. Whatever your favorite playlist may be, have it remembered forever with this personalized upcycled vinyl LP. You even get the choice of two stylings and up to 5 tracks.
$150.00
---
Off down the lake this summer? There's so much more fun to be had than just appreciating the beautiful scenery, especially with one of these awesome inflatable stand up paddleboards from Driftsun! Imagine the funny memories you could make learning a new water sport together – you'll be looking back and laughing for years to come.
Prices vary
---
---
---
---
---
---
---
---
---
---
---
---
---
---
---
---
---
---
---
---
---
3 Diy Gifts for Him He'll Love
---
---
---
(You may also like: 21 Mens Cologne Gift Sets That You'll Love Too (These Smell Heavenly!))