Silver represents harmony, an essential ingredient in sustaining a long and happy marriage, so its use as a 25th anniversary gift theme is perfect. But don't just go for a candlestick and hope for the best – this selection of silver-themed gifts are sentimental and unusual, and sure to bring a (happy) tear to their eye.
Howard Miller Silver Gardner Clock
If you want to mark the passing of time – 25 years, to be exact – this silver Howard Miller Gardner clock will make a perfect 25th anniversary gift for the lucky couple.
$229.00
---
25th Anniversary Connect Rings Silver Tree
This silver tone photo frame is unapologetically sentimental, with space for 2 photos, a pair of intertwined rings sitting at the top, and a 25th anniversary sentiment underneath.
Prices Vary
---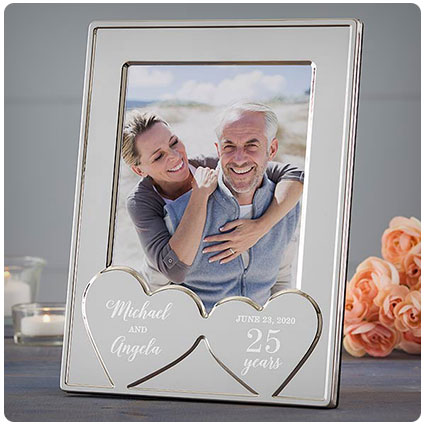 ---
Forget the jokes about thumbprints on the head, this pair of sterling silver rings will come engraved with your actual fingerprints, and are available in a silver, gold, or rose gold finish.
Prices vary
---