Every marriage is unique, so if you're looking for gift ideas to celebrate that first decade milestone and match that uniqueness, you've come to the right place. Packed with ideas you would never have thought of, this list of 10 year anniversary gifts will make tin look like the most precious metal of all, because all that glitters is definitely not just gold.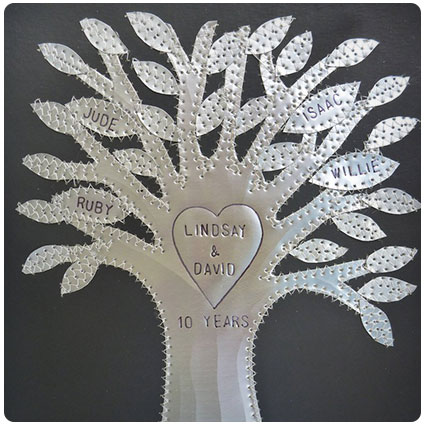 ---
Custom Tin Wedding Date License Plate Sign
Using genuine license plates from various states, these anniversary signs will feature their special date (in format of your choice) and can also be personalized with family name in smaller letters.
Prices vary
---
Personalized Stainless Steel Mug Set
This pair of stainless steel mugs make a change from the normal gifts, as they can be engraved with the family name, number of years, and the actual year they were married.
Prices vary
---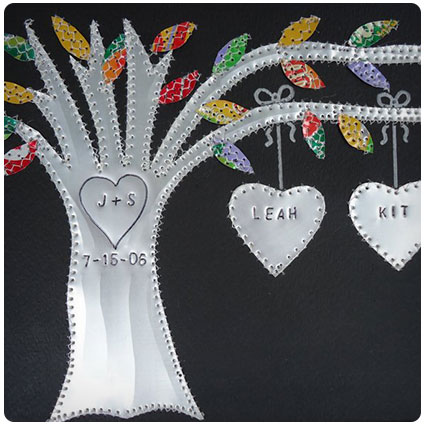 Cut from recycled cans and stitched onto artist's card, this aluminum family tree with colorful leaves will be hand-stamped with initials, date, and 2 children's names on hanging hearts.
$42.00
---
Their marriage has stood the test of time, so celebrate that fact with this aluminum sundial which features anniversary greetings and 'tin wedding anniversary', and is suitable for indoor/outdoor use.
Prices vary
---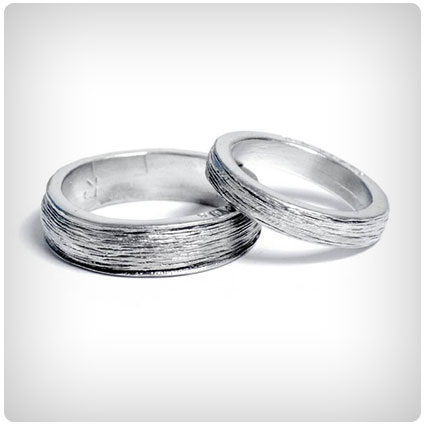 Him and Hers 100% Pure Tin Inscribed Rings
Cast from pure tin, this pair of rings makes a fitting tribute to the day you first said 'I do'. With 'ten years' inscribed on the rim, it's a wonderful gift.
$119.99
---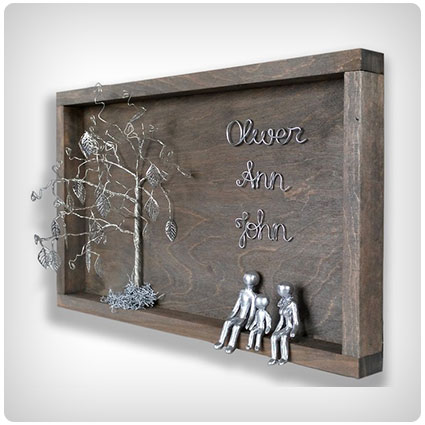 Beautifully different, this family tree sculpture is made from wire and overlooks a family of up to 8 people, all finished in tin paint, sitting beneath up to 8 names.
$151.32
---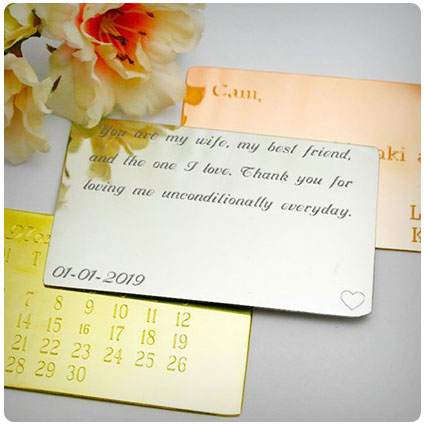 Available in a choice of four different metals, these wallet-sized cards can be engraved with the wording of your choice on one or both sides, up to a maximum of 120 words.
Prices vary
---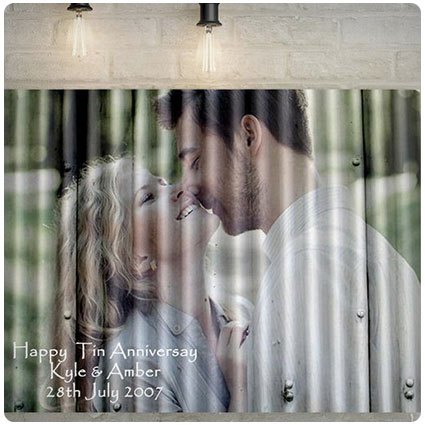 If you want to be traditional but don't want to give a gift made of tin, this tin effect photo canvas will make an adorable 10 year anniversary gift.
Prices vary
---
Whether you choose paper, metal, or canvas, this colorful tree is an outstanding piece of art, and personalized with a couple's names and wedding date, it makes a perfect anniversary gift.
Prices vary
---
Beautifully engraved on mirrored aluminum, this name plaque is an interesting gift idea for that 10th anniversary as it carries both the couple's names, surname, and 'date established'.
$75.00
---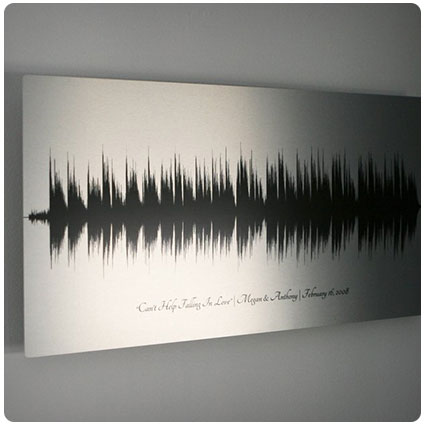 Such a gorgeous idea, this artist takes your song and turns it into a soundwave which is then printed onto brushed aluminum, along with choice of personalization, and mounted, ready to hang.
Prices vary
---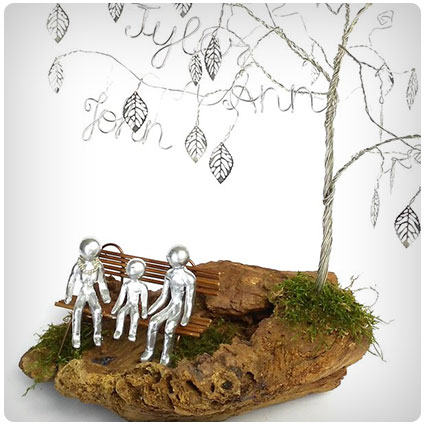 Beautifully whimsical, this aluminum and wire sculpture can carry up to 4 family members, sitting on a wooden bench under a tree which is interlaced with family members' names among the leaves.
$157.67
---
Camping Tin Mug Couples Gift Set
These tin cups are perfect for those free spirits who are reaching their tenth wedding anniversary, as they depict a colorful caravan along with the couple's last name and year of marriage.
$26.88
---