Whether they loved Friends the first time around or are watching it with fresh eyes, this collection of ROFL-worthy gifts from this beloved TV show will have them exclaiming 'Oh. My. God' in a suitably nasal voice. They can learn how to make not-so-fine Margaritas like Ross, peep through a replica of Monica's yellow frame, or show off their knowledge in a game of Trivial Pursuit – whatever you choose, they won't even be sorry.
Friends TV Show LEGO Central Perk Building Kit
Recreate the world's most famous coffee shop with this awesome LEGO building set, which includes, of course, all six of the Friends friends, along with Gunther and his shockingly white hair.
Prices Vary
---
They can show their appreciation for the hit 90s comedy with a soft cotton t-shirt which has been pre-shrunk for the perfect fit, and displays the iconic Friends logo.
$12.99
---
Printed on satin white paper, every memorable Friends quote and catchphrase is brought together in one brilliant poster, which can be ordered in a choice of sizes, and arrives ready to be framed.
$12.46
---
Yellow Friends Peephole Door Frame
Make them smile every time they look through their peephole by giving them this yellow frame to go around it, which looks just like the one gracing Monica's apartment door.
Prices Vary
---
Do Not Disturb Friends TV Show Socks
Friends is the perfect show to binge watch on a rainy Sunday afternoon, and with these socks everyone will be warned to keep quiet until the credits have rolled.
$14.50
---
Friends Limited Edition Central Perk Dark Roast
Coffee and comedy will get anyone through anything, and this 25th anniversary dark roast whole bean blend comes in a cute 'friends-embellished' foil pack to keep them laughing as loudly as Janice.
Prices Vary
---
Friends TV Show Picture Hanger
Hang your photo on this Friends themed hanger before wrapping, and you really will be there for them wherever they decide to place it, every time they look at it.
$26.99
---
Friends Forever: The One About the Episodes Book
If you're looking for a special Friends TV show gift, the Friends Forever book is a celebration of arguably the world's best-loved comedy, and features behind-the-scenes glimpses and beautiful color photographs.
Prices Vary
---
Breathe new life into Guess Who by downloading and printing these PDF files, which feature both well-known and lesser known characters from Friends, and can be fitted to an existing Guess Who game.
$8.00
---
Every Friends fan has their own favorite phrase from the show, and you can choose two or four from this collection of coasters with classics such as 'Pivot' and 'We were on a break!'
$14.99
---
Who could forget the biggest star of all in Friends? No, not a young Monica…we mean Marcel, the adorable Capuchin monkey who stole Ross' heart (and his remote control).
Prices Vary
---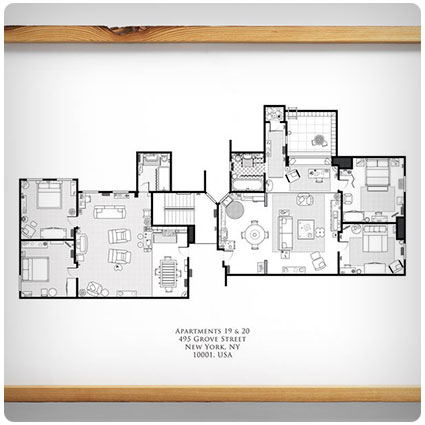 If 495 Grove Street, New York is more familiar to them than their own home, this floor plan of apartments 19 and 20 will make a superb piece of memorabilia.
$7.00
---
The One With The Colors Colored Pencils
Totally wasted on kids, these Friends-inspired coloring pencils are each embossed with text which relates to the hilarious show and corresponds to the individual color – like 'we were on a grey-k'!
Prices Vary
---
Save the Drama for Your Mama Shirt
Rachel was always stylish, and now you can get a t-shirt just like hers with this 'save the drama for your mama' tee which she wore in The One Where Ross is Fine.
$19.99
---
I'll Be There For You Cassette Tape Enamel Pin
Chandler's mix tape ft. Janice 'Oh. My. God' Hosenstein might not have impressed Monica, but this cute enamel pin in the shape of a retro cassette will certainly impress any Friends fan.
$9.86
---
Friends TV Show Trivial Pursuit
Test their knowledge of all things Friends with this Trivial Pursuit edition, which contains 600 questions on seasons 1-10 and is perfect for travel as there's no board required.
Prices Vary
---
Celebrating 25 years of everyone's favorite comedy, this Central Perk mug will make a fun and functional Friends TV show gift for those who love their coffee (Gunther not included).
$14.50
---
Urban Outfitters Friends Sweatshirt
The simple logo from Friends is recognizable everywhere, and wearing this crew neck t-shirt will have strangers offering a casual 'how you doin'?' (in an Italian accent, of course), wherever they go.
$49.00
---
Many Friends episodes involved food, from Rachel's meat and cream trifle to Joey's refusal to share his, and both those episodes are captured on this pair of fun Pottery Barn tea towels.
$39.00
---
The One with All the Recipes Unofficial Cookbook
Give them the means to throw their own Friends-themed dinner party with this fun recipe book, which features classics such as Ross' Not-So-Fine Margaritas, Engagement Ring Lasagna, and Thanksgiving Turkey For One.
Prices Vary
---
I'll Be There For You Friends Coasters
Everyone will sing along when they place their glasses on these natural stone coasters, which come in a set of four and feature the first line of the Friends' theme song chorus.
$34.00
---
Casual and comfy, this t-shirt, which features the names of all 6 of Friends' beloved main characters, is perfect for dressing down and is available in a range of color and style options.
$18.74
---
They Don't Know That We Know Friends TV Show Shirt
Possibly the most confusing (and funniest) line from all ten seasons, 'they don't know that we know they know we know' is immortalized on this fun and colorful short sleeved tee.
Prices Vary
---