Easter baskets for adults can be hard to find as the Easter bunny tends to favorite the younger generations. Check out this jampacked list of gift ideas, baskets and towers that are aimed at adults. Whether they love chocolate bunnies, a bottle of Prosecco or even popcorn, it's all here.
Send an Easter care package this year and ensure your loved ones have the best spring time ever. This indulgent basket has been developed by experts, and is full to the brim with gourmet treats and candies including but not limited to jelly beans, Starburst, popcorn and, of course, lots of chocolate.
$59.99
---
Get this beautifully decorated, and lovingly filled gift basket that is the definition of spring, and share the good times this Easter. Containing everything one might imagine and hope to receive on Easter morning, you can expect to find candies, chocolates, marshmallows, and even a stunning stuffed bunny. Perfect.
$49.99
---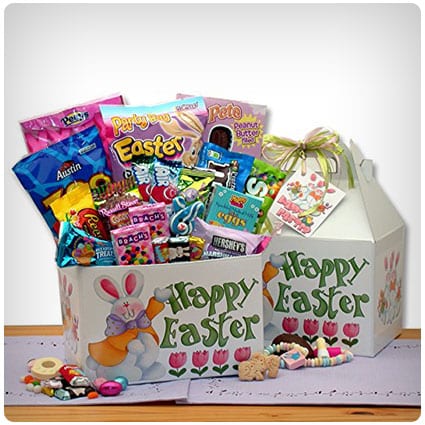 Easter Gift An Easter Party Care Package
Send your best wishes with this cool care package, designed specifically for spring. This Easter basket for adults, kids, and just about anyone in between is bursting with the tastiest and most sought after Easter treats available. All nestled in a beautifully decorated box with a holiday greeting printed on the side.
Prices Vary
---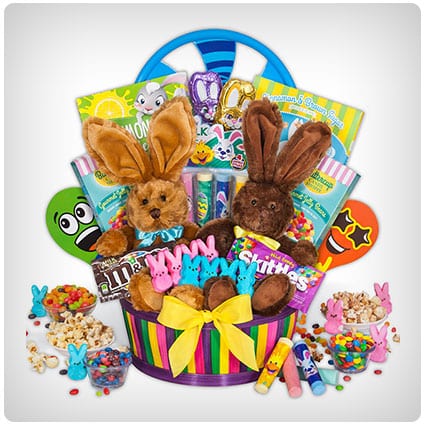 The recipient of this wonderful Easter basket will definitely be hopping for joy when they receive a basket that is quite literally jam packed with goodies, and even 2 cute and cuddly stuffed bunnies. You can expect to find a whole hoard of chocolates, candies and treats buried inside.
$119.99
---
Chocolate is the main treat associated with Easter; but sometimes it can be easy to forget that chocolate is a delectable ingredient that can help conjure up some of the best baked goods around. This Happy Easter cookie and brownie box is the perfect spring gift for the lover of all things baked in your life.
$29.99
---
---
---
---
---
---
---
---
---
---
---
---
---
---
---
---
---
---
---
7 Adult Diy Easter Basket Ideas
---
---
---
---
---
---
---
(You may also like: 53 Best Easter Candy for Easter Egg Stuffing and Baskets)