Support a friend or family member's love of beer by giving them one of these cool gift baskets! Not only do they include items that you would expect, such as bottles of beer and tasty snacks, many of these baskets also contain fun items, like beer soap, beer barbeque sauce, beer candy, and more!
---
Nothing goes together quite as well as the perfect beer and barbequed food! In addition to containing six sensational beers, this bucket also includes barbeque favorites like steak sauce, meat rubs, popcorn, and more. This bucket makes the perfect gift for the man in your life who loves to grill.
$80.00
---
NFL Licensed Tailgate Snacks with Beer Cooler
No football game is complete without a frosty beer! This cool gift bucket contains items like beer chips, snack mixes, and popcorn, but it also comes with a six pack beer cooler. The best part is, the gift basket can be customized with the logo of the recipient's favorite team!
$90.00
---
The Beer Lover's Gourmet Gift Box
Great beers are often paired with great food. Marry the two with these tasty beer-based sauces and mustards! The gift pack includes items like wing sauce, barbeque sauce, and a porter based mustard that are sure to compliment a variety of snacks and grilled meats.
Prices Vary
---
Beer isn't just for drinking! Not only does beer provide a unique scent in the shower, it also provides a dry bar of soap with moisturizing properties. This basket contains your choice of scented beer soaps, as well as lip butter, healing salve, and more that makes the perfect gift for both men and women.
$39.00
---
New York is known for great sports and delicious beer, and no brewery does beer better than the Brooklyn Brewery. This basket contains four signature Brooklyn beers, in addition to snacks like chips, pretzel nuggets, and popcorn that perfectly pair with each beer.
$60.95
---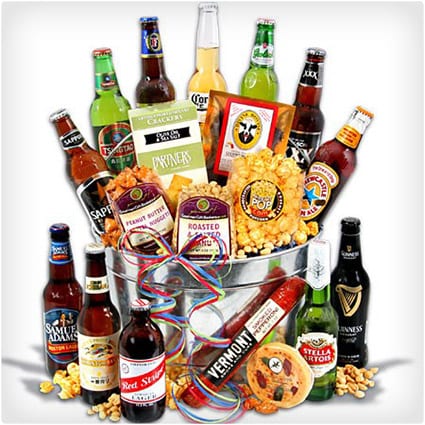 Taste the world's beers from the comfort of your home with this world beer bucket. With 12 beers, a friend or loved one will be able to taste the flavors of Ireland, Mexico, Canada, and more. This basket comes complete with tasty snacks like summer sausage and salami.
$200.00
---
If you know someone who loves to relax in the evening with a delicious beer, they are sure to love this gift basket! It includes unexpected snacks like sunflower seeds, corn nuts, and almonds, but the beer choices can also be customized to match your tastes.
$69.95+
---
---
---
---
---
---
---
---
---
---
---
---
---
---
---
DIY Gifts
---
---
---
---
(You may also like: 36 Unique Gifts for Beer Lovers)