The right Happy Mother's Day card can put a smile on mom's face all day long. These handcrafted cards show that you went the extra mile to make something from the heart. Don't be surprised if this ends up in a keepsake box or scrapbook.
---
Mother's Day Card with Flowers
This bright and cheerful Mother's Day card is sure to brighten mom's day even more.
It features pastel colors that are in tune with the spring season, and it requires a basic list of supplies including construction paper and a hot glue gun.
---
Get fancy with these pop-up cards that are sure to impress mom when she finds out you made them yourself. The instructions make it easy, and they include the files you'll need to make sure that your cards turn out like the ones in the picture.
---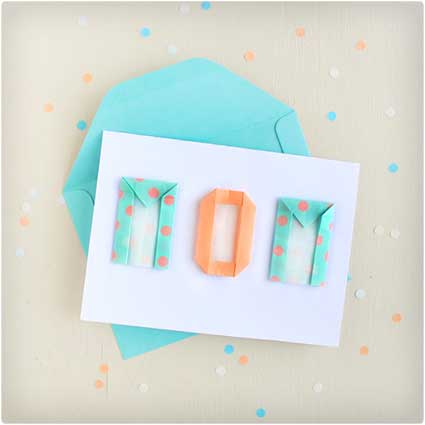 Show off your origami skills with this super unique DIY Mother's Day card. It has the word MOM spelled out in origami letters, and uses origami paper in colors that are fitting for the occasion. Of course you'll get to select your own colors from your paper supply.
---
This tutorial shows you how to cut out part of the card in an attractive design so that your card will stand out from the others she receives on her special day. This ends up revealing part of the inside of the card for a pretty neat effect.
---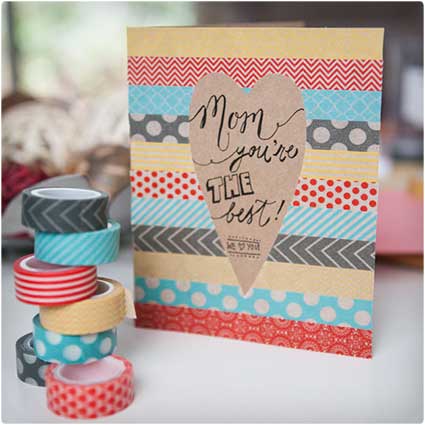 You can get started on this card right away if you already have a supply of washi tape available. It's a card like no other you'll find out there, which makes it special and if mom is also into crafting, she'll recognize the washi tape and likely try to make her own.
---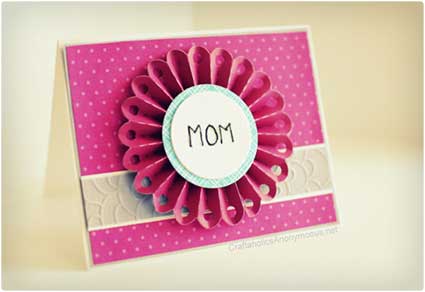 Show mom that she'd win first prize in a Best Mom contest with this homemade Mother's Day card featuring a ribbon in the front. This gives the card a 3D look to it and she'll know that you didn't just pick this up at the grocery store on the way over.
---
Take the time to knit mom a card and she'll be wowed by how thoughtful you are. There's just no shortcuts when it comes to this card, and it's the sort of thing that will show her just how much you care about her. The flowers are pretty and soft to the touch.
---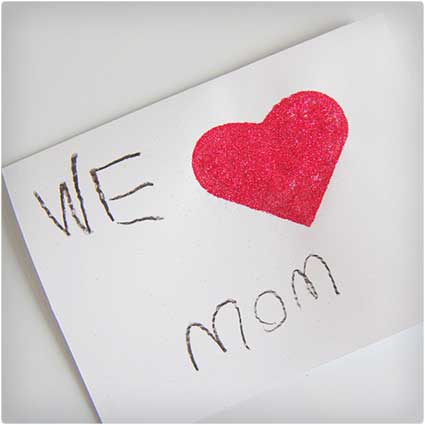 Mother's Day Card Craft for Kids
Get the kids in on the act with this step-by-step guide that shows them how to make glitter hearts to adorn their Mother's Day card.
It's simple, but ends up with a good finished product that moms will just love because it's made with love.
---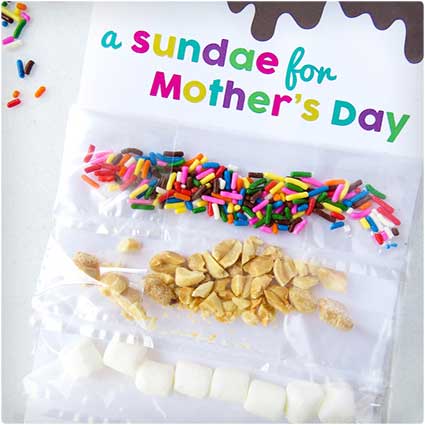 Treat mom to a sundae on Mother's Day which just happens to be on a Sunday. This card includes all of the toppings she'll need to construct a pretty decent sundae, all that she'll need is some ice cream, which you can also provide separately.
---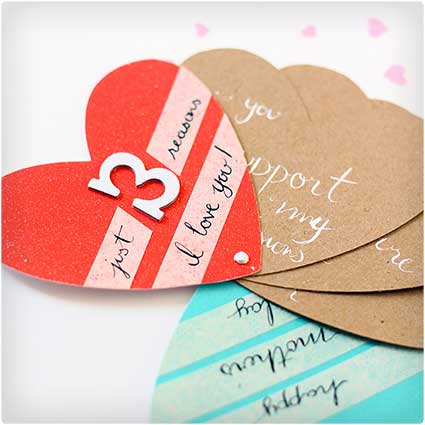 Show mom the different ways you love her with this heart fan card especially for Mother's Day. The card fans out to reveal more messages than your typical card, and their example shows you can fill it with three reasons why you love her.
---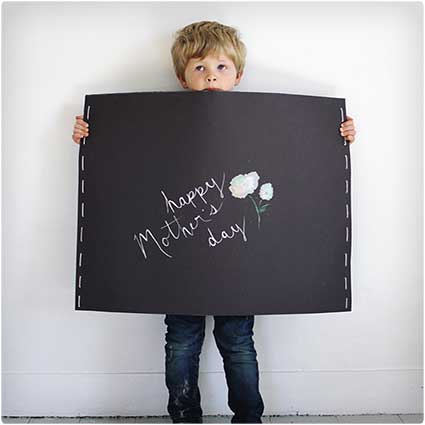 Go big or go home with this Giant Mother's Day card. It's a lot of fun for the little ones to make because they'll struggle just to hold it up when presenting it to her. It provides lots of room to include a long message, or just keep it short and sweet.
---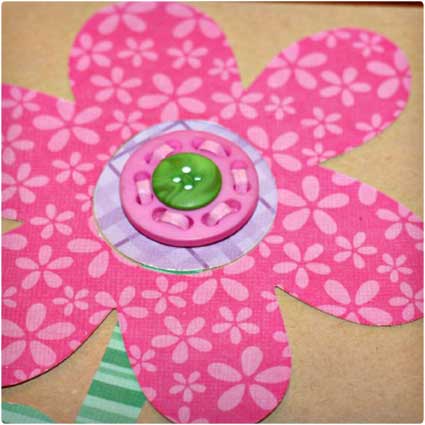 DIY Mother's Day Card with Buttons
Jazz up that Mother's Day card with buttons and you'll be giving mom a cute and unique card that she won't see coming. This is great for any mom that loves arts and crafts and repurposing common items to make something more special.
---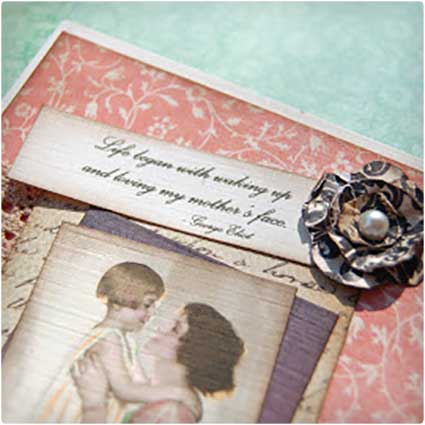 The touching quote on this card reads "Life began with waking up and loving my mother's face." and is just the thing that might make mom's eyes water up. Pair this up with a picture of mom taking care of you as a child or even as a baby and you're all set.
---
Simple meets sophisticated with this Happy Mother's Day card, which has a felt flower on it. The rest of the card is left blank so you can add your own personalized message. It is sure to be unlike any other card she's gotten before on this day.
---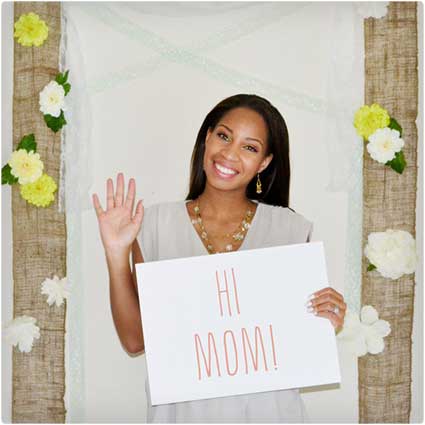 DIY Animated GIF Mother's Day eCard
Go digital with your Mother's Day card this year and make an animated GIF. If mom isn't too tech savvy she'll marvel at the way you made a looping video of yourself giving her a special Mother's Day wish. She can watch it on replay and think about how great you are.
---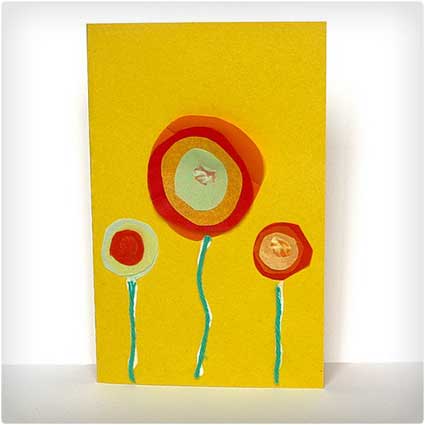 Mother's Day Tissue Paper Flowers Card
With this tissue paper flowers card you'll be giving mom a 3D card that not only looks good but jumps right off the page. She can actually feel the flowers rather than just looking at them, and you can include a special message on the inside that validates her.
---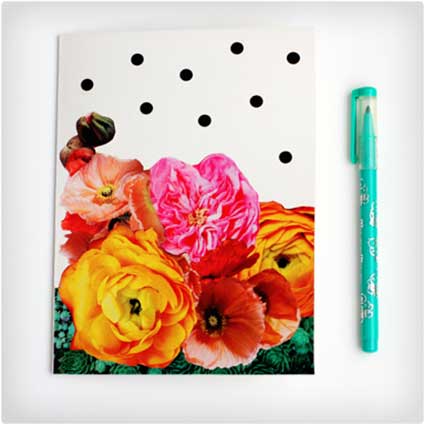 This tutorial is nice because you get the images from flowers from magazines and other sources, so you don't need to be very artistic. You then enhance it a bit with dots, which just about anyone can do regardless of how artsy they are. Voila! Finished Mother's Day card by hand.
---
Flower Card Printable plus DIY
What's interesting about this card is that it includes a printable template but also requires some DIY craftsmanship. This allows you to make a card by hand but have the results you're looking for without worrying that it will look cheesy.
---
Fire up the Cricut cutting machine and get ready to make mom a sharp looking card that they just don't sell in stores. Because the machine does the intricate cutting work, you get to focus on making sure the rest of the card looks the way you want it to.
---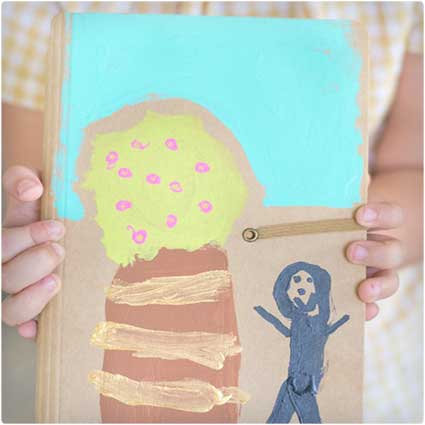 When you make mom one of the cards on this page, she's going to want to hang onto it. What better way to do so than by starting a family card journal. It's a special place to keep all of the lovely cards you share with each other through the year.