From beagles on bikes to terriers on trikes, the world of dogs on wheels is an absolute delight. And, with multiple iterations available in soft 100% ring-spun and hand-spun-cotton T-shirts as well as pre-shrunk jersey knits that flow and glow, cute shirts are endless pleasures.
Made of 100% cotton and featuring a warm, striking, and lovable husky atop a bright yellow bicycle, this T-shirt is bound to be among your man's most treasured and super cute shirts. Soft, lightweight, and with the perfect amount of stretch, it's comfortable and will be among the most awesome T's your man will ever wear.
$19.99
---
Snuggable softness, quirkiness, and a penchant for seeking out multiple scents describe a true beagle. So, for those who adore beagles, sport his or her image on this ultra-soft, 100% cotton T-shirt and pay due homage to your lovable pet's many distinguishing qualities. The T-shirt is made to order, pre-shrunk, and lasts a lifetime.
$19.99
---
Rottweiler On A Tricycle T-shirt
While Rottweilers can be intimidating dogs, all it takes is the right amount of love, caring, and tenderness from their human friends to bring out their loving, sweet nature. This 100% hand-spun cotton T-shirt highlights their humility, kindness, and their never-ending desire to ride tricycles; a must-have in every T-shirt drawer.
$19.99
---
Jack Russell Terrier On A Tricycle T-shirt
Renowned for never-ending energy, incredible intelligence, and boundless determination, a Jack Russell terrier is not for the faint of heart. So, when Mr. or Ms. Russell decides to take a ride on a tricycle and this image is memorialized on a pre-shrunk, 100% jersey knit, add a couple of cute shirts to your collection instead.
$19.99
---
This T-shirt offers the perfect blend of saving the environment and loving pooches. This pug on a scooter is doing his part to keep the planet green and you will help support his cause by wearing this 100% ring-spun cotton T-shirt that bears his environmental message. Thanks for supporting this sweet, adorable pug's considerate cause.
$19.99
---
English Bulldog On Trike T-shirt
Predictable, dependable, and renowned for their sweet disposition, English bulldogs are quite simply wonderful dogs. Celebrate their calm, gentle nature and their love of tricycles by wearing a 100% jersey knit, pre-shrunk, seamless t-shirt and wear it with pride, honor, and respect for their kind, loving, honest, and incredibly sweet breed.
$19.99
---
Black Labrador Retriever On A Bike T-shirt
When a black Labrador Retriever isn't enjoying a dip in the ocean, he or she will settle for a long, leisurely bike ride. Honor their second-favorite desire by wearing a 100% jersey knit, pre-shrunk t-shirt with the second image and make a promise to them that the waters they crave are soon to come.
$19.99
---
Chihuahua On A Tricycle T-shirt
Like most dogs, Chihuahuas need exercise and their preference is riding a tricycle, and, naturally, on the latest, most stylish, and ultra-pink model. Riding trikes doesn't necessarily work up huge amounts of perspiration which suits our little canine's preferences perfectly, and the T-shirt, which is 100% pre-shrunk jersey knit, will also keep you cool and comfortable.
$19.99
---
Pomeranian On A Tricycle T-shirt
Our sweet furry friend, the Pomeranian, is vivacious, forever smiling, and boasts a glorious coat and foxy face. Perched atop a tricycle, they are the best looking in the neighborhood and it makes sense to display them proudly on a 100% ring-spun cotton T-shirt for all to see and admire. Your man will thank you.
$19.99
---
Shih Tzu On A Tricycle T-shirt
After having her mane trimmed and styled, our friend the Shih Tzu takes the slow path home on her delightful mauve tricycle, with handbag tucked securely in the front basket. As her friend, cute shirts beg for her image and so, pre-shrunk 100% jersey knit seems to be the perfect solution. Order one or more.
$19.99
---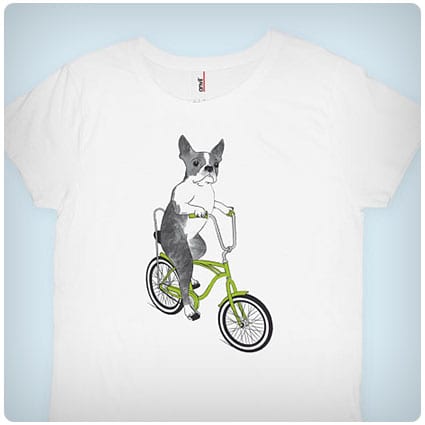 Boston Terrier On A Bike T-shirt
Our little friend, the lively, compact Boston terrier sports a tuxedo jacket and is esteemed for big, round eyes with a friendly glow. She prefers bike-riding and a backrest for comfort, and when you place her image on a 100% pre-shrunk jersey knit T-shirt, you are guaranteed an engaging lifelong companion with soulful loving gazes.
$19.99
---
Yorkshire Terrier On A Bike T-shirt
Our friend, the Yorkshire terrier, is learning to ride a bike and the training wheels are temporary because his courage, confidence, and intelligence shall overcome. Pay tribute to his bold independence by placing his image on a 100% ring-spun cotton T-shirt and wear it with comfort and thumbs up to this righteous little dog.
$19.99
---
French Bulldog On A Tricycle T-shirt
Sociable, alert, and oh-so-muscular, notre ami the French bulldog is very athletic and riding a tricycle is a bit of a departure from the fitness plan, ooh la la. However, it is red – always in fashion – and the T-shirt which it graces is pre-shrunk 100% jersey knit, so, the bulldog agrees on this occasion.
$19.99
---
Dachshund On A Skateboard T-shirt
Imagine this: a dachshund on a skateboard. Sweet, right? An amazing little canine filled with smarts, spunk, and stubbornness that needs to get here, there, and everywhere at the same speed as other dogs with longer legs. What's not to admire? Now, imagine that image on a pre-shrunk, 100% jersey knit T-shirt. More sweetness.
$19.99
---
Pekingese On A Tricycle T-shirt
Oft referred to as lion dogs because of their gorgeous locks, the loving and loyal Pekingese pups have a regal bearing and a distinctive rolling gait. While she rides a tricycle for minimal stress, her image graces pre-shrunk 100% jersey knit T-shirts for you to wear with honor, grace, and the odd giggle.
$19.99
---
Known as Queen Elizabeth II's royal canines, corgis are lively little herders who happen to be affectionate and companionable. For men who happen to personify these qualities, it makes sense to gift them with an image of a strong, athletic, friendly corgi sitting on a trike, featured on a comfy 100% ring-spun cotton T-shirt. Nice.
$19.99
---
Golden Retriever On A Bike T-shirt
One of the most dependable, lovable, squeezable dogs on planet earth is the Golden Retriever. This image of him riding a bike is absolute perfection and to gift your dud with a 100% ring-spun cotton T-shirt with an image of the perfect dog will make you partner/sister/bro/friend/et al of the year. End of.
$19.99
---
This amazingly devoted, courageous, versatile, and intelligent dog is beyond compare. He serves, he guides, he helps, and he rescues. And, he's a woman's favorite faithful companion. His incredible image is beautifully simple on this pre-shrunk, 100% jersey knit and begs to be worn, treasured, and gifted to those who appreciate this precious canine friend.
$19.99
---
3 Free Dog Lover Printables for Diy Shirts
---
If all you need is love and a dog, this image couldn't be more perfect. Download the file for free, and set to work adding it to cute shirts, mugs, bags, or whatever else you can find! Perfect for heat transfer vinyl stickers, this image can also be used in a variety of different ways.
---
Whether you are a mom to your fur babies, or a lady in your life is, this free to download and print picture makes the perfect image for t shirts, mugs, bags, or more to show the world that you, or they, are proud to be a fur mama.
---